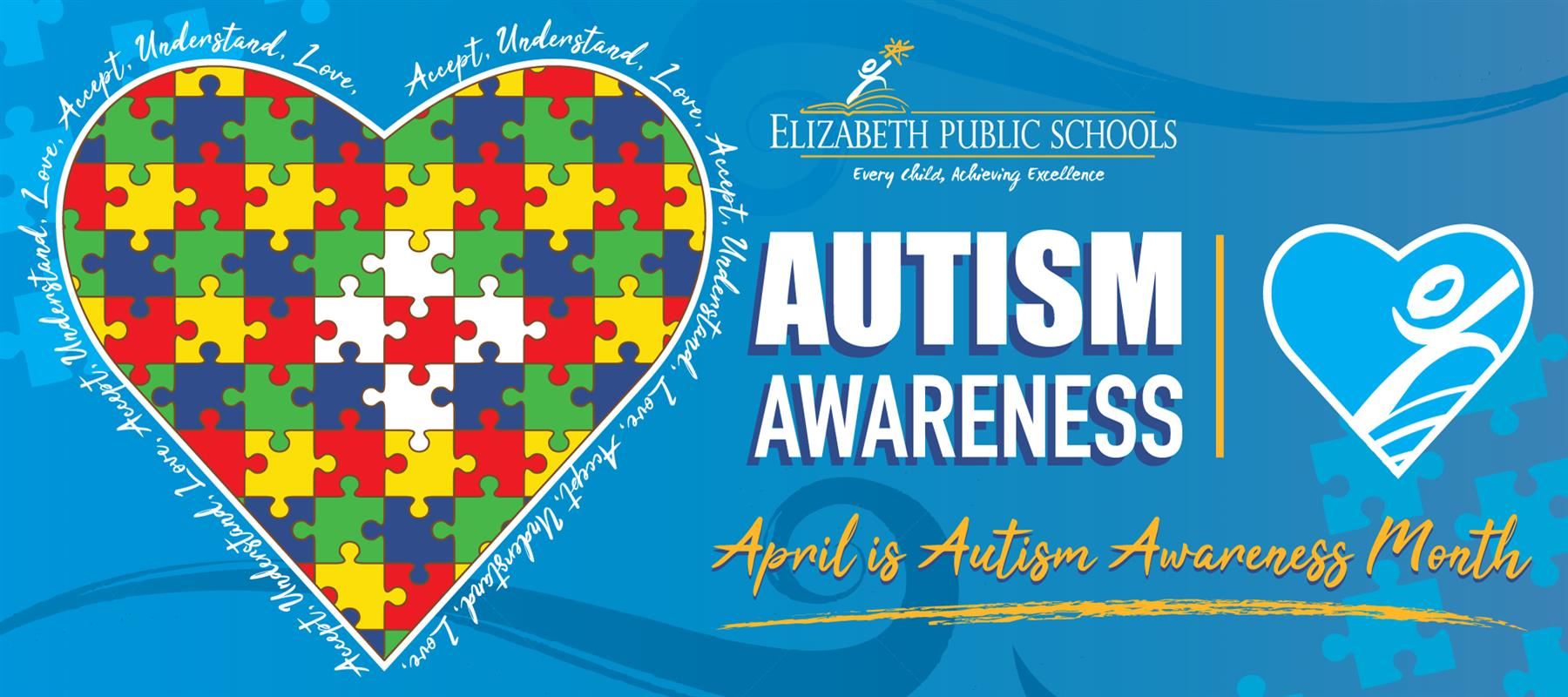 In recognition of Autism Awareness Month, Elizabeth Board of Education President Jerry Jacobs, Board members Diane Barbosa and Iliana Chevres, Assistant Superintendent for Teaching and Learning Dr. Jennifer Cedeño, and Director of Special Services Diana Pinto-Gomez visited several schools that house the district's autism program.

Students in the National Honor Society at JEDTA organized activities to promote Autism Awareness. Proceeds of these activities will go to Autism NJ. Students made a human ribbon to show their support 💚

On Tuesday, April 2nd, all students at Elmora School 12 recognized Autism Awareness Day with a large celebration. Each class was asked to wear a different color representing the colors of the spectrum. Starting from Pre-K and ending with 8th grade, students walked onto the playground to form a human ribbon.
Throughout the world, the month of April is recognized as Autism Awareness Month. Each year, Elizabeth Public Schools is the host of events and activities throughout its 36 schools that help raise awareness and understanding of autism spectrum disorder and the importance of providing an innovative and personalized learning environment for each and every child who attends our schools, including those with special needs.

Among the highlights of events and activities taking place in 2019 is the Light It Up Blue campaign for which a blue light is installed at the entryway of schools and administrative offices throughout Elizabeth Public Schools to support those whose lives are affected by autism. Additionally, schools from throughout the district will be hosts to autism walks, parades, poster contests, bubbles and balloons days, unified games, and more. Students, team members, and families will be showing their support of those affected by autism by wearing blue or particular clothing items such as bracelets, tie-dye shirts, or hats that represent qualities such as unity, teamwork, achieving dreams, and expressing individuality; creating bulletin board, wall, and giant puzzle displays; and participating in classroom lessons, musical and artistic performances, workshops, and readings.

Important Facts About Autism (from the U.S. Center for Disease Control and Prevention (CDC), Autism Speaks, and Autism NJ)

In 2018 the CDC determined that approximately 1 in 59 children (1 in 34 in NJ, according to Autism NJ) is diagnosed with an autism spectrum disorder (ASD), which according to the CDC is the fastest-growing developmental disability:
1 in 37 boys (1 in 22 boys in NJ)
1 in 151 girls
Autism affects all ethnic and socioeconomic groups
Early intervention can improve learning, communication and social skills, as well as underlying brain development and affords the best opportunity to support healthy development and deliver benefits across the lifespan

What are the Signs of Autism? (from Autism Speaks)

The timing and intensity of autism's early signs vary widely. Some infants show hints in their first months. In others, behaviors become obvious as late as age 2 or 3.

Not all children with autism show all the signs. Many children who don't have autism show a few. That's why professional evaluation is crucial.

The following may indicate your child is at risk for an autism spectrum disorder. If your child exhibits any of the following, ask your pediatrician or family doctor for an evaluation right away:

By 6 months

Few or no big smiles or other warm, joyful and engaging expressions
Limited or no eye contact

By 9 months

Little or no back-and-forth sharing of sounds, smiles or other facial expressions

By 12 months

Little or no babbling
Little or no back-and-forth gestures such as pointing, showing, reaching or waving
Little or no response to name

By 16 months

By 24 months

Very few or no meaningful, two-word phrases (not including imitating or repeating)

At any age

Loss of previously acquired speech, babbling or social skills
Avoidance of eye contact
Persistent preference for solitude
Difficulty understanding other people's feelings
Delayed language development
Persistent repetition of words or phrases (echolalia)
Resistance to minor changes in routine or surroundings
Restricted interests
Repetitive behaviors (flapping, rocking, spinning, etc.)
Unusual and intense reactions to sounds, smells, tastes, textures, lights and/or colors

If you have concerns, get your child screened and contact your healthcare provider


EPS is Here to Help

Do you have a child that needs help? If YES, we are here to help you.

If you have a child between the ages of three and five whom you believe may be experiencing difficulty in one or more of the following areas: sitting, standing, walking, talking, learning, getting along with others, seeing or hearing...

Please contact the Elizabeth Public Schools Department of Special Services at: 908.436.5200 or childfind@epsnj.org

All information is confidential



Additional Resources