High School & Academies Guide
Uniform and Dress Code Policies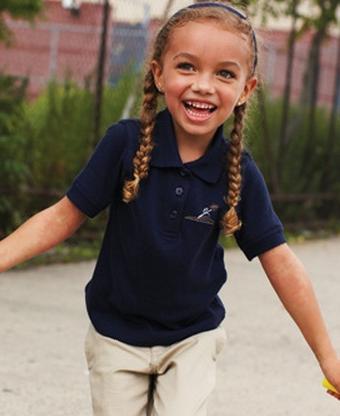 The Elizabeth Public Schools does not have a business relationship with any uniform vendor; it does not promote the sale of uniforms by any of the vendors listed here; nor does it authorize, support or promote any vendor as an "official" EPS uniform vendor. This list is provided as a courtesy to parents and guardians to assist them in finding the appropriate student uniforms. Parents and guardians are free to purchase uniforms from any vendor of their choosing within or outside of this list.

The following stores carry our district uniforms:

Kids Place located on 126 Broad Street provide plain and logo uniforms.

Shoppers World located at 100 Broad Street provides plain and logo uniforms. www.shoppersworldusa.com

Kidstown located at the Jersey Gardens Mall www.kidstownusa.com provide plain and logo uniforms.
Physical Education Uniform Guidelines
• Navy Blue T-Shirt* or Navy Blue Sweat Shirt*
• Navy Blue Mesh Shorts* or Navy Blue Sweat Pants*
• Sneakers (any color)

Grades PreK-5 may wear their gym uniform to school on physical education days.

Grades 6-12 must bring their gym uniform to change for physical education class.

*All items marked with an asterisk must have the embroidered LEAP logo (neighborhood school
emblem) or the embroidered school's logo.
Please note that this is a standard uniform list for most neighborhood schools. The uniform policy is the same districtwide but may vary in color depending on the school.