Return to Headlines
US News Ranks Two EPS High Schools Among NJ's Best 50
EPS 1 of 5 non-exclusively vocational school districts to have multiple schools ranked in top 45
Elizabeth, N.J., September 27, 2023 – Elizabeth High School – Frank J. Cicarell Academy (EHS – FJC) and Alexander Hamilton Preparatory Academy ranked among the top 50 high schools in New Jersey as part of the 2023 U.S. News & World Report Best U.S. High Schools rankings.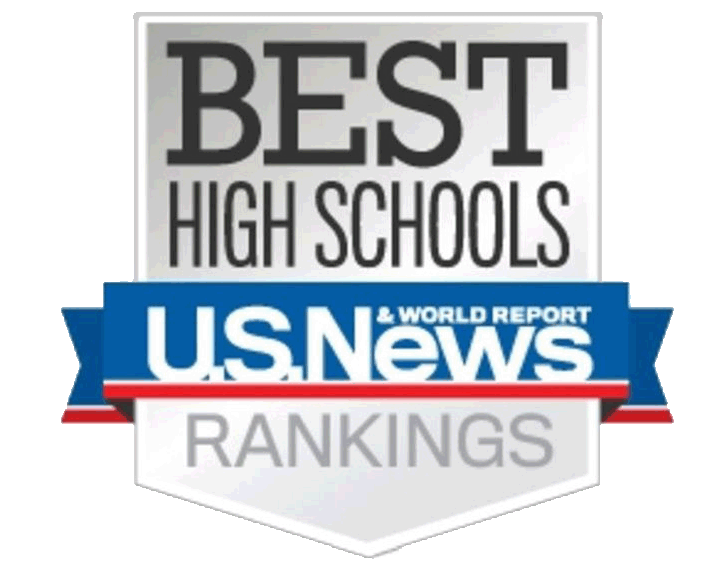 EHS – FJC was rated among the top 300 high schools in the nation in 2023 with a national ranking of No. 278 and a state ranking of No. 12 while Hamilton Preparatory Academy received rankings of No. 1,019 nationally and No. 44 in New Jersey.
"Elizabeth High School – Frank J. Cicarell Academy and Alexander Hamilton Preparatory Academy continue to measure up well when compared to the best secondary education institutions that New Jersey has to offer," said Elizabeth Public Schools Superintendent Olga Hugelmeyer.
The goal of the U.S. News rankings is to show which schools are the best in the country in terms of how well they serve all of their students, regardless of achievement level, in preparing them to demonstrate proficiency in basic skills and readiness for college-level work.
In coordination with North Carolina-based RTI International, a global nonprofit social science research firm, U.S. News ranked approximately 17,680 public high schools out of the nearly 25,000 reviewed. This is the count of public high schools that had a 12th grade enrollment of 15 or greater, or otherwise had sufficient enrollment in other high school grades during the 2020-2021 school year to be analyzed.
The methodology used to create the rankings included six ranking indicators and their weights used to produce the overall score for each qualifying school. College readiness is 30 percent of a school's overall score and accounts for the proportions of 12th graders from the class of 2021 who took and earned a qualifying score on AP or IB exams as well as the number of 12th grade students in the class of 2021 who took at least one AP or IB test by the end of their senior year. Earning a qualifying score is weighted three times more than taking the test.
State assessment proficiency, which includes how well students scored on state assessments that measure proficiency in reading, science, and mathematics, accounts for 20% of the overall score, as does state assessment performance, which compares student performance on state assessments with U.S. News' prediction of performance based on a model that considers the performance percentage of students from historically underserved subgroups.
The other three indicators, college curriculum breadth, underserved student performance, and graduation rate, each hold a weight of 10 percent toward the overall score. They account for the percentage of 12th graders who took AP and IB exams in multiple areas as well as those who earned a qualifying score on them, the student population receiving subsidized school lunch and Black and Hispanic populations perform on state assessments relative to statewide performance among students not in those subgroups, and the proportion of entering ninth graders in 2017-2018 who graduated four academic years later, respectively.
While the six ranking indicators that determined each school's rank were the same as those used in the three prior years, U.S. News adjusted its methodology to account for the impact the COVID-19 pandemic had on schools in the 2020-2021 school year- the most recent school year assessment data was available. As a result of schools throughout the nation being closed for some or all of the 2020-2021 school year, the U.S. Department of Education granted waivers allowing all states to forego state testing for the 2020-2021 school year.
Accounting for the discrepancy among states applying for waivers, assessment data was used solely from 2020-2021 for some schools, while only data from 2018-2019 or a combination of both data sets were used for others. High Schools were only compared to other high schools that were being evaluated according to the same data sets within the same state.
EHS – FJC and Hamilton Preparatory Academy ranked
among the top 6% of high schools in the United States
Elizabeth Public Schools joins Jersey City Public Schools, West Windsor-Plainsboro Regional School District, Northern Valley Regional High School District, and Newark Public Schools District as the only non-exclusively vocational school districts to have multiple high schools ranked in the top 45 in New Jersey.
"Congratulations to the students and team members from Elizabeth High School and Alexander Hamilton Preparatory Academy for being selected by U.S. News and World Report as top high schools in the State of New Jersey and among the best nationally," said Elizabeth Board of Education President Iliana Chevres. "Their commitment to our district's standard of excellence and dedication to achieving at high academic levels is worthy of this recognition."
The 2023 U.S. News and World Report Best High Schools Rankings, including the list of the top New Jersey high schools, can be found at https://www.usnews.com/education/best-high-schools/rankings-overview