Return to Headlines
Elizabeth Varsity Boys Basketball Coach Phil Colicchio Named 2021-2022 NJ Coach of the Year
Elizabeth Varsity Boys Basketball Coach Phil Colicchio Named 2021-2022 NJ Coach of the Year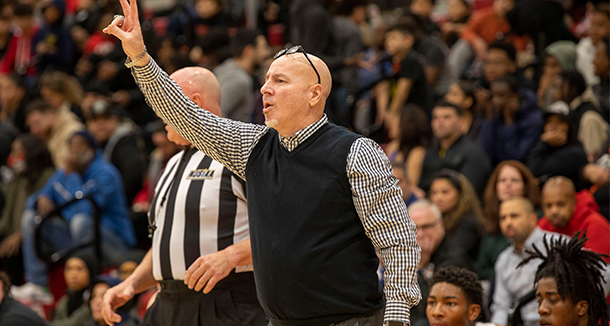 Elizabeth, N.J., January 6, 2023 – Elizabeth Varsity Boys Basketball Coach Phil Colicchio will be presented with the National Federation of High Schools Coaches Association 2021-2022 New Jersey Coach of the Year Award at a ceremony to be held on Sunday, January 15 at The Pines Manor in Edison.
The 2021-2022 Elizabeth Minutemen had one of the best seasons in the history of the program, winning their first Group 4 championship since 1991 with a 70-63 victory over Central Jersey Champion Marlboro. The program also won its first Tournament of Champions victory since 1990 with a 50-41 victory over Paterson Charter, advancing to the final four of the last ever TOC.
Entering the NJSIAA Boys Basketball Tournament battle tested after facing three eventual state champions, the No. 9 seed Minutemen had to prove their mettle on the road. They earned victories away from home against No. 8 J. P. Stevens, No. 1 Watchung Hills, and No. 5 Newark East Side, before winning the North 2, Group 4 championship 49-47 over No. 2 Linden on Coach Colicchio Court in Linden.
The run through the North 2, Group 4 bracket earned the Minutemen a home game in which they defeated the other North Jersey state champion Ridgewood to take the title of King of the North before playing the Group 4 final and TOC games at Jersey Mike's Arena at Rutgers University.
The Minutemen's deep state tournament run concluded with a 7-1 record, including six victories away from home, which brought the program its second sectional championship in three years and first group championship in over 30 years, the result of a team built on intense defense, attacking offense, and relentless effort.
Colicchio, who has previously played for and served as an assistant coach for the program, returned to Elizabeth in 2018 after a long, decorated coaching career at Linden High School, leading the Minutemen program back to immediate prominence following several consecutive losing seasons it had endured.
"Since returning home to Elizabeth a few years ago, Coach Colicchio has worked hard with his staff and players to restore the tradition of excellence of the boys basketball program," stated Elizabeth Public Schools Superintendent Olga Hugelmeyer. "The state championships won during the past few years, highlighted by the exciting title run of the 2021-2022 Minutemen, created the bridge to link the recent success of the program with its storied pass and rejuvenated the Elizabeth community's passion for Minutemen basketball. There is no one more deserving of this award in the State of New Jersey than Coach Colicchio."
"Congratulations to Coach Colicchio for being selected for this outstanding award," said Elizabeth Board of Education President Iliana Chevres. "Coach Colicchio has been instrumental in restoring the pride of the Minutemen basketball program. The Board is proud of Coach Colicchio, his coaching staff, and especially his players that have come through the program for all they have accomplished. We are excited to see the successes they will have on the court in 2023."