Return to Headlines
Hamilton Student Receives National Hispanic Recognition Award
Hamilton Student Receives National Hispanic Recognition Award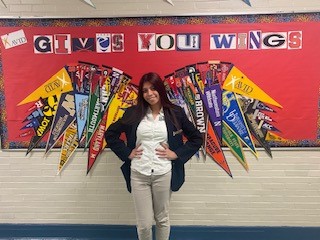 Elizabeth, N.J., November 2, 2022 – Alexander Hamilton Preparatory Academy senior Vicky Salazar was awarded the National Hispanic Recognition Award as part of the College Board National Recognition Program.
College Board's National Recognition Programs create pathways to college for students from underserved communities by awarding them academic honors and connecting them with universities across the country. Colleges use these honors to identify students from underrepresented groups who have excelled in classrooms and on the PSAT/NMSQT, the PSAT 10, or AP Exams.
The National Hispanic Recognition Award requires awardees to meet one or more of the requirements of taking the PSAT 10 in the spring of tenth grade and scoring in the top 10% of the state, taking the PSAT/NMSQT in the fall of eleventh grade and scoring in the top 10% of the state, and/or earning a score of three or higher on two or more AP Exams before eleventh grade.
Eligibility for the College Board National Recognition Program includes identifying as African American, Hispanic or Latinx, Indigenous, and/or attending school in a rural area or small town while taking and achieving the minimum requested PSAT/NMSQT® scores and earning a cumulative GPA of 3.5 or higher by the middle of junior year.
Students apply online and submit an official high school transcript to confirm their eligibility. Awardees are notified via email that they have been granted recognition, and awards are sent to their high schools.
"Vicky has distinguished herself throughout her academic career as a consistent member of the Superintendent and Principal's Honor Roll and is very deserving of this exceptional honor," said Elizabeth Public Schools Superintendent Olga Hugelmeyer. "It is a validation of years of hard work, determination, and an unwavering commitment to excellence and I am certain that it is one of many recognitions that she will receive in the months and years ahead."
"Recognizing students in underrepresented groups is so important for bringing attention to their outstanding work and providing them opportunities to be noticed during their college application process," said Elizabeth Board of Education President Rosa E. Moreno Ortega. "We appreciate College Board's commitment to equity and especially for acknowledging Vicky's academic achievements. The Elizabeth Board of Education is proud of her for receiving this honor and we wish her continued success during her senior year."