Return to Headlines
EPS Officially Places Names on School Nos. 25, 30, and 87A
EPS Officially Places Names on School Nos. 25, 30, and 87A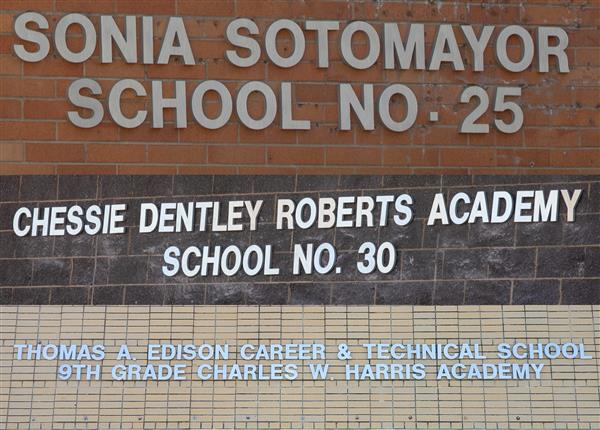 The Elizabeth Board of Education passed resolutions to change the names of School Nos. 25, 30, and 87A to Sonia Sotomayor School No. 25, Chessie Dentley Roberts Academy School No. 30 and Thomas A. Edison Career and Technical School 9th Grade Charles W. Harris Academy respectively. The Elizabeth Public Schools Division of Plant, Property, and Equipment has officially placed the names of the three rededicated schools on the outside wall of each respective building.
Sonia Sotomayor, on May 26, 2009, became the first Latina Supreme Court Justice in U.S. history. She has admirably served our nation on its top court and has demonstrated her commitment to higher education both in her individual educational pursuits and as a former adjunct professor at both New York University and Columbia Law School to support the educational pursuits of others. She also served on the board of the Puerto Rican Legal Defense and Education Fund, the New York City Campaign Finance Board and the State of New York Mortgage Agency before eventually receiving a nomination and unanimous confirmation as U.S. District Court judge for the Southern District of New York City in 1992 and nomination and confirmation as a judge for the U.S. Second Circuit Court of Appeals in 1997. Sotomayor attended Princeton University, where she graduated summa cum laude and earned the Pyne Prize, the highest academic award given to Princeton undergraduates, and eventually received her juris doctor degree from Yale Law School.
Chessie Dentley Roberts, a lifelong resident of Elizabeth and a product of the Elizabeth Public Schools, taught at Elizabeth Public Schools for 33 years, including being the first African American business education teacher assigned to her school. She was also an adjunct professor at Union County College for three years. She was a vital community activist, working for the Urban League of Union County, to set up classes for African Americans on how to prepare for and pass the tests being given at the corporations as well as with the NAACP to collect the necessary data to bring a suit against the City of Elizabeth to desegregate public housing. She was also appointed to the New Jersey State Dr. Martin L. King, Jr. Commemorative Commission, where she shared in developing statewide observances, and co-chaired the Elizabeth Martin L. King, Jr. Commemorative Committee, assuming a leadership role for organizing the black community to raise funds to build a monument in honor of Dr. King. The monument for Dr. King was the first African-American monument placed on Freedom Trail in Scott Park in Elizabeth. She received her Bachelors of Science degree from Central State College, her Master's degree from Teachers College, Columbia University, and her Certification in Supervision and Administration from Kean College (now Kean University).
Charles W. Harris attended and graduated from Elizabeth Public Schools, including Thomas A. Edison Vocational School. He was the Administrative Assistant at Marquis de Lafayette School No. 6 (now Toussaint L'Ouverture - Marquis de Lafayette School No. 6), an Assistant House Director at Jefferson House (now Thomas Jefferson Arts Academy), and was the first person selected to run the district's state funded work study program. Harris was active and led many organizations, associations, and clubs which focused on positive outcomes and values for the citizens of Elizabeth; including Elizabeth Housing Authority, Drive Against Alcohol and Drug Abuse, and President of the Elizabeth branch of the NAACP. He marched through the city of Elizabeth in the mid 1980's to bring awareness to the Ethiopian famine and led efforts to raise over $30,000 from the citizens of Elizabeth. He founded the "Talented Tenth" which was an offspring of W.E.B. Dubois' vision for change within the community. Over his 40 years of service to the children, senior citizens, Elizabeth residents, the disabled and the disenfranchised, he received various awards and plaques. Harris attended Delaware State University on an athletic scholarship and graduated with a Bachelor's degree in history and Kean College where he earned a Master's degree in Supervision and Administration, becoming certified to serve as a teacher, principal, Supervisor, and Superintendent of Schools. He also served in the United States Army and received an Honorable Discharge.