Return to Headlines
EPS Teacher Named NJAITC Teacher of the Year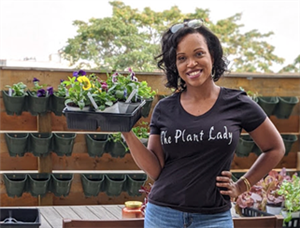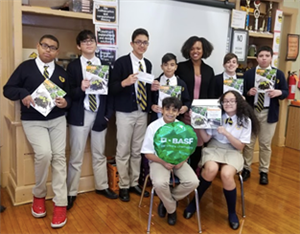 Elizabeth, N.J., May 7, 2021 – Terence C. Reilly School No. 7 science teacher Jahari Jacobs has been named the 2021 New Jersey Agriculture in the Classroom (NJAITC) Teacher of the Year.
New Jersey Agriculture in the Classroom honors teachers in pre-kindergarten through 12th grade (Pre-K-12) from around the state for the innovative ways they use agricultural concepts to teach reading, writing, math, science, social studies, STEM, STEAM and more. The mission of NJAITC is to increase awareness and understanding of agriculture among New Jersey's educators and students.
"Many people think that agriculture teaches hard work and perseverance, and it does. But, these outstanding teachers recognize that agriculture also is fertile ground for teaching botany, biology, chemistry, finance, climatology, and arts, in ways that any age or level of students can understand, appreciate and apply to their daily life," said Dr. Carrie Castille, director of the USDA's National Institute of Food and Agriculture , which provides federal leadership and annual funding for the National Agriculture in the Classroom Organization (NAITCO).
"When a student makes that real-life connection to the lessons their teachers share, students continue to learn and absorb the true meaning of those lessons when they leave the classroom. Innovative teachers like these are often responsible for awakening a student's love of learning, nature and science."
Jacobs teaches eighth grade science at School No. 7, including the elective "TCR Foodies: Farm to Table" course.
"My motivation behind starting my elective agriculture program is to improve science and engineering education for my students by building upon the Next Generation Science Standards currently implemented in our district," said Jacobs. "I specifically designed the hydroponic project in 2020 to help students connect the real-world experience of planning a future farmers market for the residents of Elizabeth NJ. This will allow them an opportunity to grow socially, academically, and personally while taking pride in the fruits of their labor. "
Teaching in one of the largest cities in New Jersey, Jacobs hopes to increase her students' awareness of the importance of agriculture and to help bring more farm resources to the greater community.
"As a teacher in a large urban school, I strive to provide my students with a multitude of experiences inside and outside of the classroom. I feel one of the best ways to cultivate a love for science is to provide opportunities for students to apply content to direct application. I also want to build partnerships with farms in the Union and Essex county area who will work together to provide access to affordable locally grown food. Students and communities alike reap lessons about nutrition, health, and the value of local foods."
Jacobs will attend the NAITCO conference in Des Moines, Iowa June 28 through July 1 and will be recognized at the Parade of States Luncheon on June 30. Due to the pandemic, the event will be live streamed at https://www.agclassroom.org/conference/.
"The lessons that Mrs. Jacobs is providing students at School No. 7 reflect our district's commitment to programs and instruction that promote physical wellness and good nutrition," stated Elizabeth Public Schools Superintendent Olga Hugelmeyer. "This great honor she has received from New Jersey Agriculture in the Classroom is a reflection of her dedication to providing our students with excellent and unique learning experiences that they may otherwise not have been privileged to living in a large urban community."
"Congratulations to Mrs. Jacobs for earning this outstanding award," said Elizabeth Board of Education President Jerry Jacobs. "Teaching our students to take care of their minds and their bodies will help them to perform at their best in all areas of their life. Mrs. Jacobs is inspiring her students to broaden their horizons by connecting them to areas of life mainly outside of their community, which will go a long way in helping them to reach their full potential."