Return to Headlines
6-7-21 Letter to EPS Community - American Rescue Plan Elementary and Secondary Schools Emergency Relief Info and Survey
View PDF | (Spanish) Espanol | (Portuguese) Poruguês | (Haitian Créole) Kreyòl Ayisyen | (Arabic) العربية

---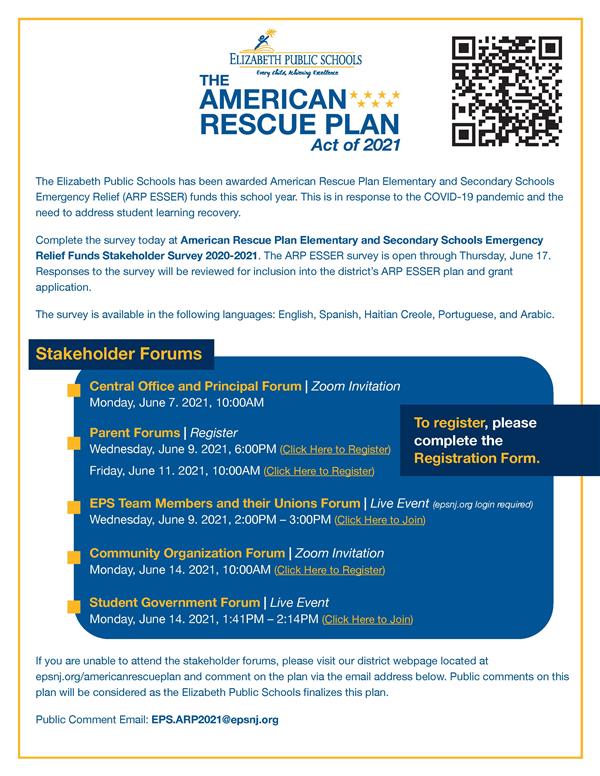 Olga Hugelmeyer
Superintendent of Schools


June 7, 2021
Dear Elizabeth Public Schools Team Members:
After nearly 14 months of navigating the tremendous challenges and hardships endured from the pandemic, the recovery plan for Elizabeth Public Schools officially commenced with the reopening of all district schools for in-person learning. In the coming days, weeks, and months, we will be making significant decisions as a learning community that will help set the course for our continued recovery efforts and outline the path for every Elizabeth Public Schools student to return to our classrooms and thrive socially, emotionally, and academically.
An important source of revenue that will assist our district's recovery and return to a greater sense of normalcy will come from the American Rescue Act of 2021. President Joe Biden signed the American Rescue Plan Act of 2021 (H.R. 1319) into law. The $1.9 trillion package, based on President Biden's American Rescue Plan, is intended to combat the COVID-19 pandemic, including the public health and economic impacts.
As outlined in the legislation, over $211 billiion will be allocated to education and childcare. Nearly $166 billion of those funds will be allocated to the Education Stabilization Fund. $123 billion of these funds is allocated to support K-12 schools in safely reopening, of which 20 percent must address learning loss. Other set asides include $1.25 billion for summer enrichment, $1.25 billion for afterschool programs, $3 billion for education technology and $800 million for wraparound services to homeless students.
Additionally, $1 billion of funding will be allocated to Head Start and $10 million will be allocated to National Child Traumatic Stress Network. Emergency funding will be distributed across existing Head Start agencies according to their share of total enrolled children. Head Start delivers services through 1,600 local agencies, many of which are sponsored by county governments. Funds allocated to the National Child Traumatic Stress Network grant program aim to improve treatment and services for children and adolescents who have experienced traumatic events and to increase access to these treatments and services throughout the United States. Public (counties) and private entities will be eligible to apply.
Public Feedback
Elizabeth Public Schools Elizabeth Public Schools has been awarded American Rescue Plan Elementary and Secondary Schools Emergency Relief (ARP ESSER) funds this school year. We encourage all of our stakeholders to comment on the plan via the email address established for this purpose. Our stakeholders include parents, teachers, and others. Public comments on this plan will be considered as Elizabeth Public Schools finalizes its plan.
Public Comment Email: EPS.ARP2021@epsnj.org
We encourage students, families, teachers, team members, and community members to complete a survey that takes fewer than five minutes to submit and lets your voice be heard. All survey responses are anonymous.
Complete the survey today at American Rescue Plan Elementary and Secondary Schools Emergency Relief Funds Stakeholder Survey 2020-2021. The ARP ESSER survey is open through Wednesday, June 30. Responses to the survey will be reviewed for inclusion into the district's ARP ESSER plan and grant application.
The survey is available in the following languages: English, Spanish, Haitian Creole, Portuguese, and Arabic.
Your feedback will be an invaluable resource to the district as we move forward with the planning process for how APR ESSER funds will be used to make the most impact for our students.
Over the next four summers and three full fiscal years, the District will use the more than $42, 773,788 million in one-time/short-term federal funds to address student learning recovery and the ongoing impact of the pandemic using four major strategies:
Teacher support
Rigorous instructional materials
Creating more time for learning
Facility Upgrades
The final ARP plan for Elizabeth Public Schools will be posted on our district website on or before June 30, 2021.


Stakeholder Forums
Each stakeholder forum will offer a brief presentation on the American Rescue Plan Act of 2021. Kindly complete the registration form with the required information: Name, Email address, and Affiliation. Prior to the meeting, an email will be sent to those persons with a Zoom link to participate.
To register, please complete the registration form by clicking the appropriate link below. Student Government, EPS Team Member and their Unions, and Central Office/Principal Forums will be closed to the public and login is required to sign up to participate.

Central Office and Principal Forum |Zoom Invitation
Monday, June 7, 2021, 10:00 a.m.
Parent Forums
Wednesday, June 9, 2021, 6:00 p.m.| Register
Friday, June 11, 2021, 10:00 a.m.| Register
EPS Team Members and their Unions Forum | Register
(epsnj.org login required)
Wednesday, June 9, 2021, 2:00 p.m. - 3:00 p.m.
Community Organization Forum |Register
Monday, June 14, 2021, 10:00 a.m.
Student Government Forum| TEAMS Invitation
(epsnj.org login required)
Monday, June 14, 2021, 1:41p.m.- 2:14 p.m.
For additional resources, please visit https://www.epsnj.org/americanrescueplan.
Together, we will provide our students the best educational experience possible, including the academic and social-emotional support they need, to learn and grow as we advance in our reopening and recovery plan. Thank you for your continued support and participation in the education of our students.
Sincerely,
Olga Hugelmeyer