Return to Headlines
Elizabeth Jazz Ensemble, Band Shine at State Prelims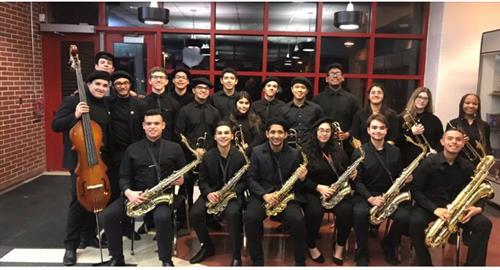 Elizabeth, N.J., March 8, 2019 – The Elizabeth Jazz Ensemble received a gold rating and were recognized as the best rhythm section while the Elizabeth Jazz Band received a silver rating at the New Jersey Association for Jazz Education (NJAJE) Jazz Ensemble Festival preliminaries held at Bridgewater-Raritan High School on March 5.
The preliminary round of the festival consists of all participating ensembles, regardless of school size, performing at one of five locations on consecutive nights and being adjudicated by the same three professionals. The adjudicators keep scores for each performance group until after the last preliminary event. The scores are then revealed and the top nine performance groups from each division, based on school enrollment, advance to the finals.
Sight-reading, or performance of a piece that has not been previously seen, is required and is scored as 15% of the total score in the preliminary round. Improvisation is also required as one of the new components of the sight-reading adjudication. Sight-reading and improvisation are also required in the final round and are identical in weight to the preliminary round.
With a gold rating, while not guaranteed, the Elizabeth Jazz Ensemble is likely to advance to the finals. The gold rating is just the third earned by Elizabeth in the preliminaries over the past 12 years. The Division 1 finals will be held at J.P. Stevens High School in Edison, New Jersey on April 27.
Individual performers from Elizabeth also excelled as Elizabeth High School –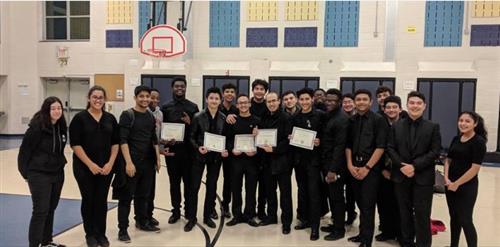 Frank J. Cicarell Academy senior Joseph Oldam and EHS junior James Bally were named Outstanding Soloists at the event. Oldam and Bally have already distinguished themselves individually, with both having qualified for the Region II Jazz Ensemble in March 2018. Oldham earned his spot in the ensemble on the bass while Bally was selected for his talents on the piano.
"For three years in a row, Elizabeth Public Schools has been named a Best Community for Music Education," stated Elizabeth Public Schools Superintendent Olga Hugelmeyer. "Our learning community has been recognized for its outstanding commitment to music education largely because of the tremendously gifted student musicians that we are so fortunate to have throughout our district as well as the wonderful teachers and music directors who lead our music programs. The Elizabeth Jazz Ensemble and Jazz Band continue to lead the way with their consistently outstanding performances."
"Congratulations to the Elizabeth Jazz Ensemble and Elizabeth Jazz Band for once again excelling in competition with some of the best the state has to offer," said Elizabeth Board of Education President Stephanie Goncalves. "Receiving the gold and silver ratings are a reflection of your dedication to your craft and determination to succeed. We hope you both advance and have another opportunity in the finals to show everyone just how amazing you are."