Return to Headlines
EHS – FJC Director of Bands Selected as Adjudicator of Inaugural NJSSE
Elizabeth, N.J., March 1, 2021 – Elizabeth High School – Frank J. Cicarell Academy Director of Bands Wayne Dillon has been chosen by Arts Ed NJ as an adjudicator for the inaugural The Inaugural New Jersey State Solo and Ensemble (NJSSE) Festival.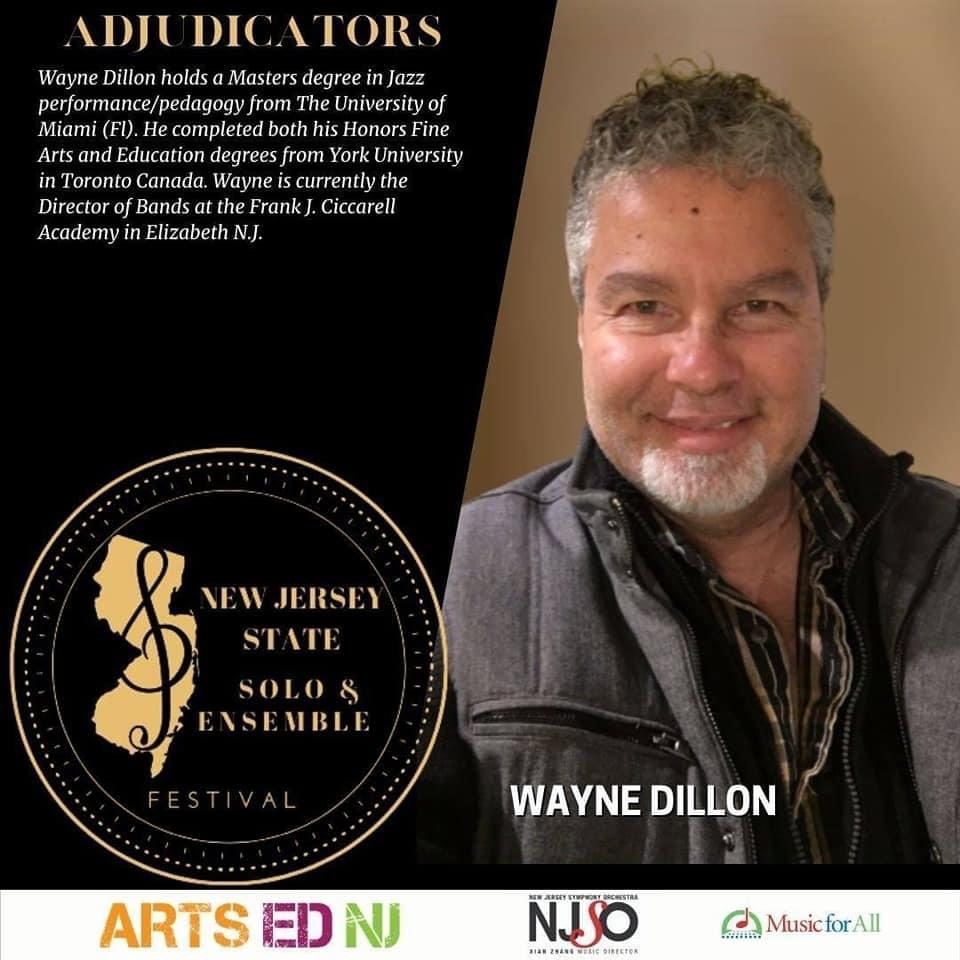 The NJSSE was launched to recognize student achievement in music education across the state. Open to all public or private middle school and high school students, the Inaugural New Jersey State Solo and Ensemble Festival is being held virtually to provide opportunities for scholastic music students to showcase their talents either individually or in a small ensemble. The festival is being run by Arts Ed NJ with systems support provided by Music for All.
The competition will include solo and regular ensemble events (vocal, string, woodwind, brass, percussion, piano, guitar, and handbell) as well as special ensemble events (misc. ensemble, jazz ensemble, jazz combo, madrigal, vocal jazz, show choir, ethnic heritage ensemble, electronic ensemble, string choir/ensemble, woodwind choir/ensemble, brass choir/ensemble, percussion ensemble, guitar ensemble, and handbell choir). The performers will be placed into three classes, including Class C which consists of students with one or two years of musical experience, Class B which consists of students with three or four years of musical experience, and Class A which consists of students with advanced high school musical experience.
Students will submit their performances May 1 through May 15 and adjudication will take place May 15 through May 30. The results of the competition will be released on June 1.
Dillon will be responsible for providing teachers with written and verbal feedback on the performer's submission, as well as ratings when requested, to share with their students.
"The bands of Elizabeth High School have enjoyed a long history of success, earning local, regional, and national accolades in solo and ensemble performances," said Elizabeth Public Schools Superintendent Olga Hugelmeyer. "Wayne Dillon's leadership and guidance has been a constant through much of that history. He is an excellent choice as an adjudicator for the NJSSE and the student performers who will be participating are very fortunate to have the opportunity to receive feedback from someone with such expertise and success."
"Countless Elizabeth High School students have developed a passion for music and have excelled in the arts because of the dedication and skill of Wayne Dillon," said Elizabeth Board of Education President Jerry Jacobs. "I am happy to see his excellent work in our school community rewarded with this well-deserved selection."