Return to Headlines
EHS Marching Band Season Concludes at Williams Field

Class of 2021 Band Members Recognized Following Final Performance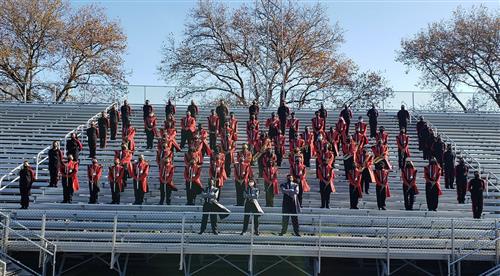 Elizabeth, N.J., November 16, 2020 – The Elizabeth High School Marching Band concluded their season on Saturday, performing their full 2020 program "We Will Never Disappoint" for the first time on Williams Field in Elizabeth in front of friends and family who came to watch the band members.
It was a heartwarming and emotional experience watching the band members put the music, drill, and choreography together for the first time. The band placed fourth out of five bands in the competitive arena, earning a score of 90.33.
At the conclusion of the performance, the EHS Marching band honored its 21 members who are part of the graduating Class of 2021. The band members walked with their chaperones through a balloon arch as their names were announced and were presented with a gift provided by the band parents.
The celebrated Class of 2021 EHS Marching Band members include Joshua Allain, Leilani Alma, Nicholas Arias, Nicole Aviles, Elliot Brea, Shameckah Murray Blye, Jordan Calixto, Hazel Conejo, Sofia Diaz, Jennifer Gonzales-Pasion, Madlen Martinez, Jazmin Merced, Gabriel Montas, Jeremy Munive, Jannatul Mustari, Melanie Renjifo-Saa, Manuela Rodriguez, Franco Silva, Mara Steed, Andrew Valencia, and Cyrus Waugh
"The marching band staff would like to personally thank our administration for making this fall season happen with such drastic measures," said EHS Marching Band Director Benjamin Schwartz. "The students greatly appreciated participating in in-person marching band amidst a full-scale pandemic. It shows a tremendous amount about everyone's character and perseverance on behalf of the students and staff members that we had such a remarkable season. We are lucky to have all remained healthy and happy through it, and we cannot thank our administration enough for this opportunity."
Elizabeth Board of Education President Diane Barbosa was happy that members of the EHS Marching Band were still able to have a season despite the circumstances and how differently the season unfolded compared to previous seasons.
"It warms my heart to know that the members of the Elizabeth High School Marching Band were still able to be competitive this season, even if it didn't look or feel exactly the same as it has in previous years," said Barbosa. "I am most happy that we were able to give the senior members of the band a warm sendoff. I really feel for our seniors and want to be able to make their last year in our schools as special as it can be for reasons other than finishing their high school career in the midst of a pandemic. Hopefully, this moment will be one of many positive ones from this school year that they will remember fondly for years to come."
As Elizabeth Public Schools continues to work tirelessly toward reopening their schools and having in-person classroom instruction, they hope to have more small victories to celebrate along the way like a successful season from their high school marching band.
"In other years, the success of the marching band might be measured in how they finished in state and national competitions, but this year, the fact that our marching band was able to compete at all was the greatest success we could ask for," stated Elizabeth Public Schools Superintendent Olga Hugelmeyer. "I applaud and thank Mr. Schwartz and his staff, fellow district team members, and the band parents who helped with the complicated and unprecedented logistics of this season. Their dedication and diligence made the 2020 EHS Marching Band possible and gave the band members the gift of performing, which is something that can no longer be taken for granted."