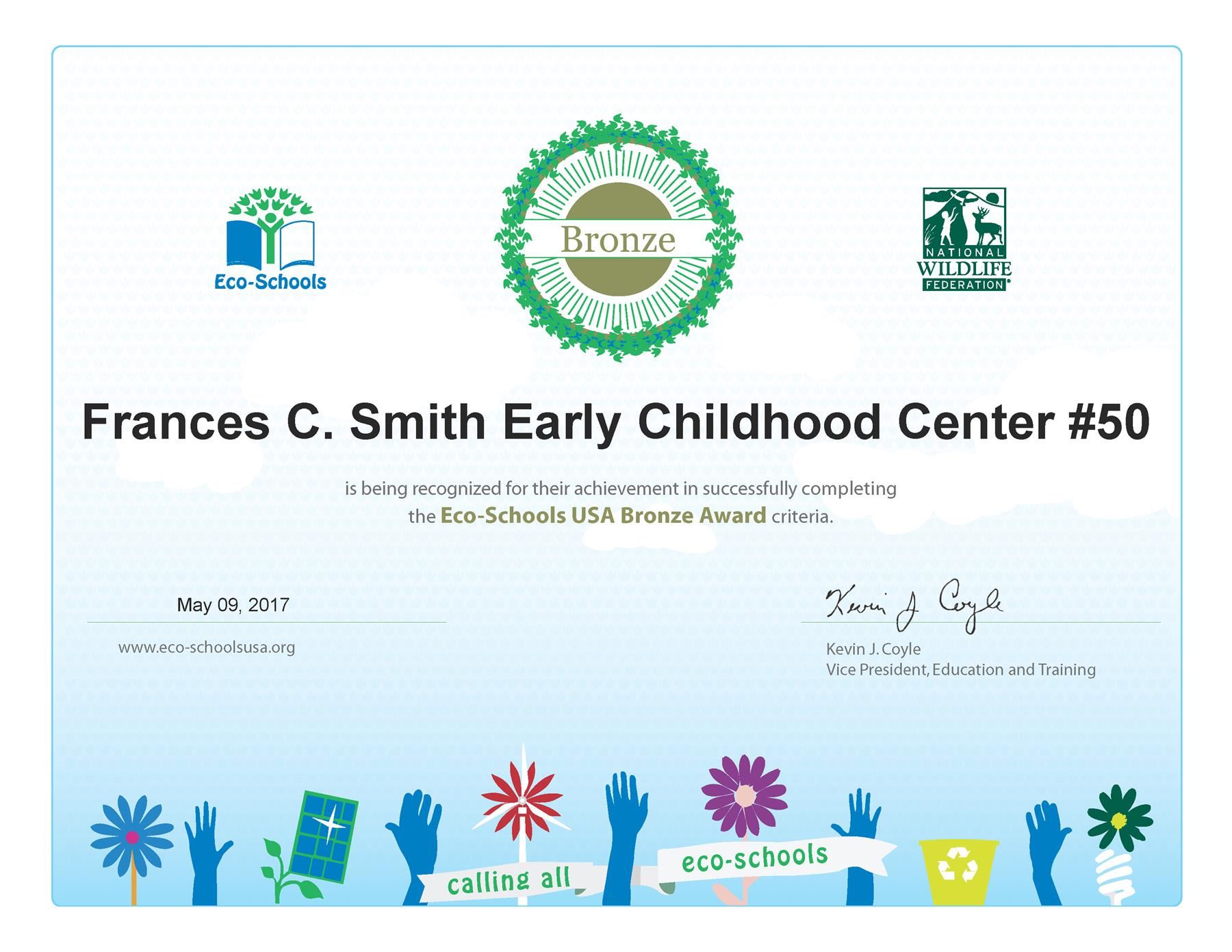 Eco-Schools USA

This is the second year we will be partnering with National Wildlife Federation's (NWF) Eco-Schools USA. NWF works to promote environmental education, connect people with nature and raise awareness about the impacts to people and wildlife from climate change. Through school-based action teams of students, administrators, educators and community volunteers, NWF's Eco-Schools USA combines effective "green" management of the school grounds, the facilities and the curriculum; truly providing students with a unique, research and application-based learning experience.

You may view our school's page on the Eco-Schools USA website at:

http://www.nwf.org/EcoSchools/Dashboard.aspx?visitor=true&sid=4555

2017-2018 School Goals:

Biodiversity

What kind of wildlife & not-so-wild life do we have outside & inside of School #50? We'll explore this year!

Energy

What is energy? Where does it come from & how do we get it?
Biodiversity

Native plants or animals are those found naturally in an area or country. Most native plants and animals have evolved over many thousands or millions of years, but some are more recent.

Biological diversity, or biodiversity, includes the variety of plants and animals (species) and the places they live (ecosystems). Schoolyard biodiversity includes all of the different types of plants and animals within the school environment.

All species are interconnected, including humans. Plants and animals depend on each other for survival in a variety of complex ways. Food chains and webs are examples of this interconnectedness.

The wide variety of living things includes plants, animals, and microorganisms. Biodiversity explores these and their interrelationships within their ecosystems.

Importance of biodiversity

Biodiversity is needed to support all life on Earth. It provides all of our food and many industrial products and medicines. Biodiversity also ensures clean air, water and fertile soils. It provides opportunities for recreation, tourism, scientific research and education. It is also a source of cultural identity for many Americans.

All life depends upon biodiversity as the foundation of healthy, functioning ecosystems. Biodiversity helps with soil formation; nutrient, nitrogen, oxygen and carbon cycling; energy production; flood and erosion control; clean air; clean water; breaking down pollutants; pest and disease control; food and medicines.

School #50 Goals

This year we will be looking at plants & animals in relationship to each other, to all of us & to the earth with a goal of giving students a deeper understanding of their world & the beauty of nature.
Energy

Energy is defined as:

1.) the strength and vitality required for sustained physical or mental activity or

2.) power derived from the utilization of physical or chemical resources, especially to provide light and heat or to work machines.

Energy conservation refers to reducing energy consumption through using less of an energy service. Although students cannot yet unplug electrical chords, they may help in conserving energy by asking adults to unplug electrical chords when not in use.

In school, we will also be looking at food chains, with the sun being the source for energy for plants to grow & feed the animals at the bottom of the food chain.

Energy is a big concept for three and four-year-olds to understand, but our goal is to teach as much as we can about energy and its conservation during this school year.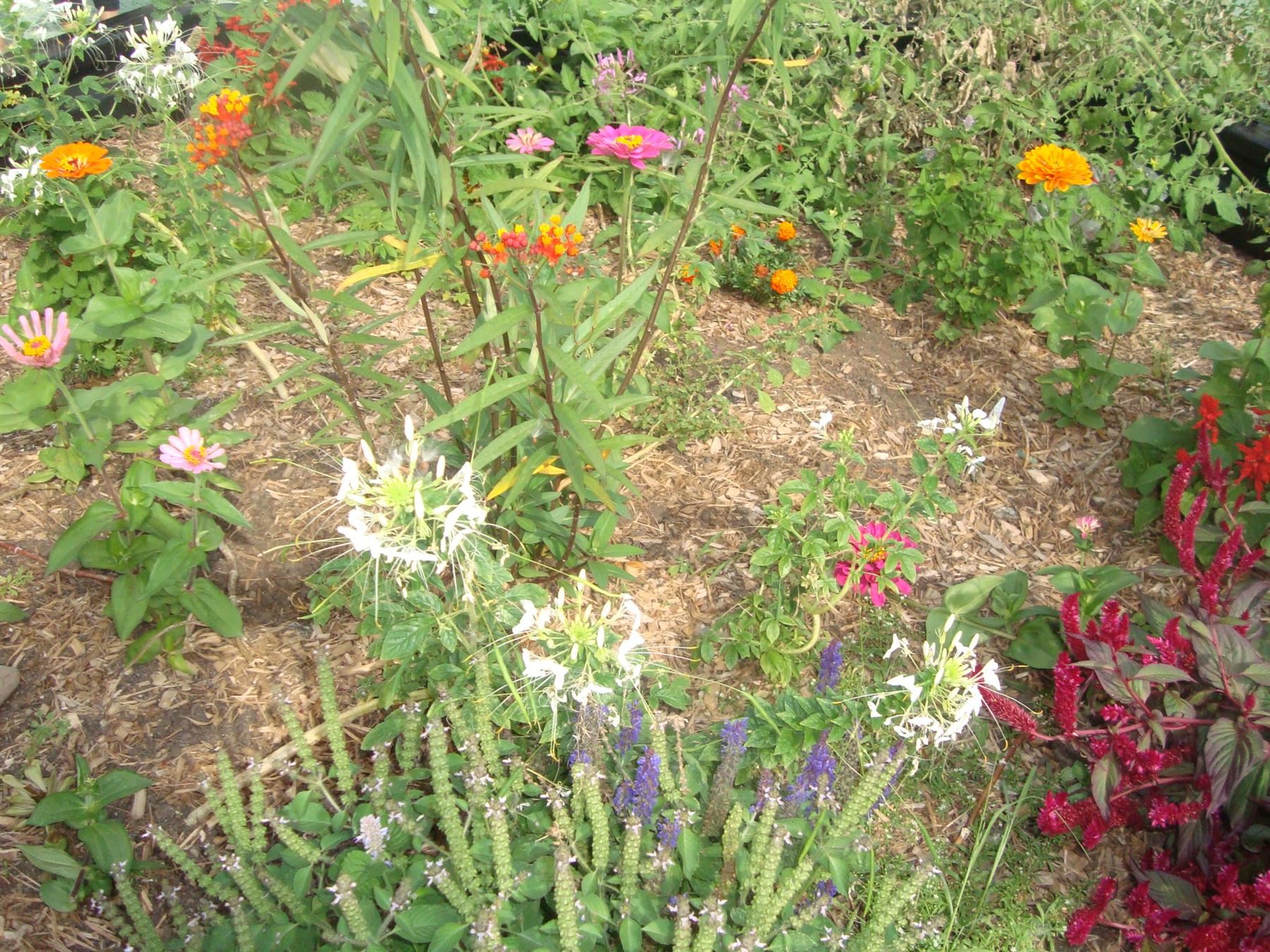 In 2017 we added the above pollinator garden to School #50's playground to attract birds, butterflies and bees. Pollinators are very important. They are needed to pollinate crops so that animals and people have enough to eat. Many crops will not produce food unless they are pollinated, so we must protect and provide for pollinators.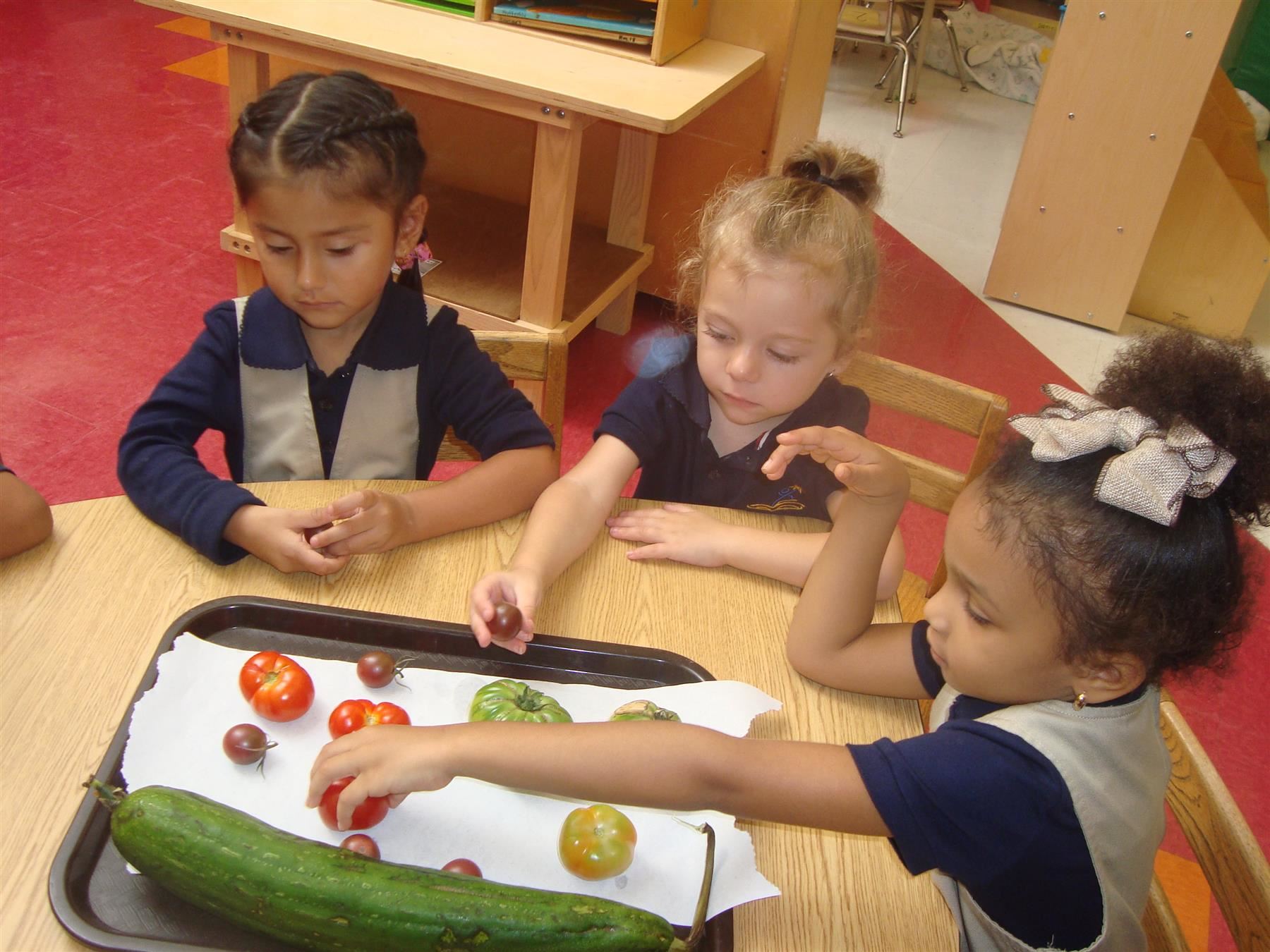 Learning with garden crops using all of our senses. (above)
SEPTEMBER 2017

In our continuing work with Eco-Schools USA, both an herb garden & pollinator garden were added to our existing vegetable garden. Students observed a variety of native plants & the bees, birds, butterflies, dragonflies, grasshoppers, ladybugs, etc. that were attracted by the new garden. Several learning sessions were held outside with anecdotal notes taken & students using their five senses to experience our tomatoes & herbs from our garden. Afterwards, students journaled their reflections using pictures.

Also, monarch caterpillars were brought into the classroom, along with milkweed, their host plant. Stages of the butterfly life cycle were studied as well as observed, with much amazement at the wonder of metamorphosis.

Milkweed was grown, but it was overtaken by aphids, so no monarchs laid eggs on it. Ladybugs were studied. They eat aphids, but may also eat monarch eggs, so we were not anxious to have too many in our garden.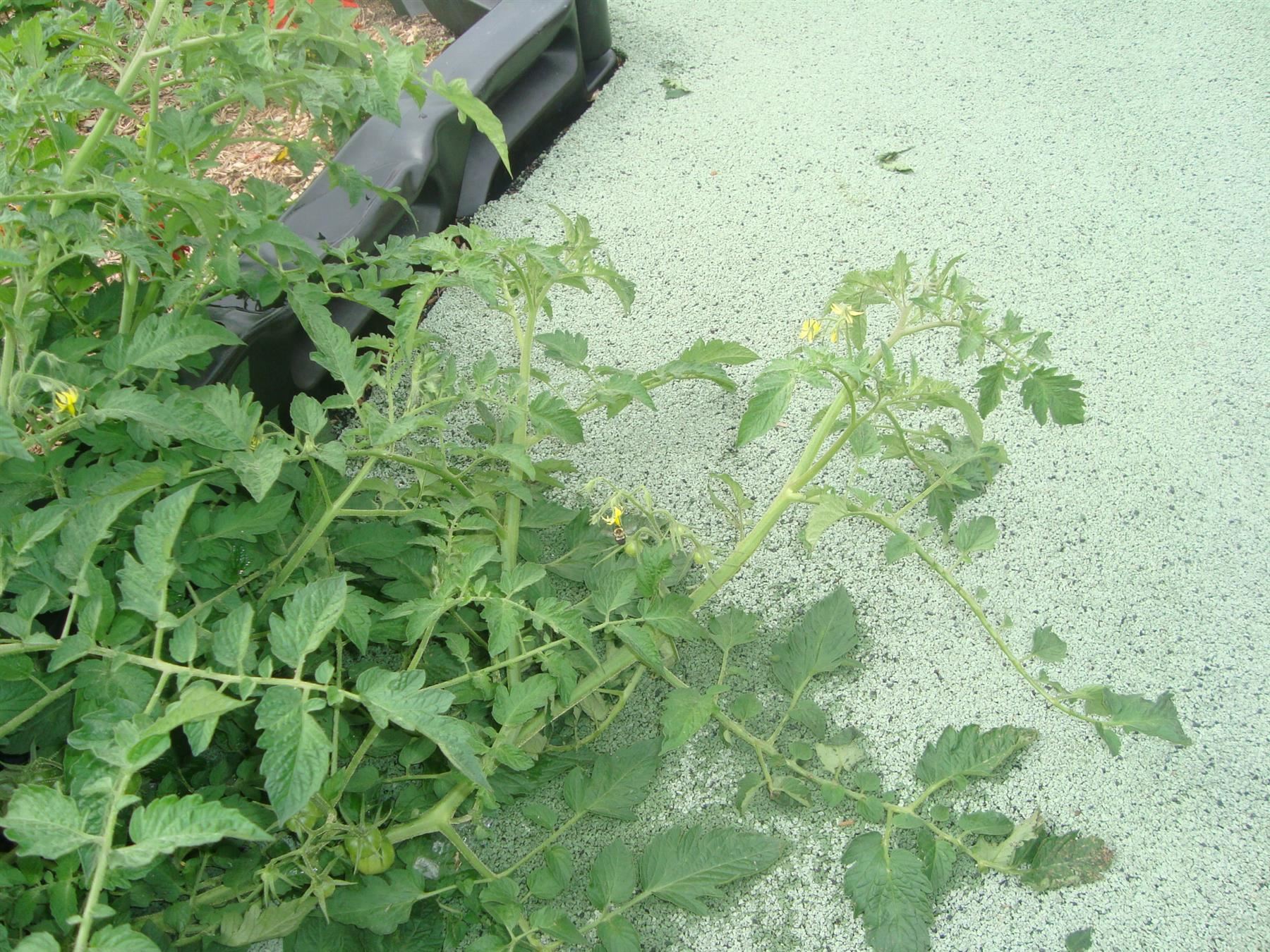 A bee was attracted to our tomato plant flowers. (above)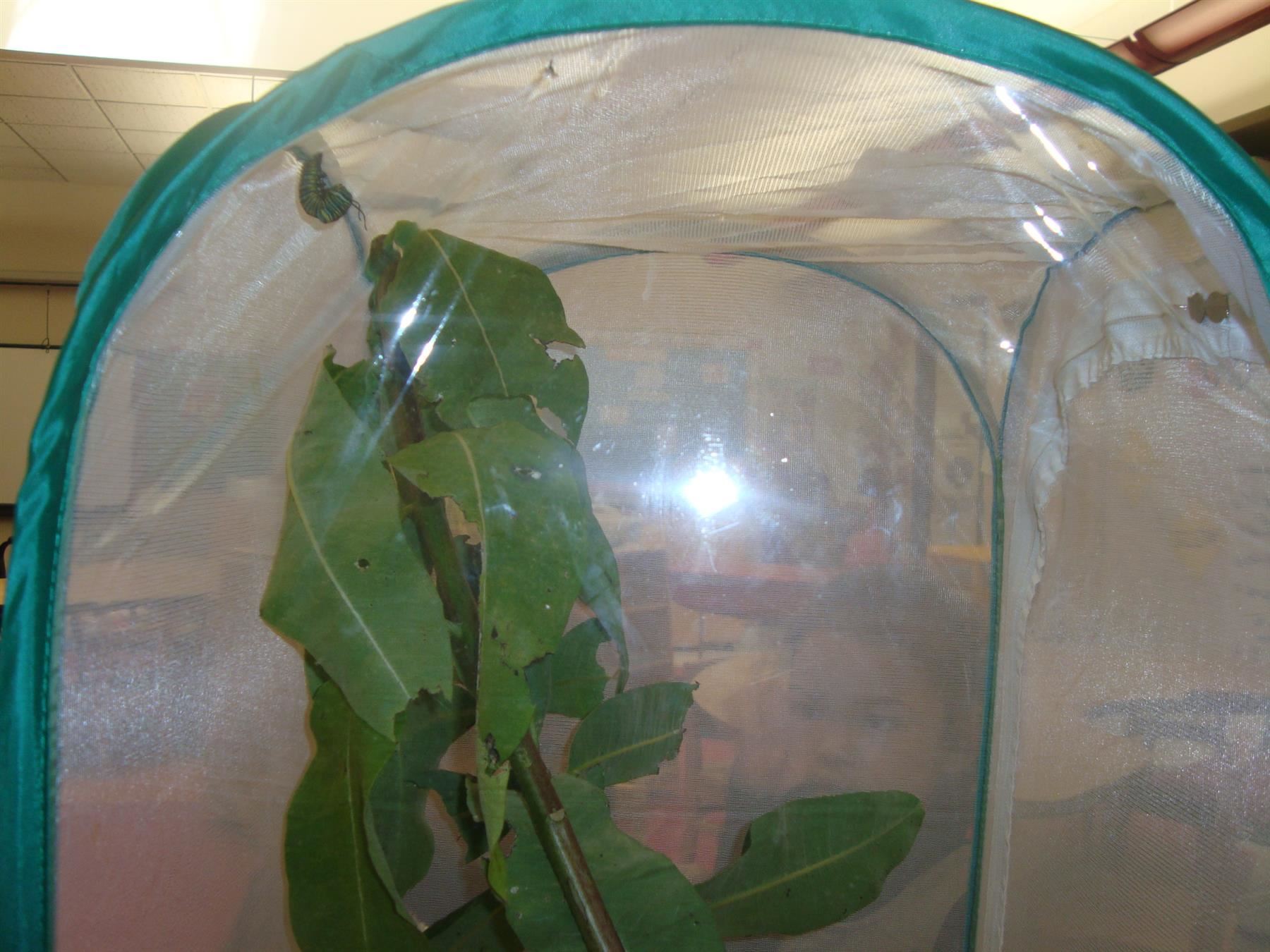 Once a caterpillar has grown large, it 'walks about' the cage, climbs up & attaches to the top of the cage. It then forms a 'J,' and soon will shed it's skin for the final time before becoming a crysallis. This is amazing to watch for all of us!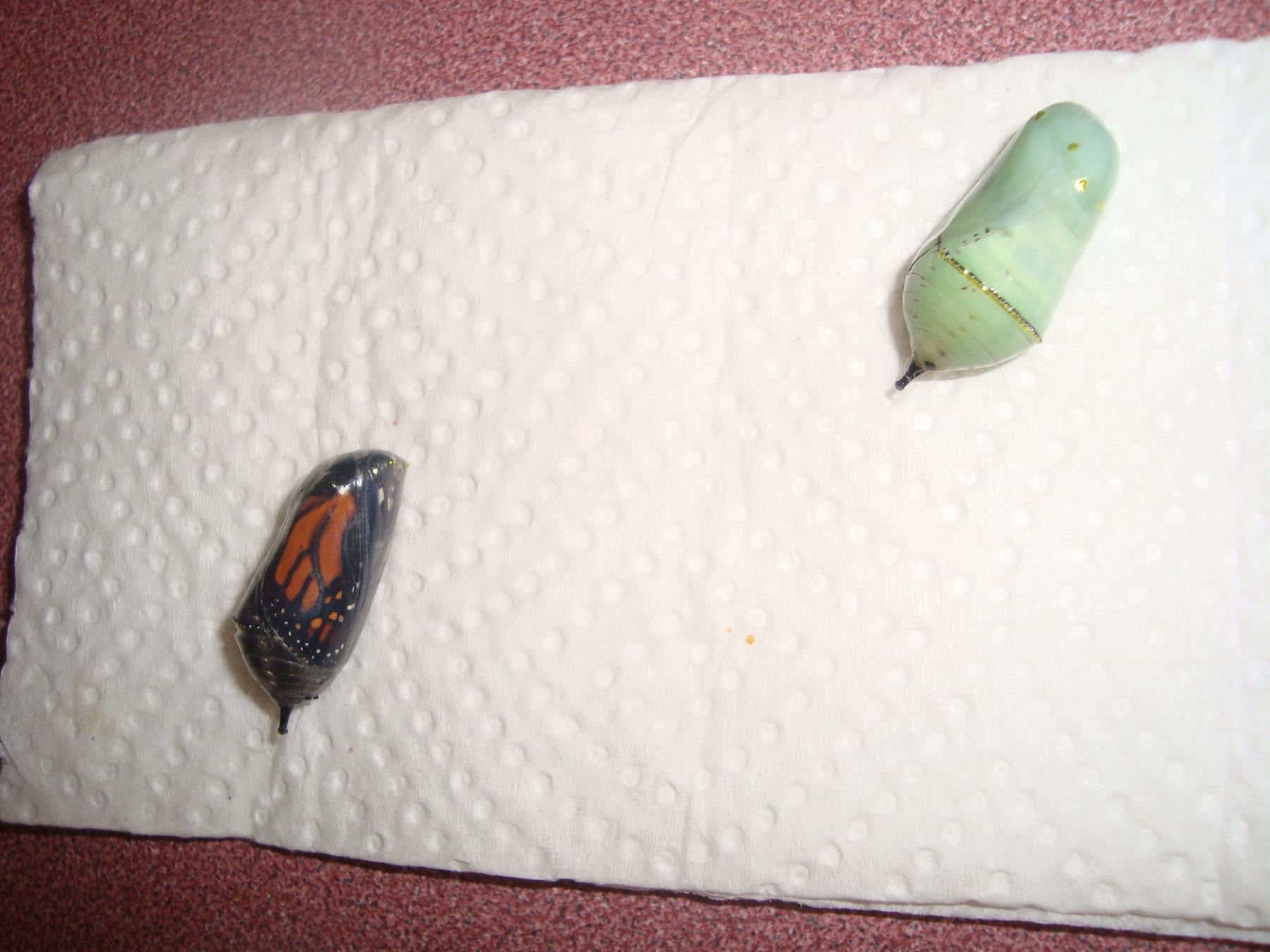 In the above left crysalis from our classroom the butterfly has undergone complete metamorphosis and is about to emerge. The above right crysalis holds a caterpillar still undergoing metamorphosis. Our 3 and 4-year-old students are hearing and learning much new scientific vocabuary as well as experiencing the wonders of nature.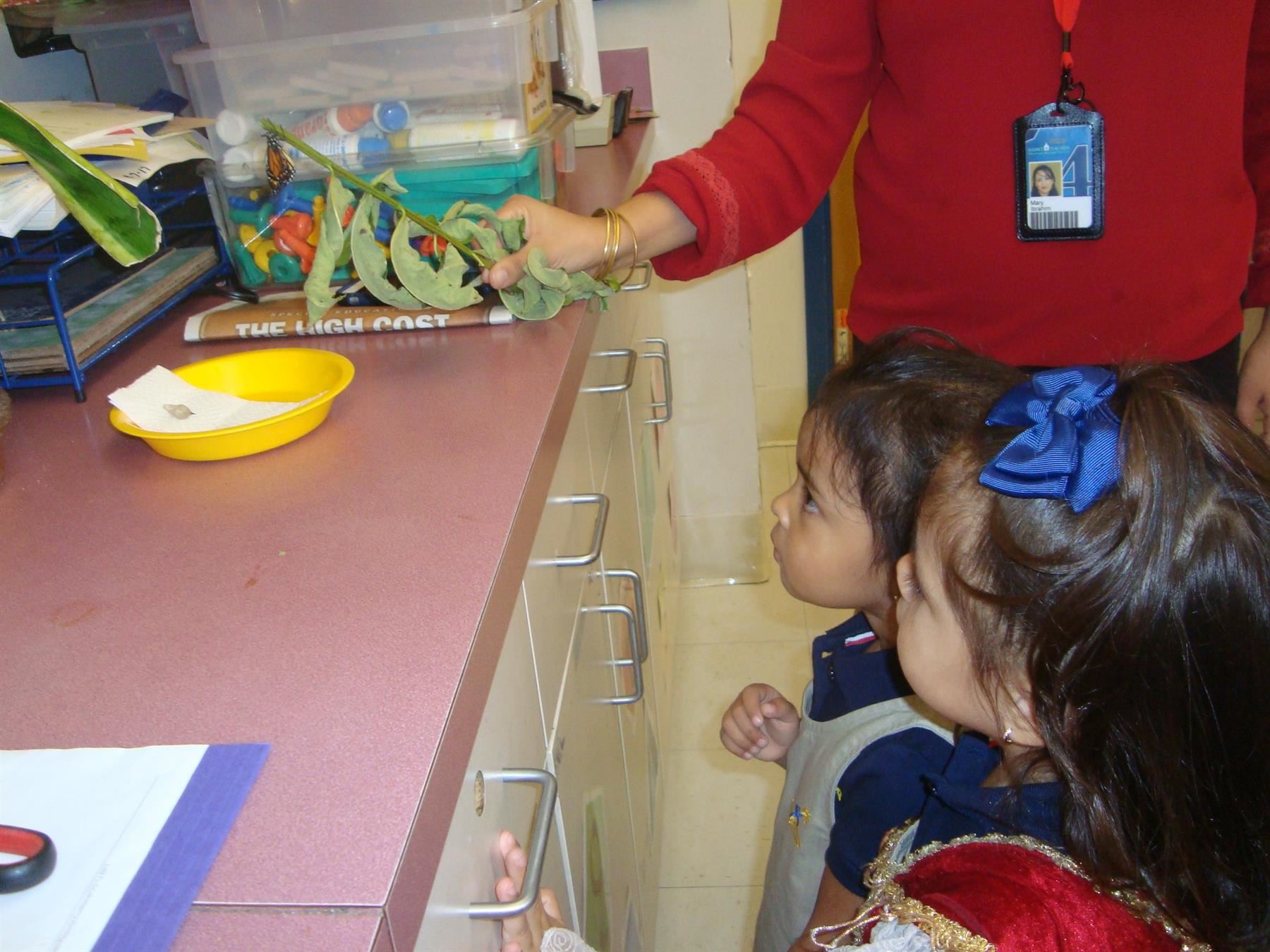 Students observe a newly emerged butterfly.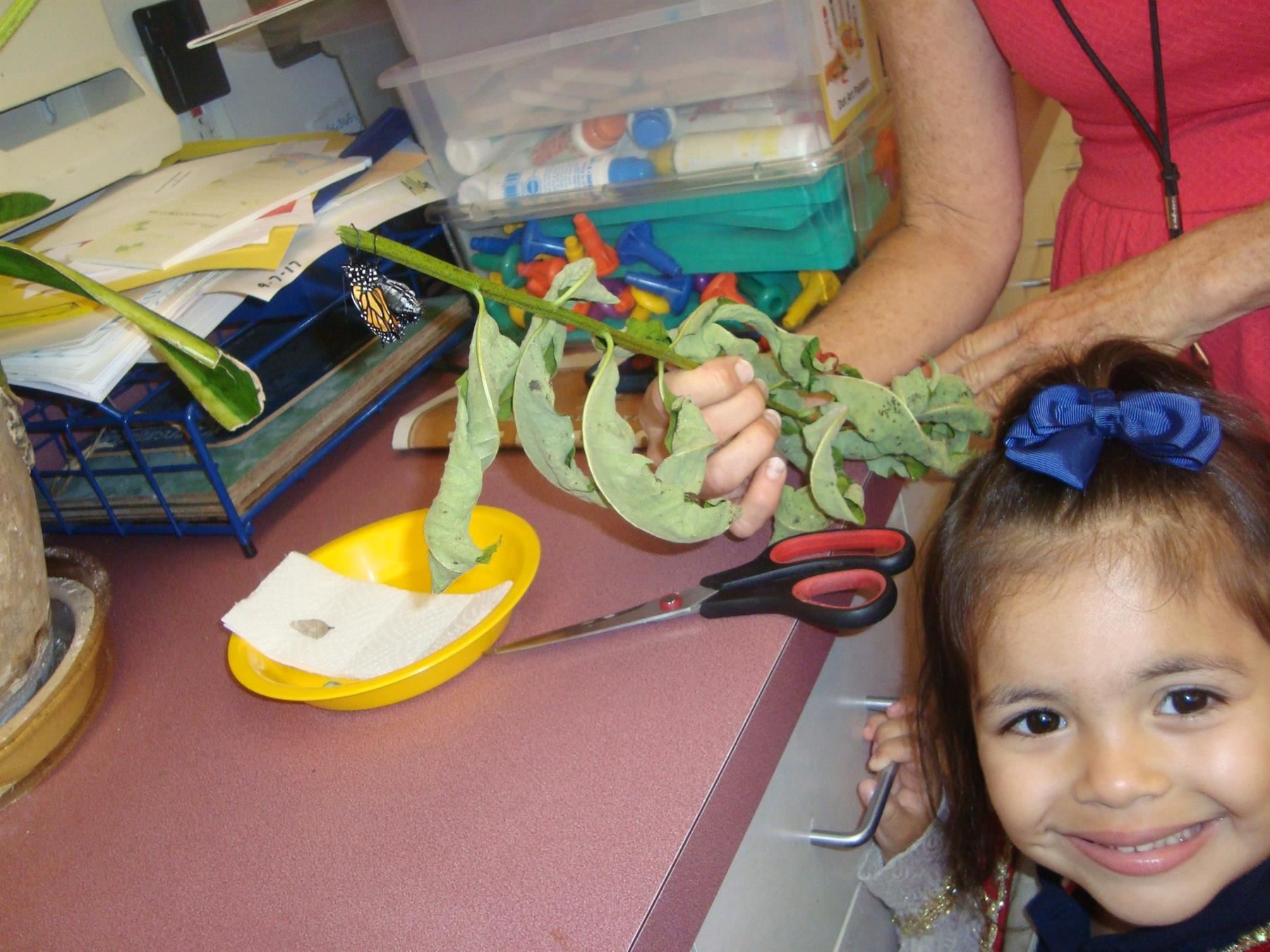 In the above pictures, a butterfly has just emerged from its crysalis. There is a lot of fluid in its belly that is being transferred into its wings to unfold and straighten them out. The butterfly is not able to fly until this process is completed and its wings have dried.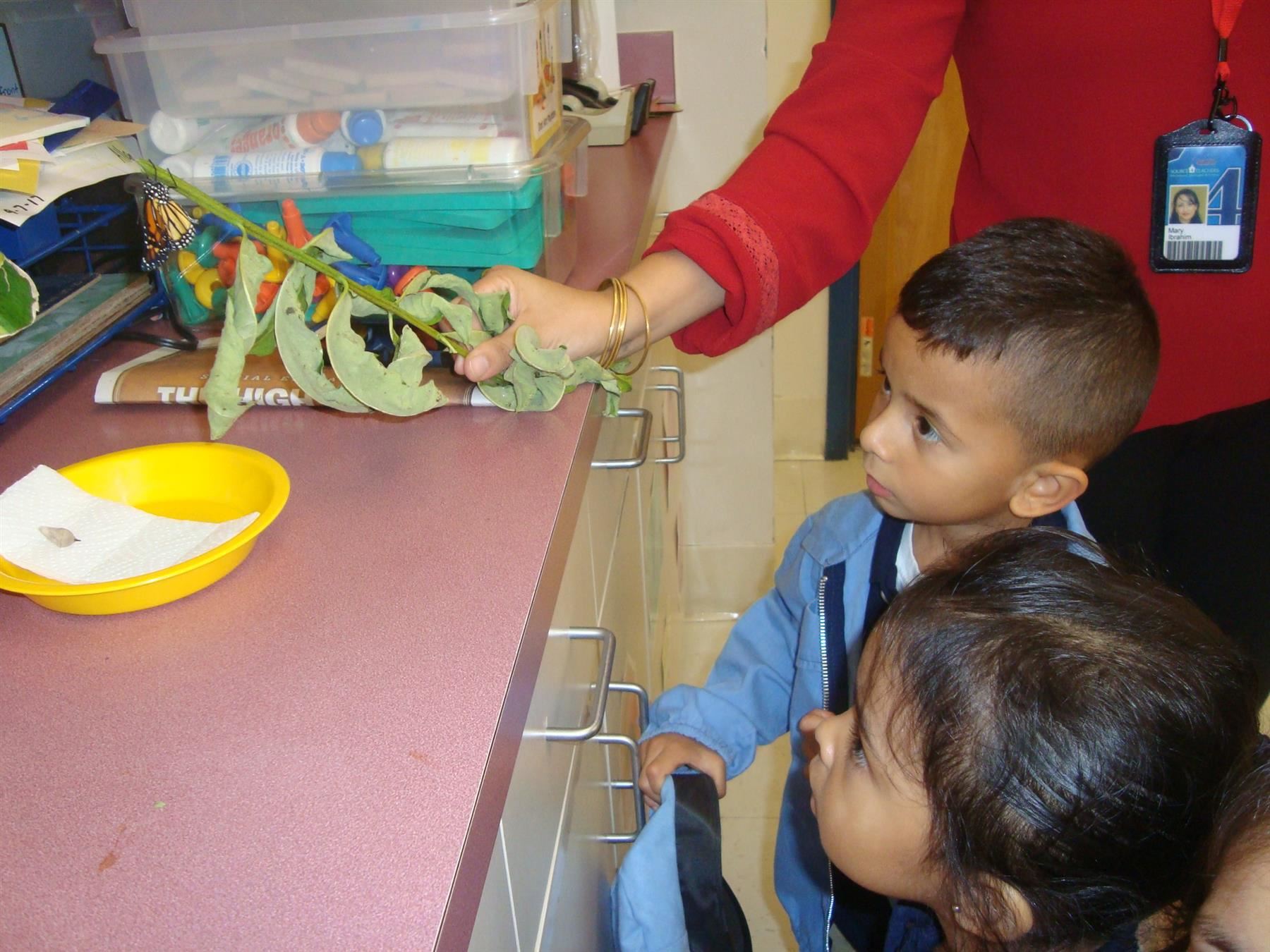 Students are very engaged in observing the process of a butterfly becoming prepared to fly for the first time. (above)
OCTOBER 2017

Lettuce & scallions were tasted, cut off the bottom root portion & then put into water to grow. Students observed this growth over time.

Pumpkins were grown & explored. Students learned the life cycle, observing growth from flower to a small green ball to a green pumpkin getting larger to a final orange pumpkin. A pumpkin was explored, cut open & slimy seeds touched and counted. Pumpkin pie was also eaten by students. Students are observing the pumpkin rotting in our garden, as we hope that a new pumpkin patch will grow for us here next year.

Students picked & ate cucumbers from our school garden.

Apples were also explored- the life cycle, colors & varieties of apples were explored, and students looked inside of apples as they made delicious apple crisp.

Students also planted a peach tree outside in our playground area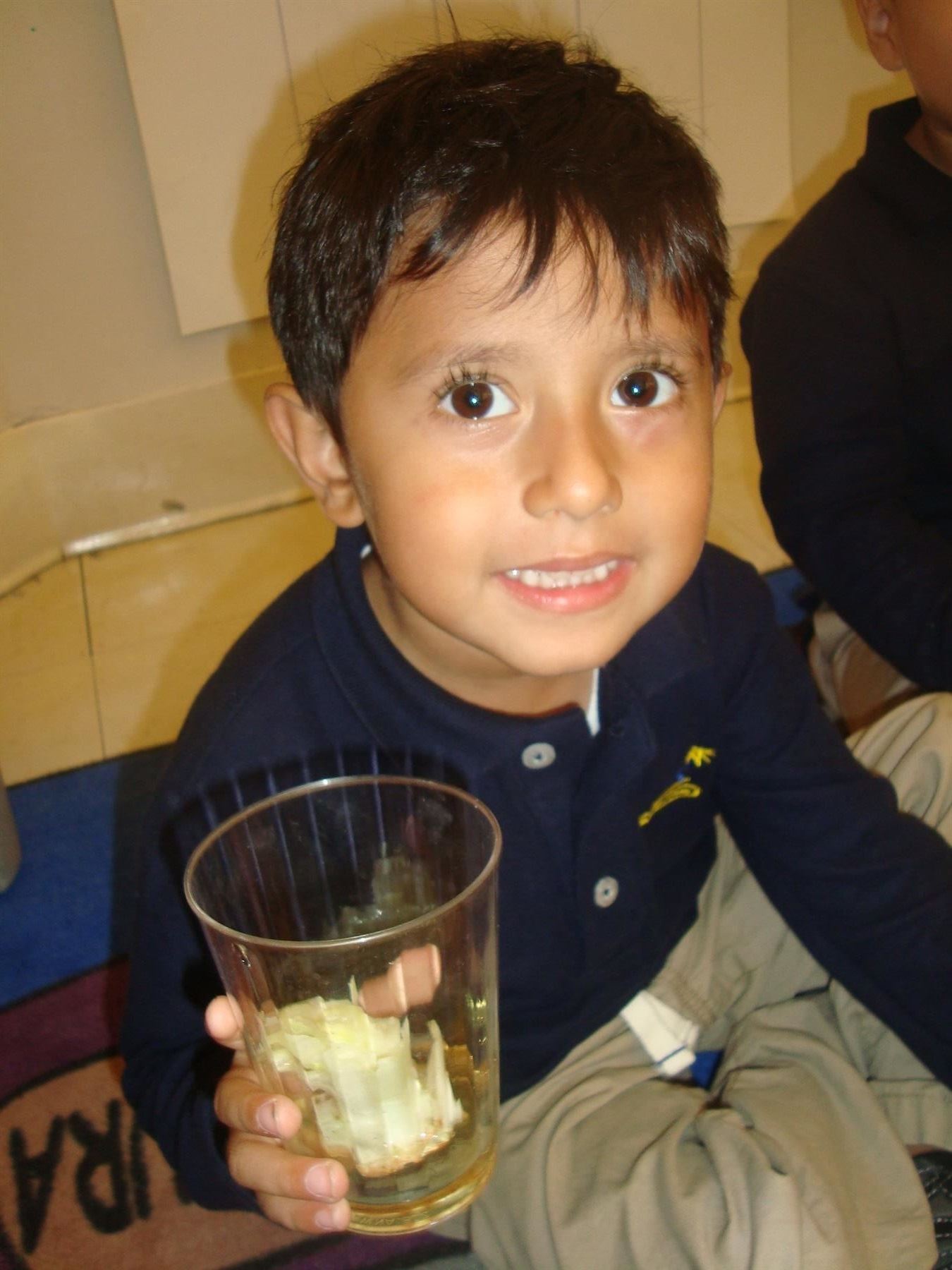 Lettuce leaves were removed & the inside portion of the head of lettuce was put into a glass with water on the bottom. (above)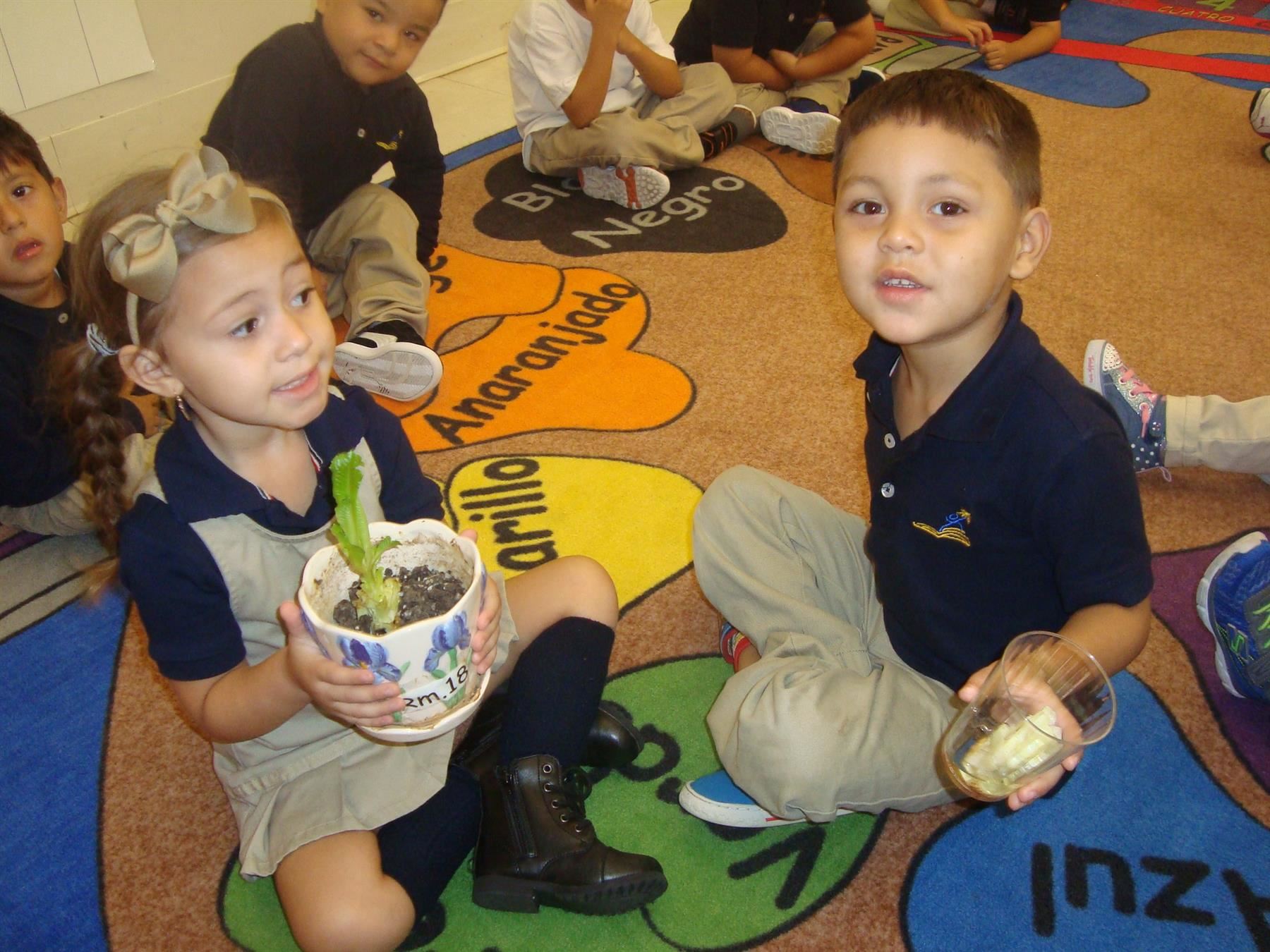 Leaves grew onto the inside of the lettuce plant that we had removed leaves from, and we later planted the lettuce plant outside. We also repeated the process to remember what the lettuce had previously looked like. (above)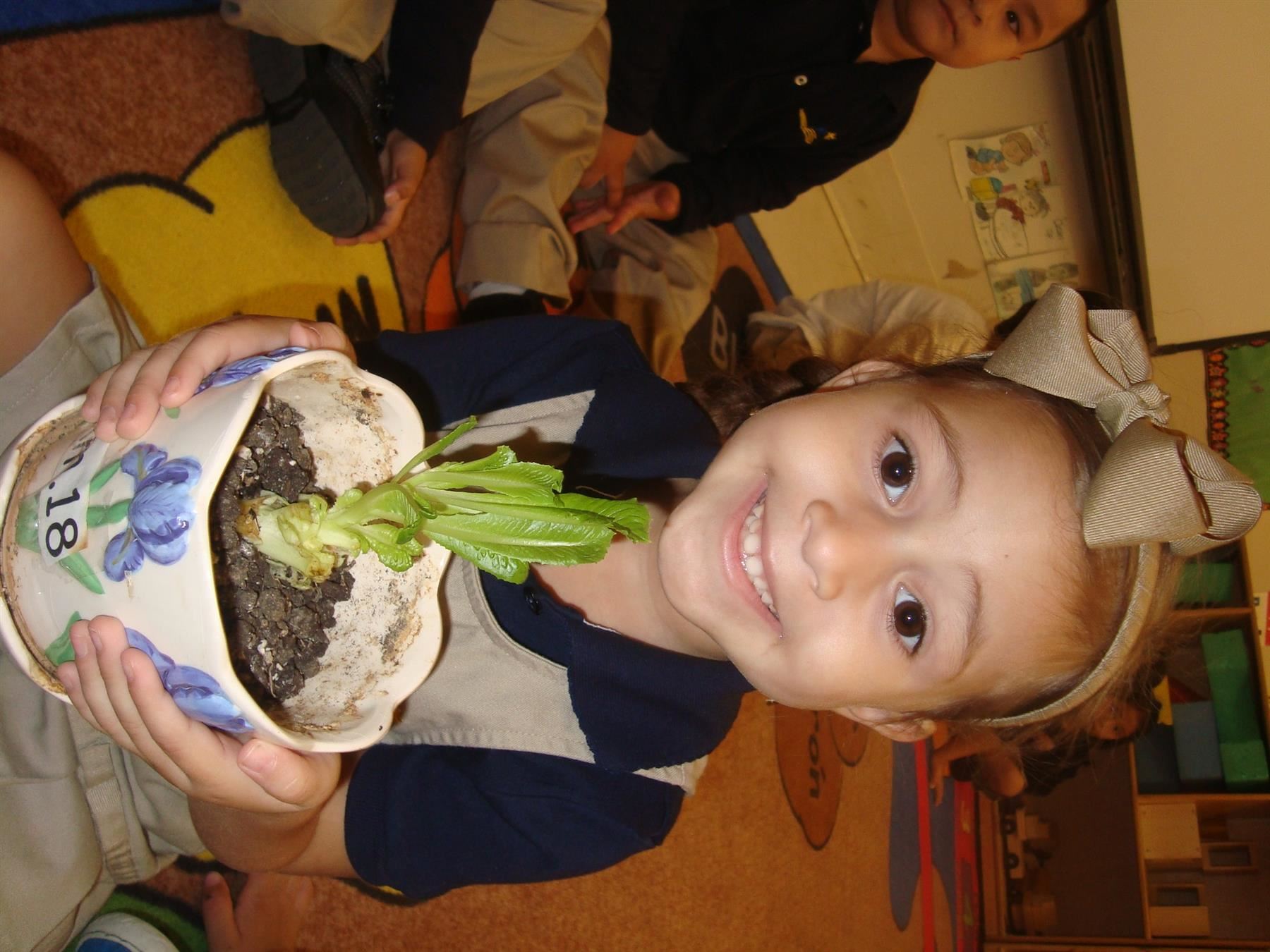 A student observes how leaves grew back onto the base of the lettuce plant after we had removed and eaten all of the previous leaves. (above)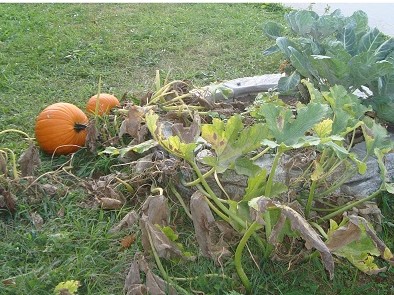 Our pumpkin vine is dying off as our pumpkins ripen. We are also growing brussel sprouts and collard greens in this garden.
NOVEMBER 2017

Leaves were explored in a variety of ways as they changed color. Students learned the function of leaves- to make food for the plant. They learned how leaves create food using the sun, water and chlorophyll, and they learned how water travels from the roots to the leaves & how the food travels back to the plant. One student's mother said that her son repeated this process to his cousin at home using the word chlorophyll.

We read The Giving Tree by Shel Silverstein and discussed how we can help or hurt trees, plants an animals.
DECEMBER 2017

A variety of labelled non-deciduous tree branches were brought into school. The same types of tree branches were used to make a holiday swag, and students had to find the match to each variety of branch on the swag. The different features including color/shade, length & type of leaf/needle, size & length of leaves, if it was hard or soft, etc. were discussed by students.

A bee house was made for bees to overwinter inside of its bamboo tubes. This was put outside into one of the trees on our playground area.
Sra. Alvarez observes an evergreen tree branche with a student.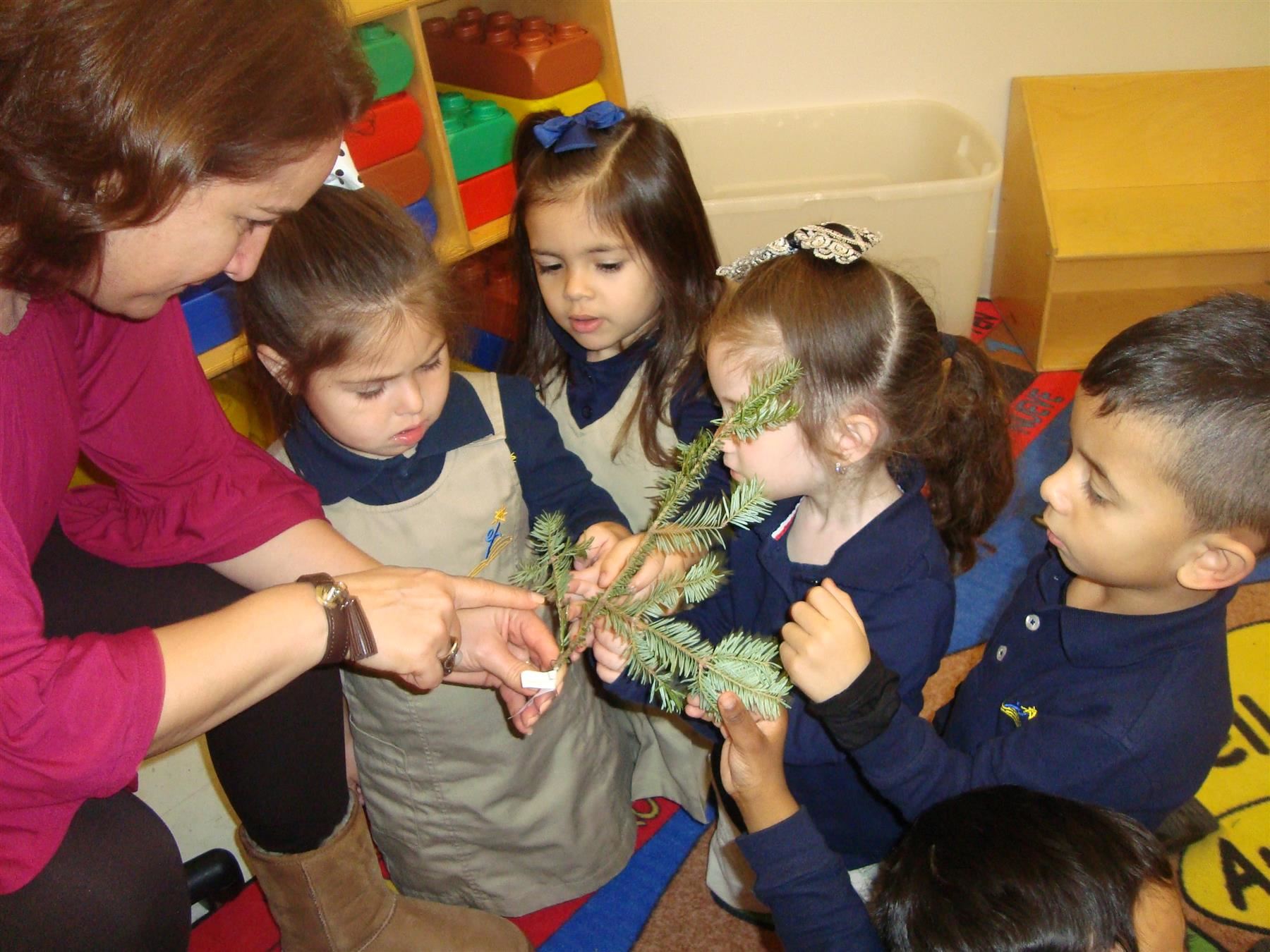 Sra. Alvarez observes pine needles with students.
JANUARY 2018

We began the new year doing animal movements during gross motor time. We found an excellent video at https://www.youtube.com/watch?v=26guG6wr5so that shows each animal in its natural habitat before doing the movement. Students also learned to say animal names in Arabic, and we discussed how the Arabic alphabet differed from our ABC's.
Students love moving along with this video, doing animal movements.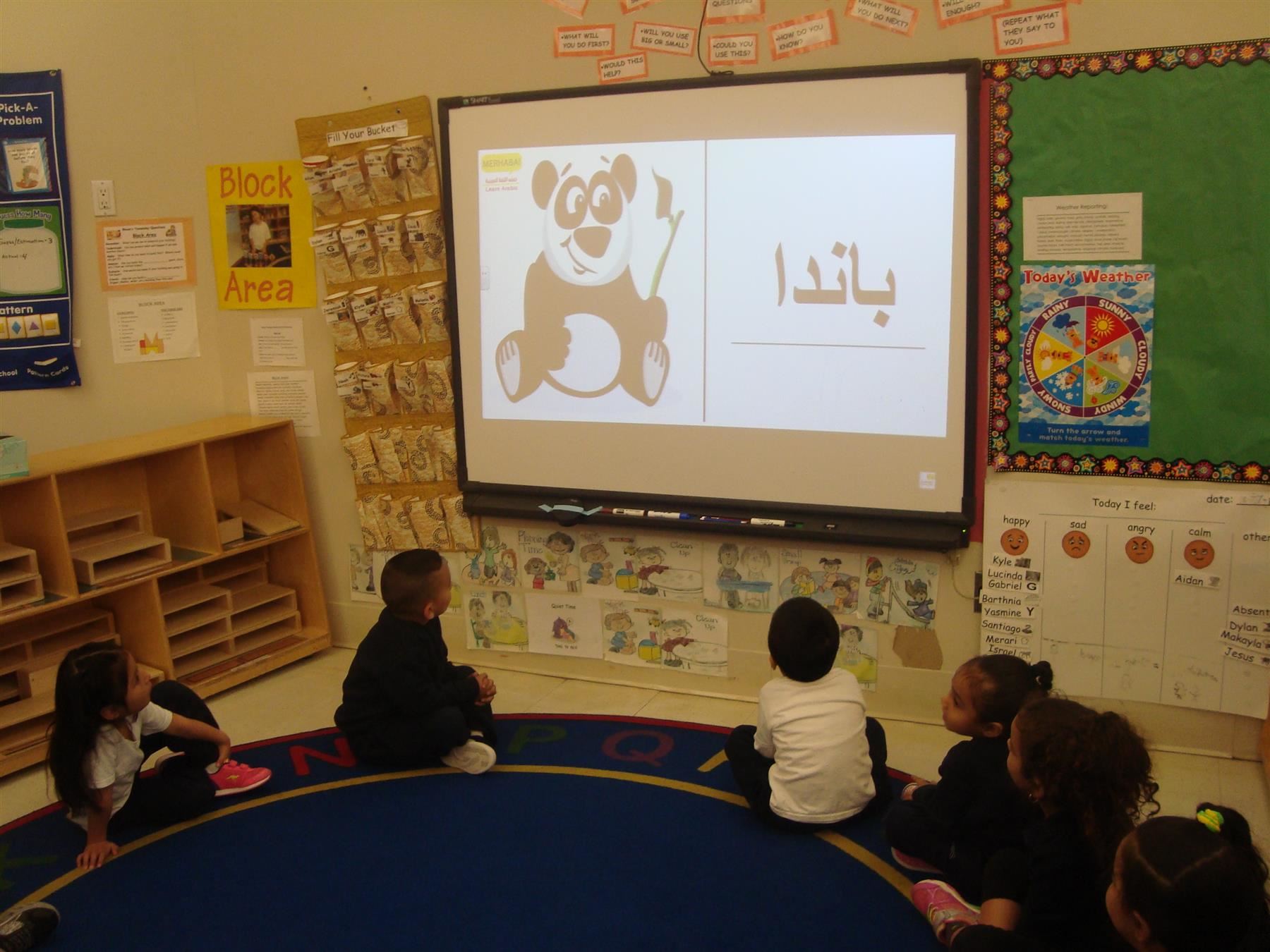 Students learned that 'banda' is Arabic for panda.
FEBRUARY 2018

On February second for Groundhog Day we started the day by giving our opinion of what happened with the groundhog. Afterwards, students were told what had happened with the groundhogs- one saw its shadow & the other didn't see its shadow. This led us to discuss hibernation and the different animals that hibernate.

Handwashing and germs were discussed, as we tried to stay healthy over the winter. Students were also taught to cover their mouths with their forearm when they coughed or sneezed.

Christine Whorton from NJ Audubon held a lunchtime workshop in school, training all our educators using activities to teach our young students about biodiversity and sustainability in a fun, hands-on way.

Birdbaths and a new bird feeder were obtained for our playground area, and our school became a National Wildlife Federation Certified Wildlife Habitat.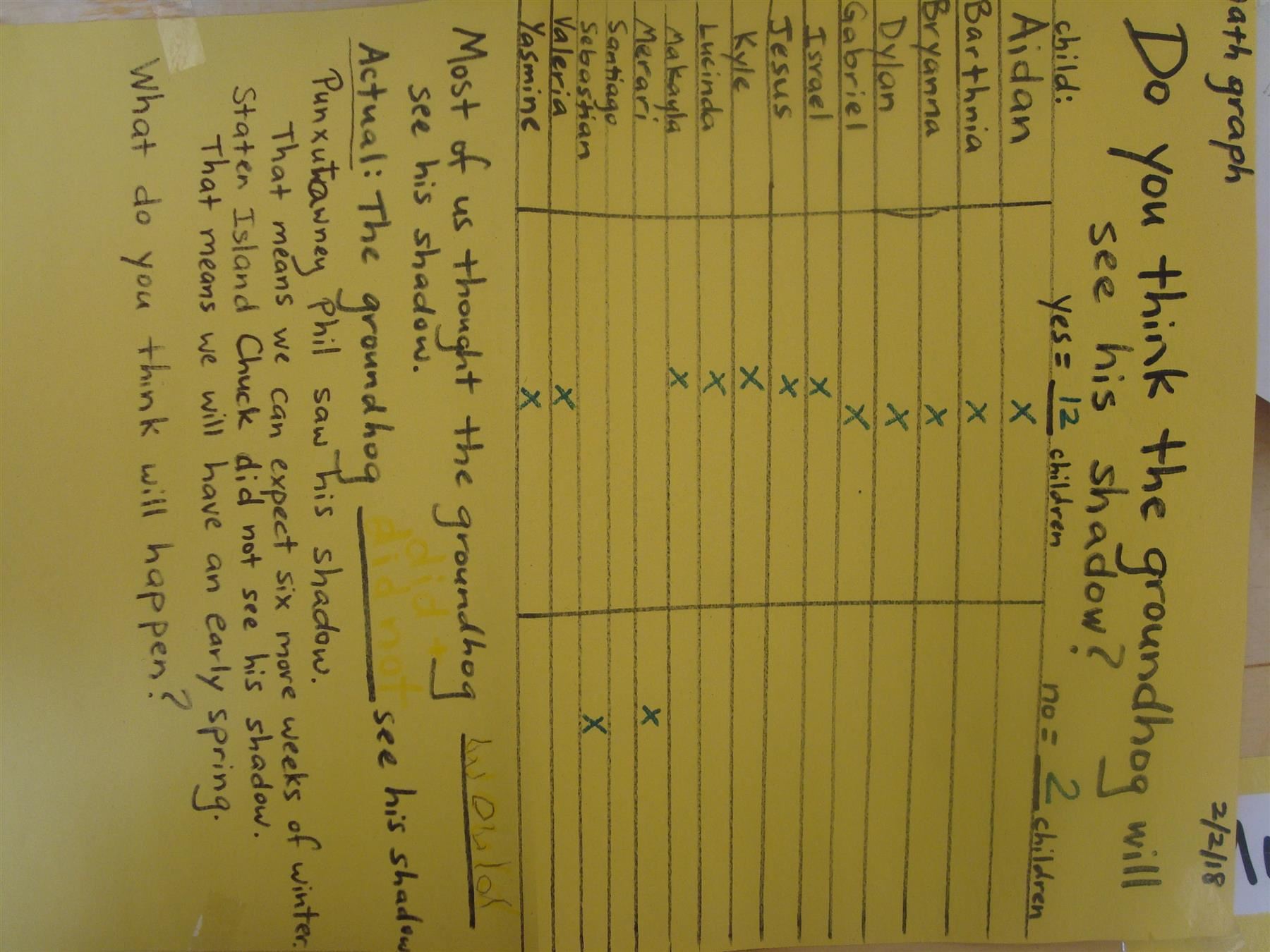 Groundhog Math: Punxutawney Phil saw his shadow, but Staten Island Chuck did not see his shadow.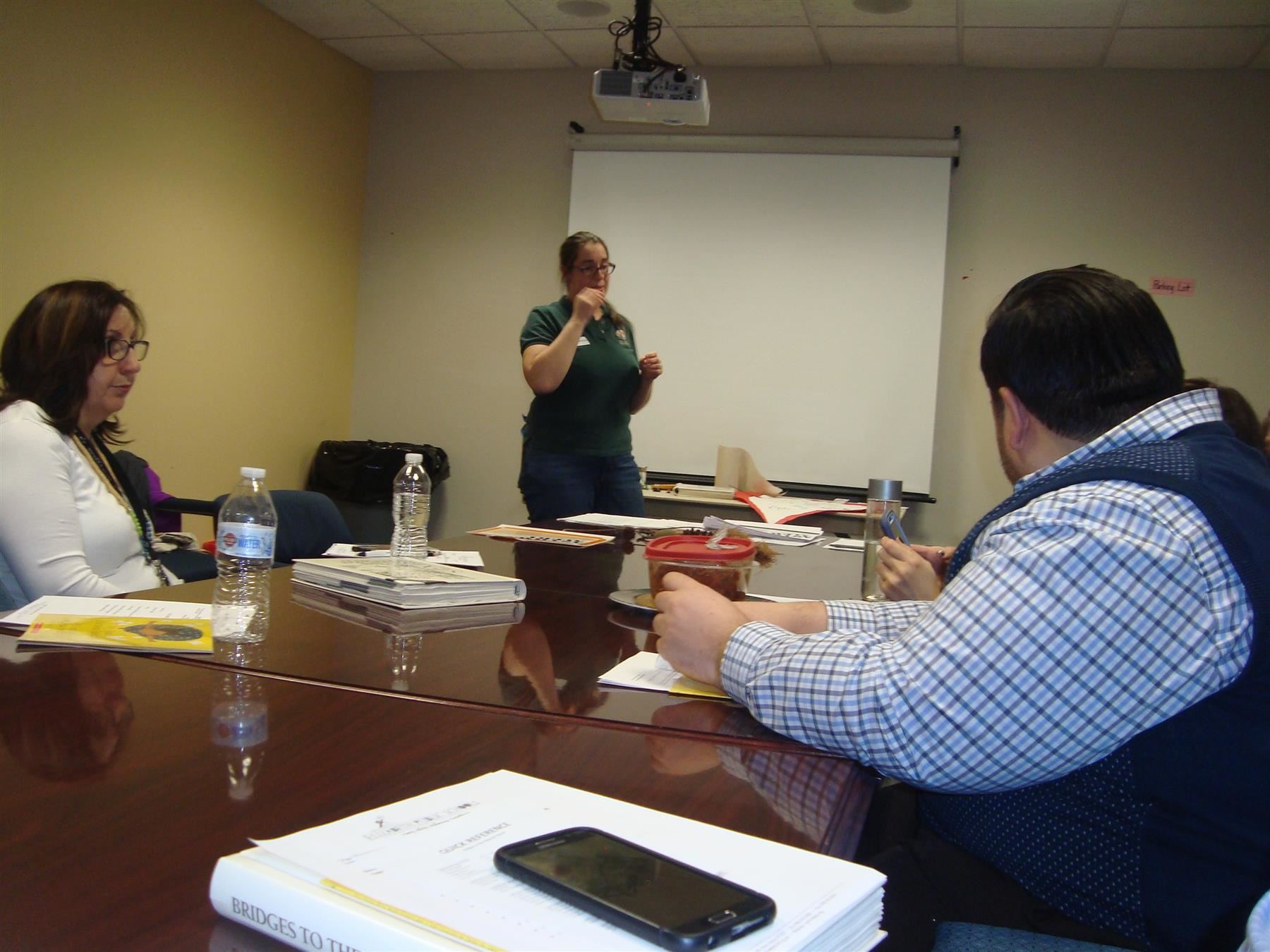 Thank you Christine Whorton from NJ Audubon for your informative sessions with teachers and CDA's.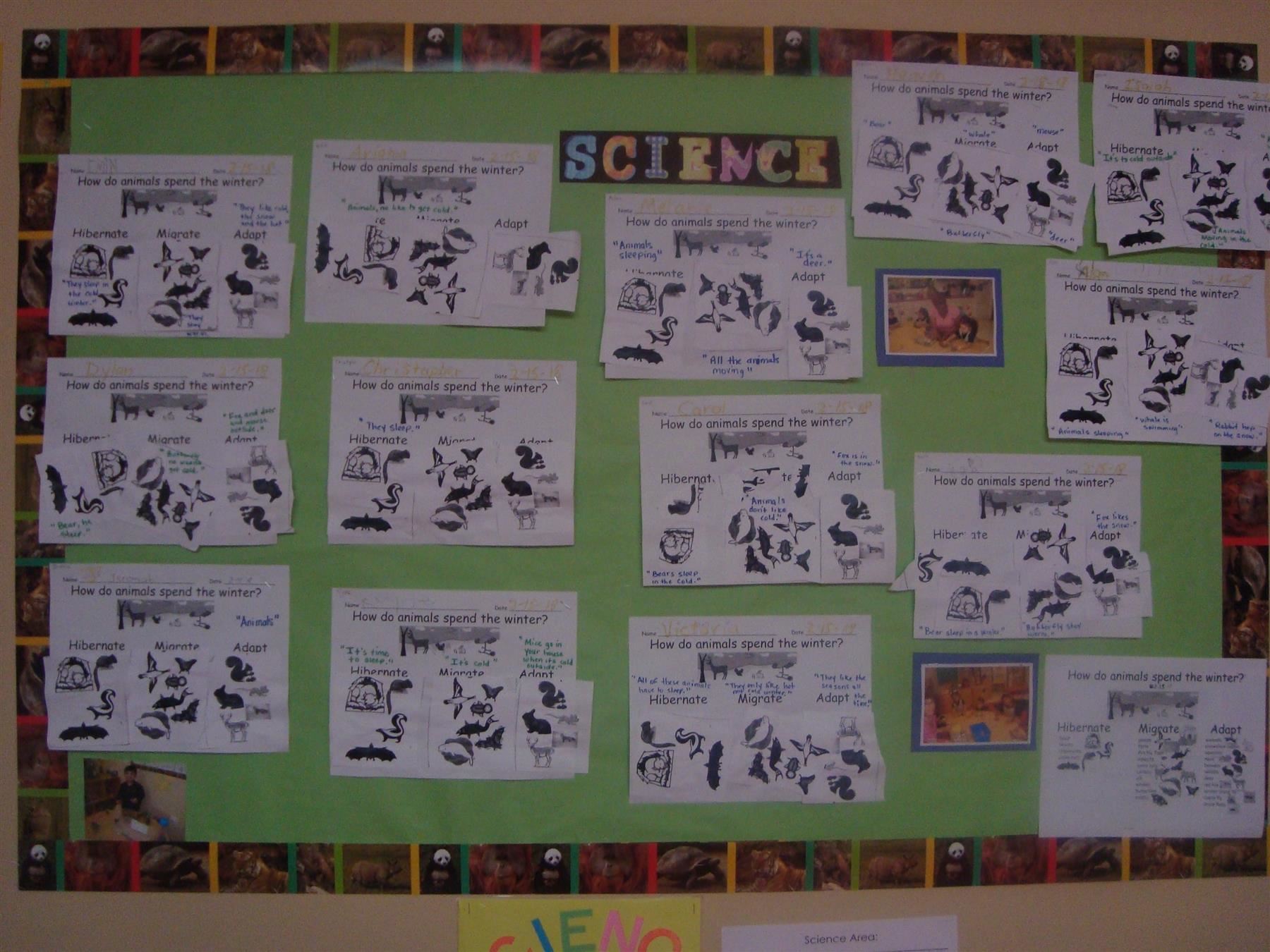 Animals in winter - do they migrate, hibernate or adapt?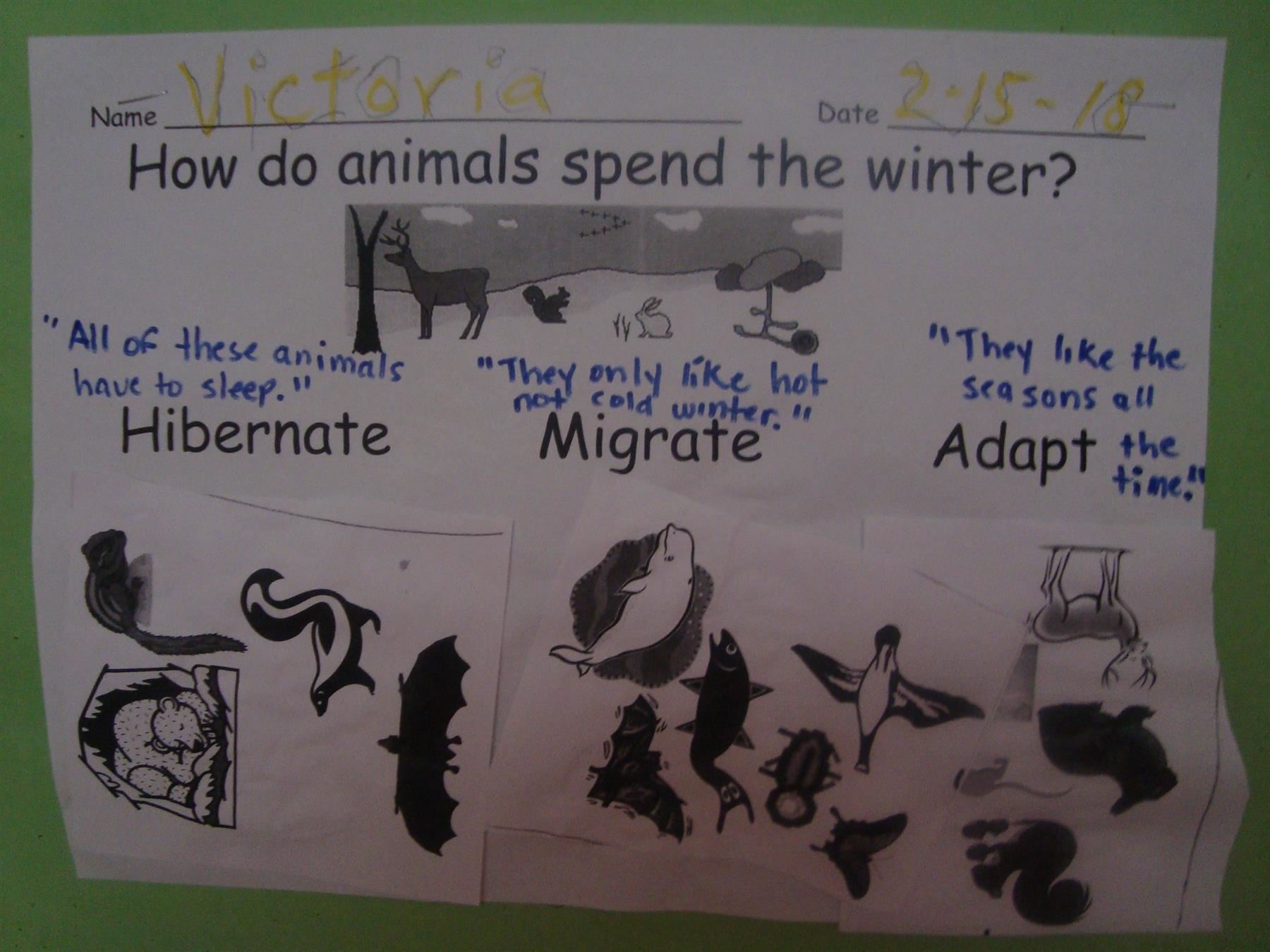 Good job Victoria! You really got it!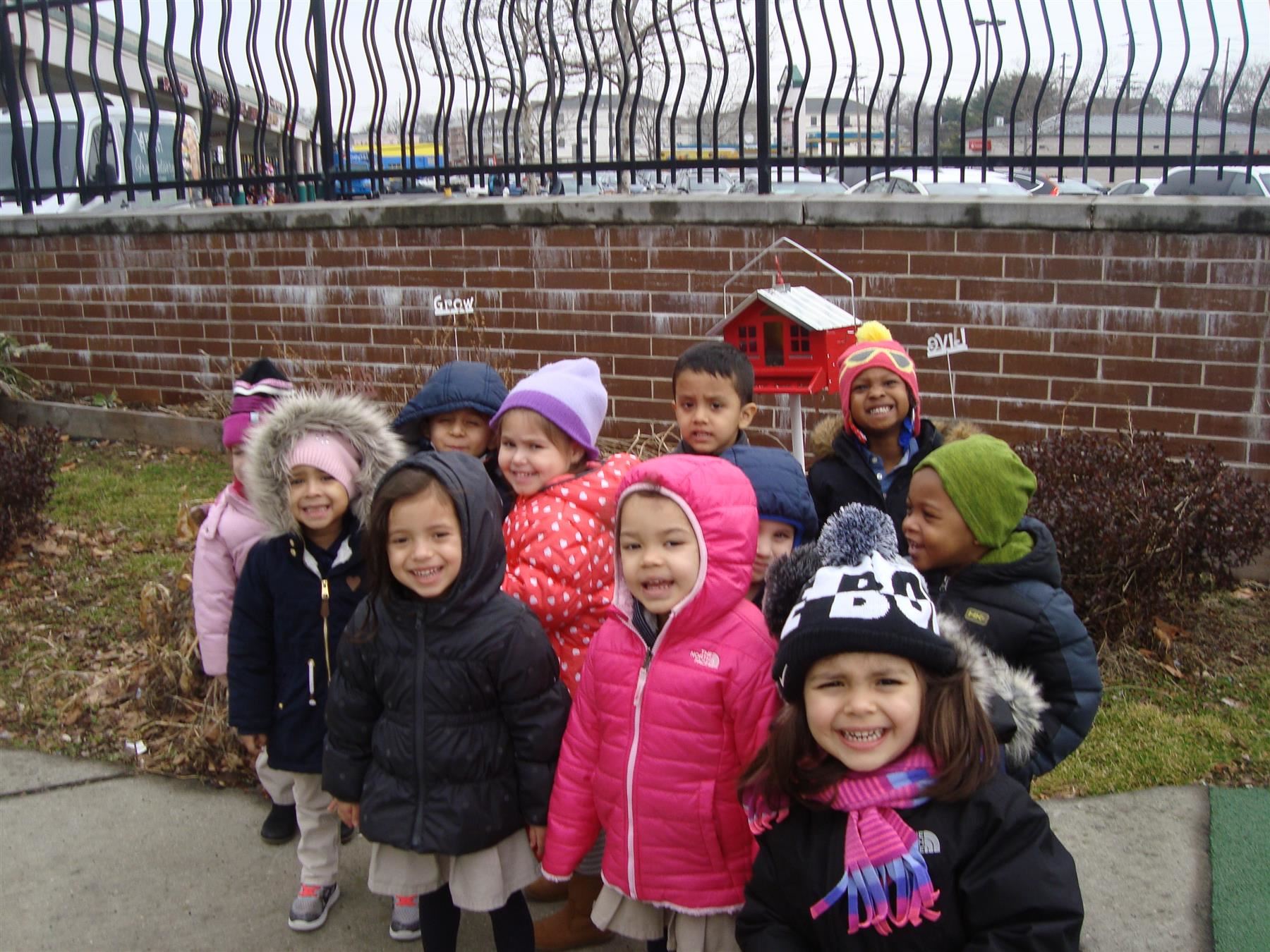 We put up a new bird feeder & fed the winter birds.
We did some math while missing our summer fruit. And then we talked about how we get our crops in the winter.
MARCH 2018

Students celebrated Read Across America week with Dr. Seuss and the Lorax, a tale about greed and deforestation. We discussed the benefits of having trees growing in our environment.

One classroom got a hermit crab, and students in two classes learned about hermit crabs. Books were read and activities were done to enhance learning.

Most importnat after touching our hermit crab, we discussed the importance of handwashing in staying healthy. The spread of germs was shown through the use of green paint. Thanks to the great idea by Mrs. Pompey, students really understood!

Animal needs were discussed, as students worked with dinosaurs. Students learned that dinosaur extinction occurred because their needs were not met.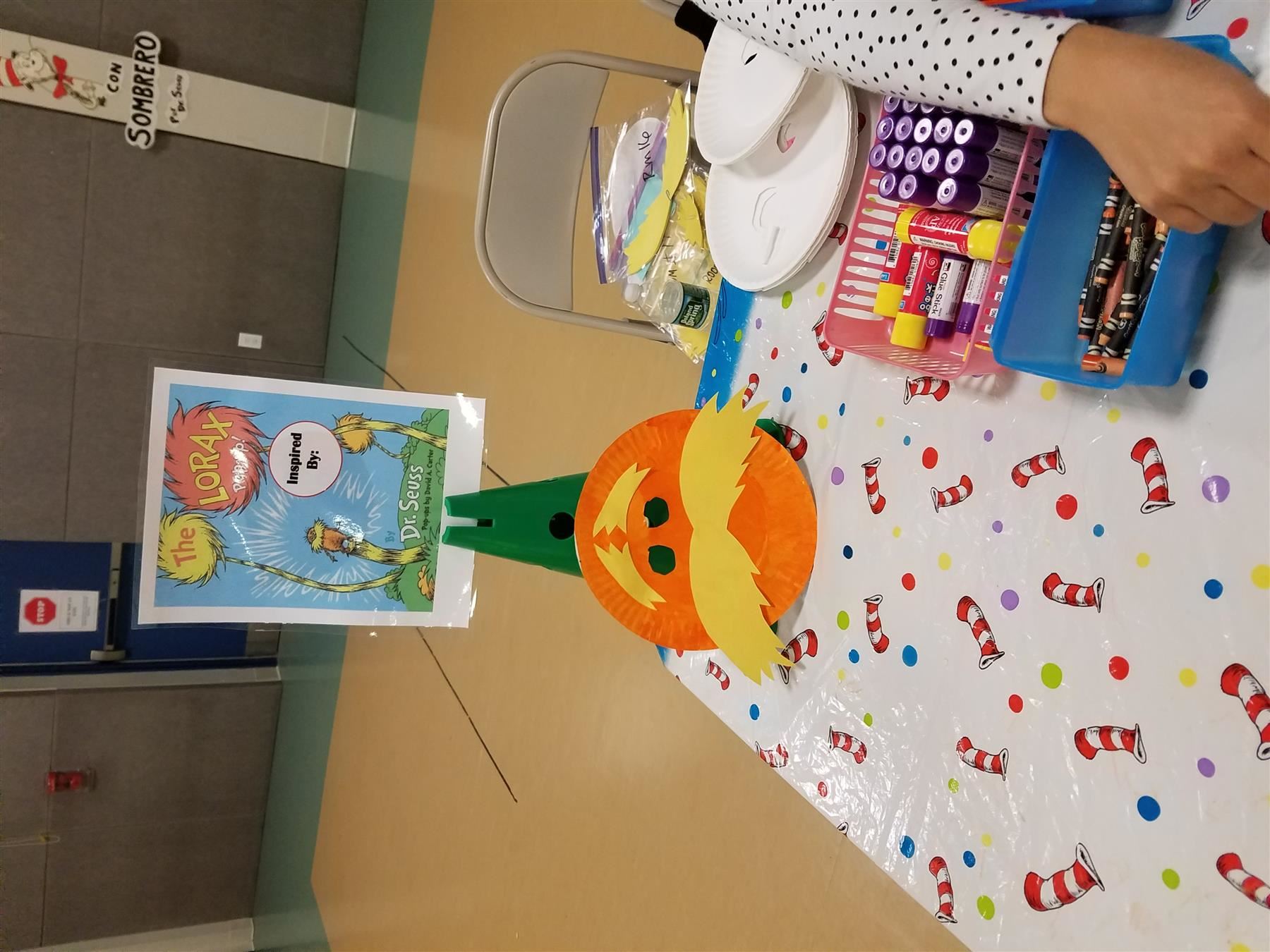 Students made Lorax masks in school at Seussville.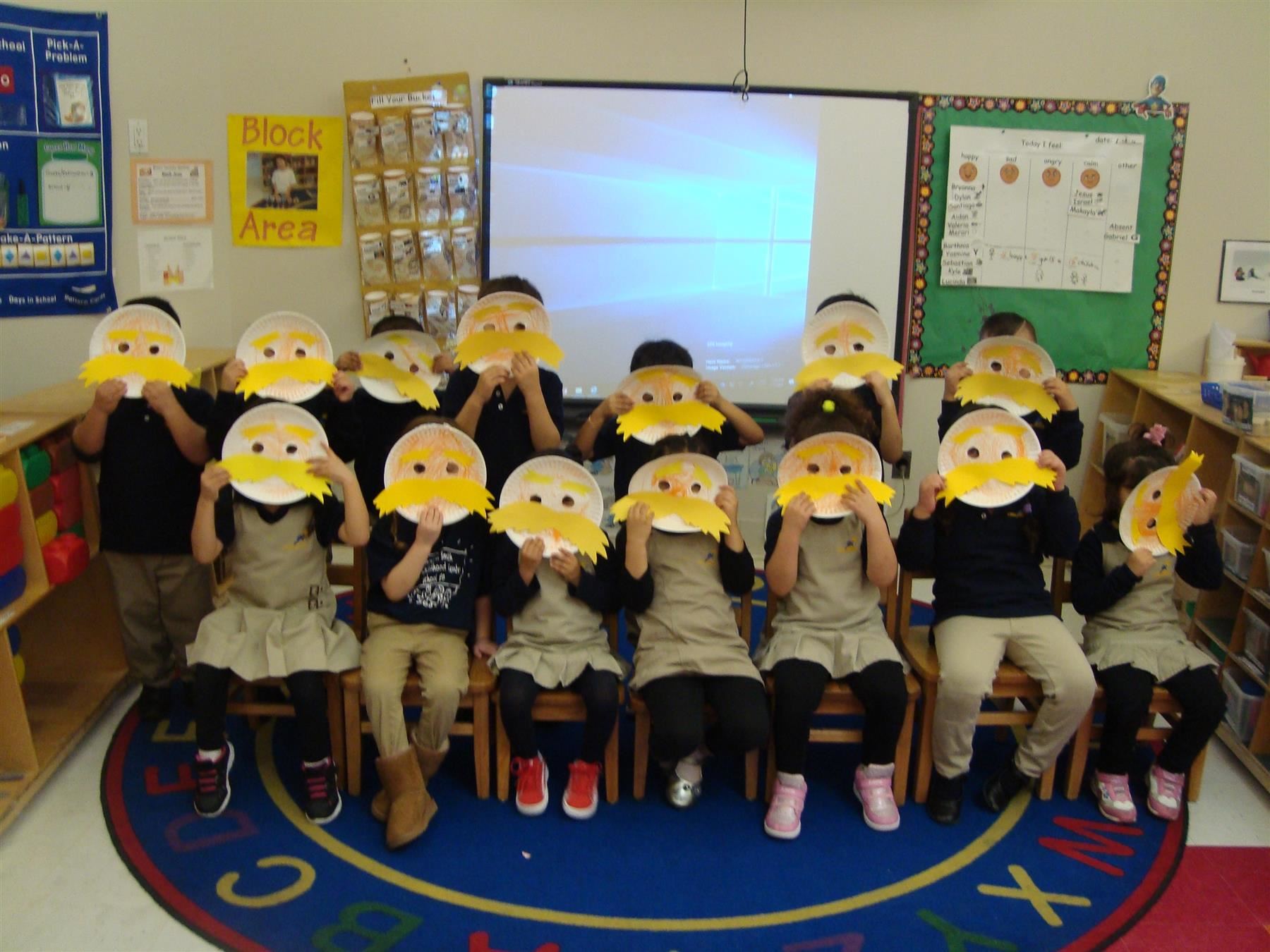 Students wore Lorax masks made at Seussville.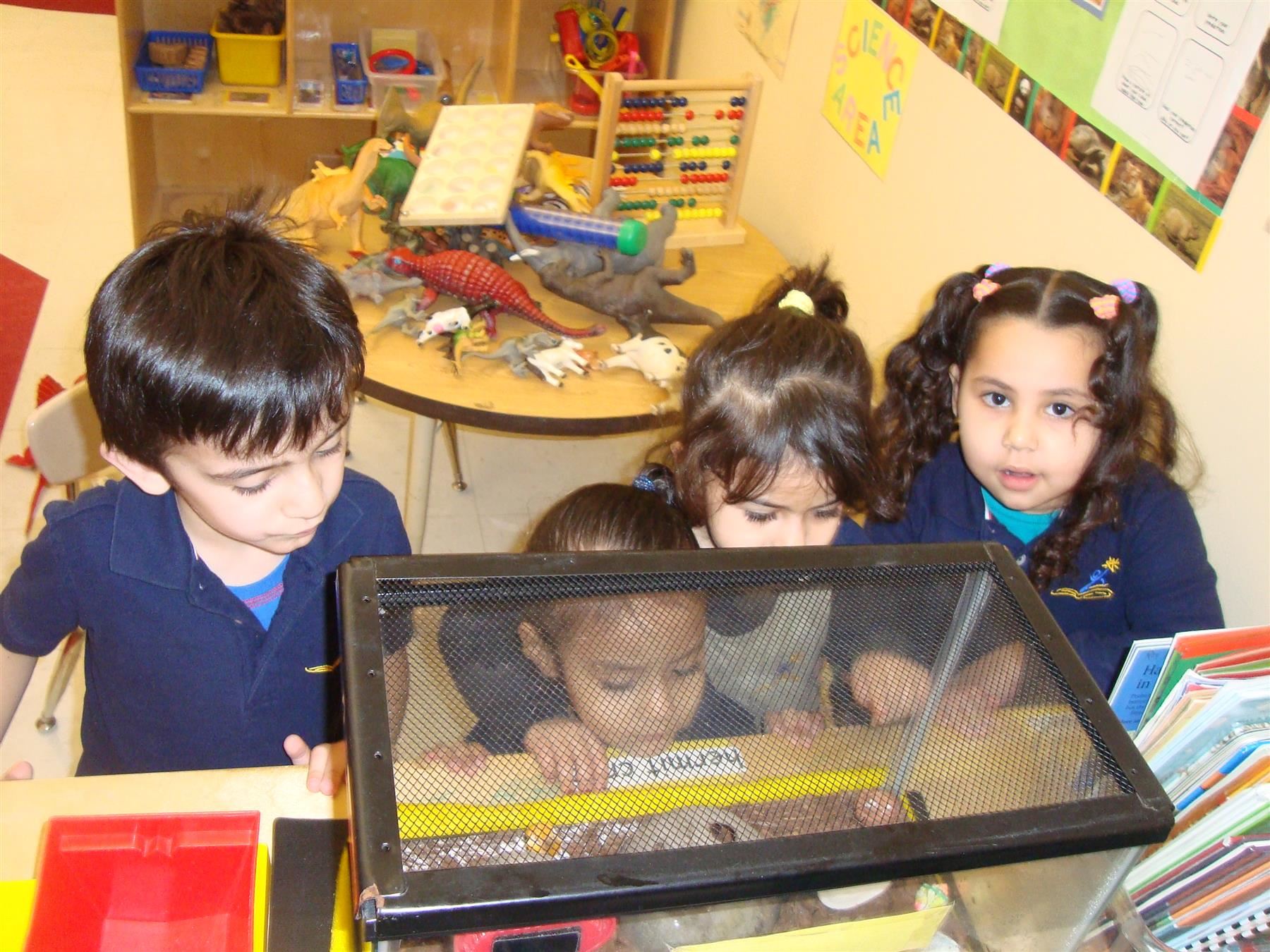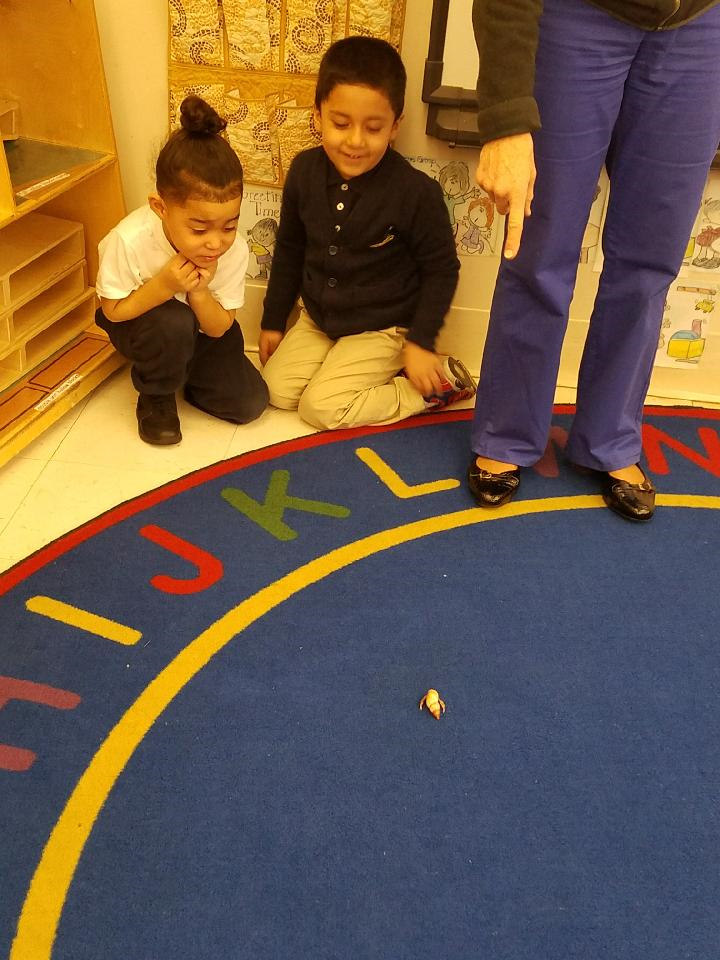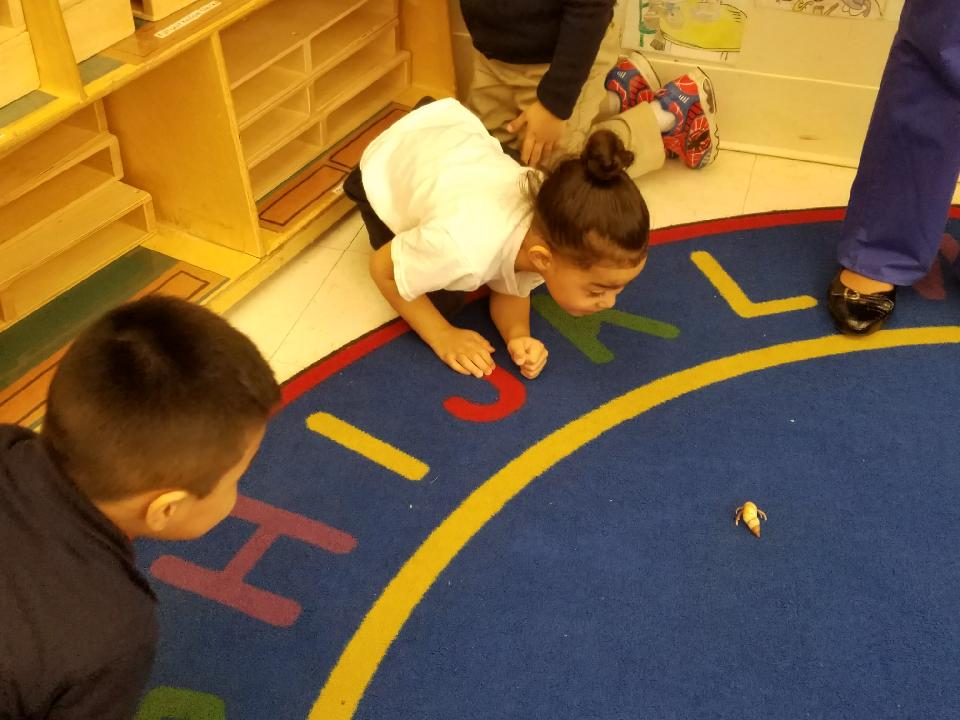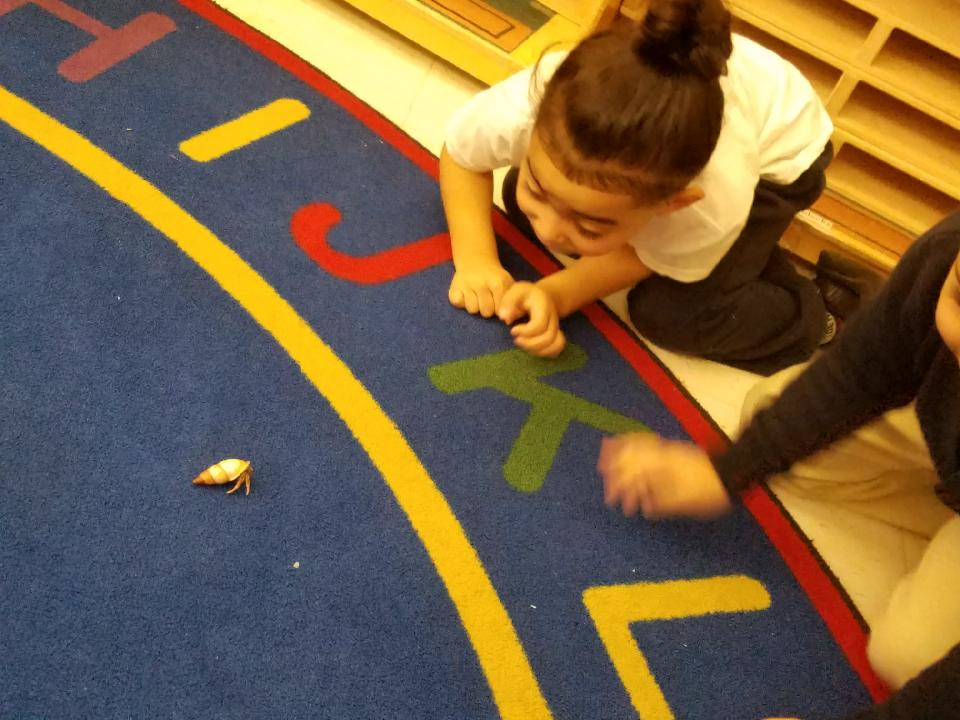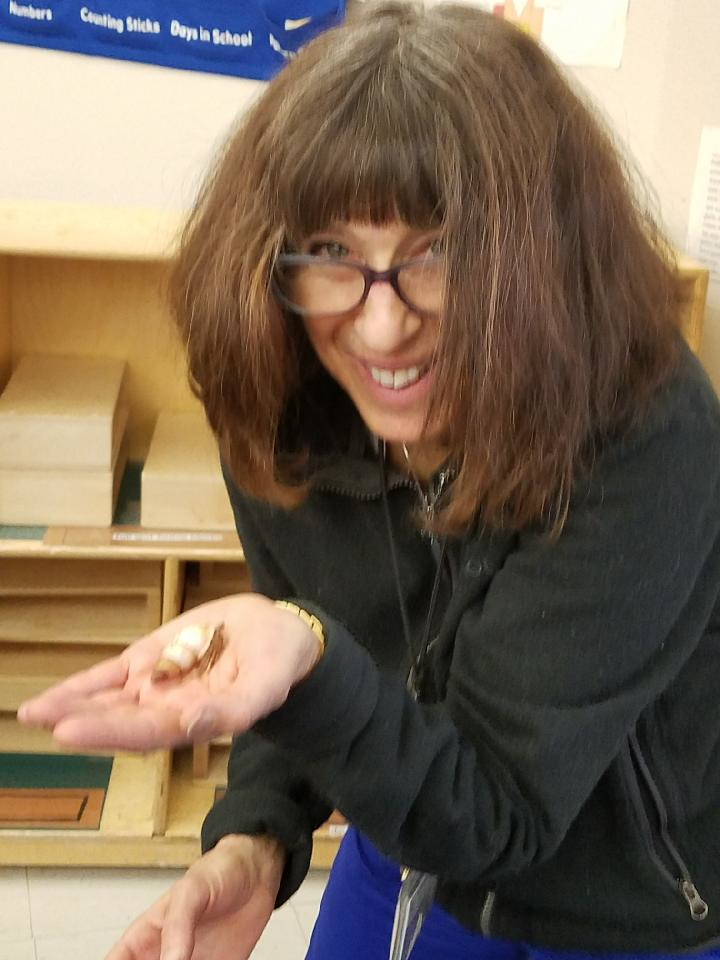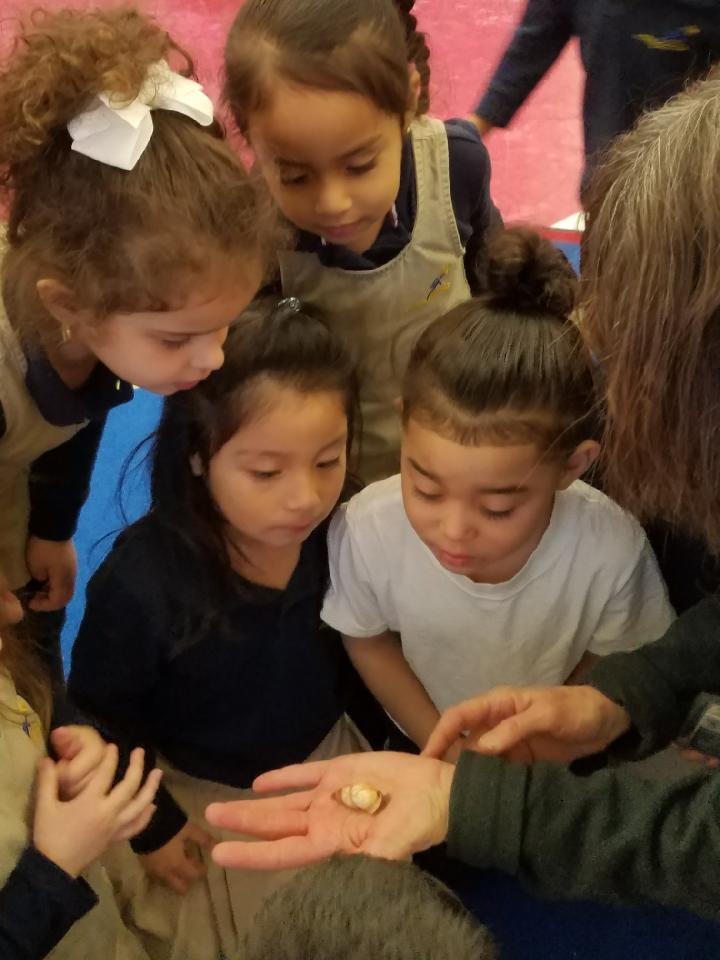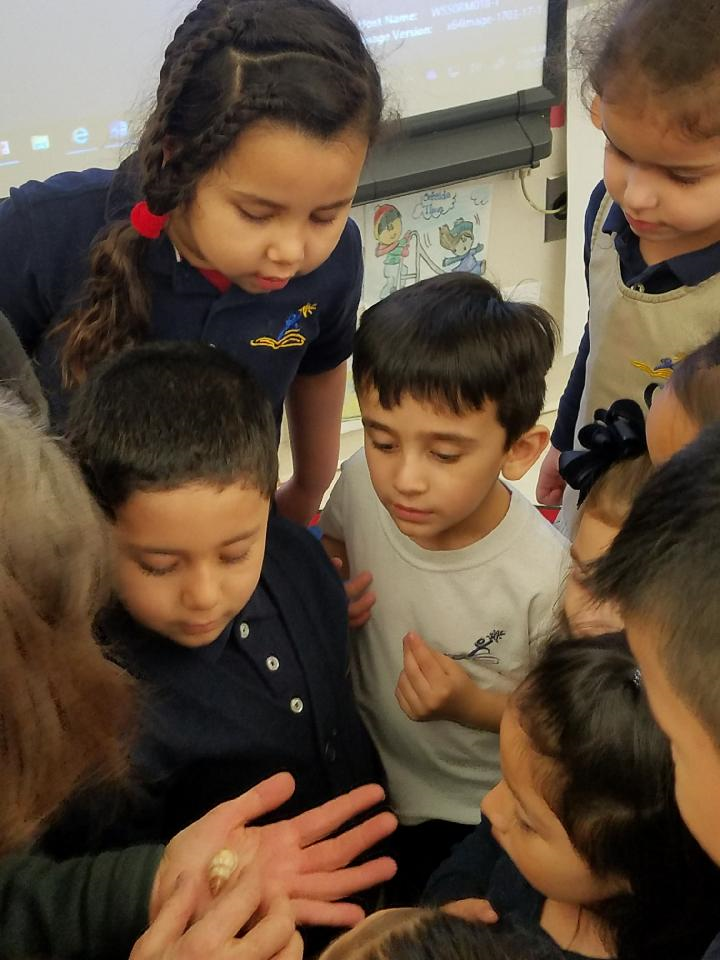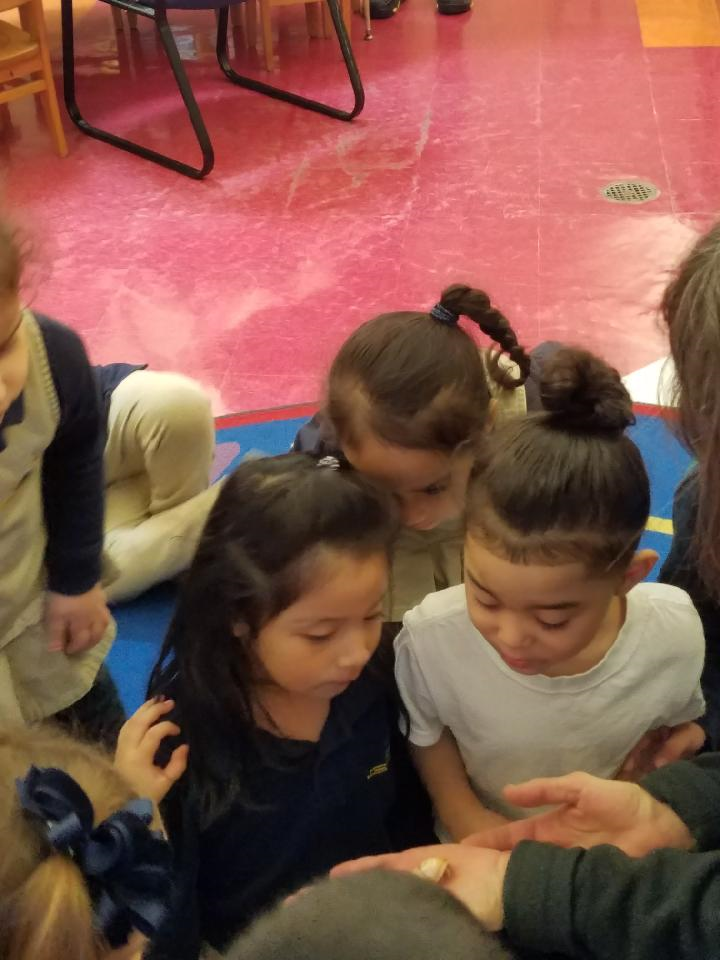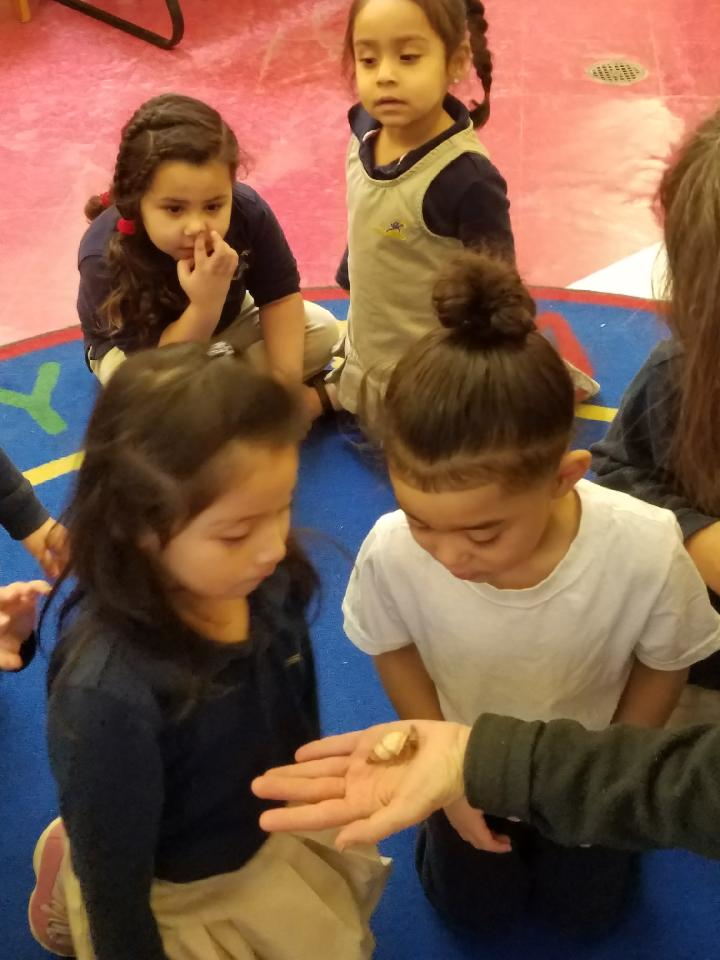 Watching our hermit crab.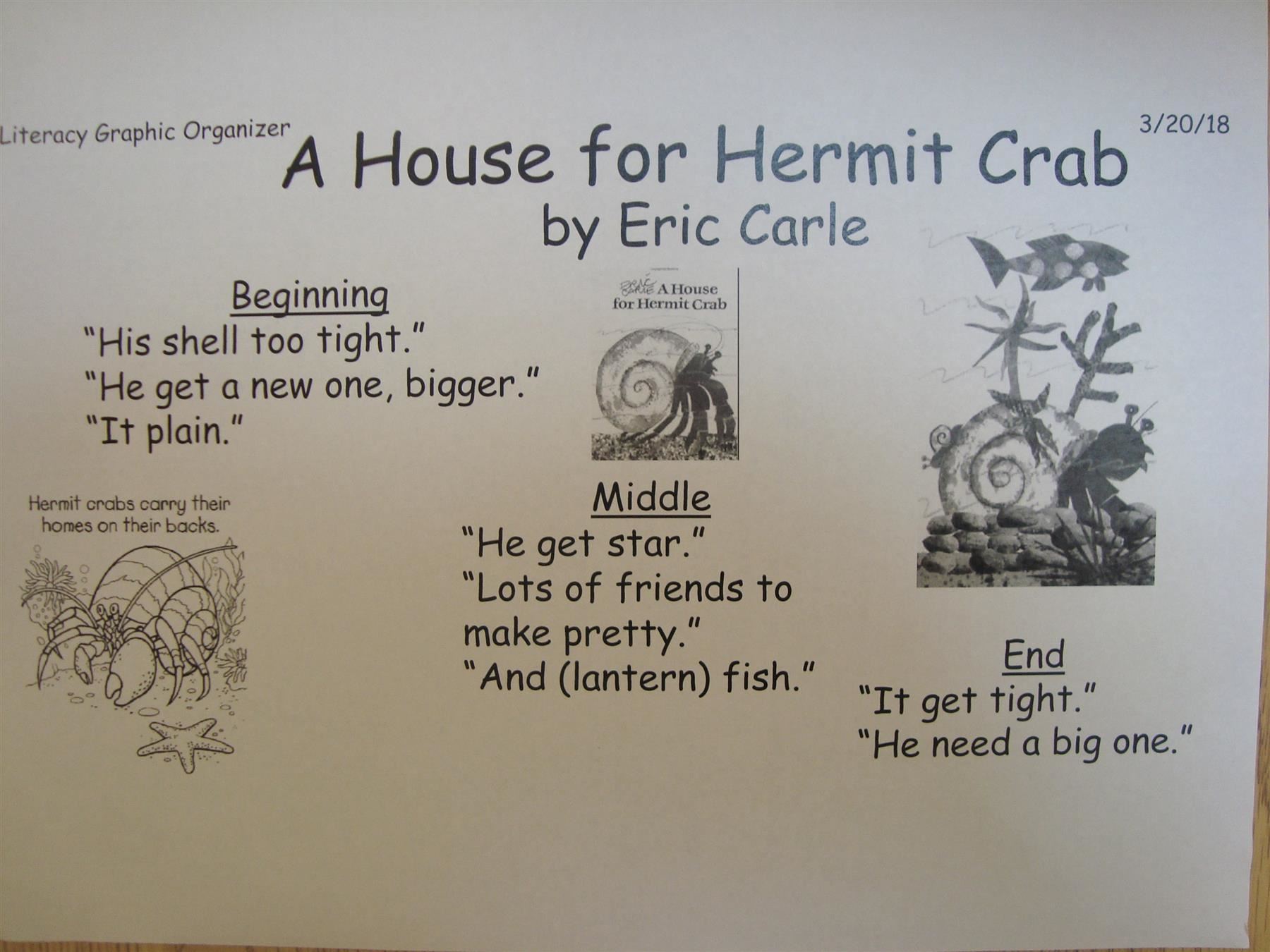 We read about how hermit crabs change their shell when they outgrow it.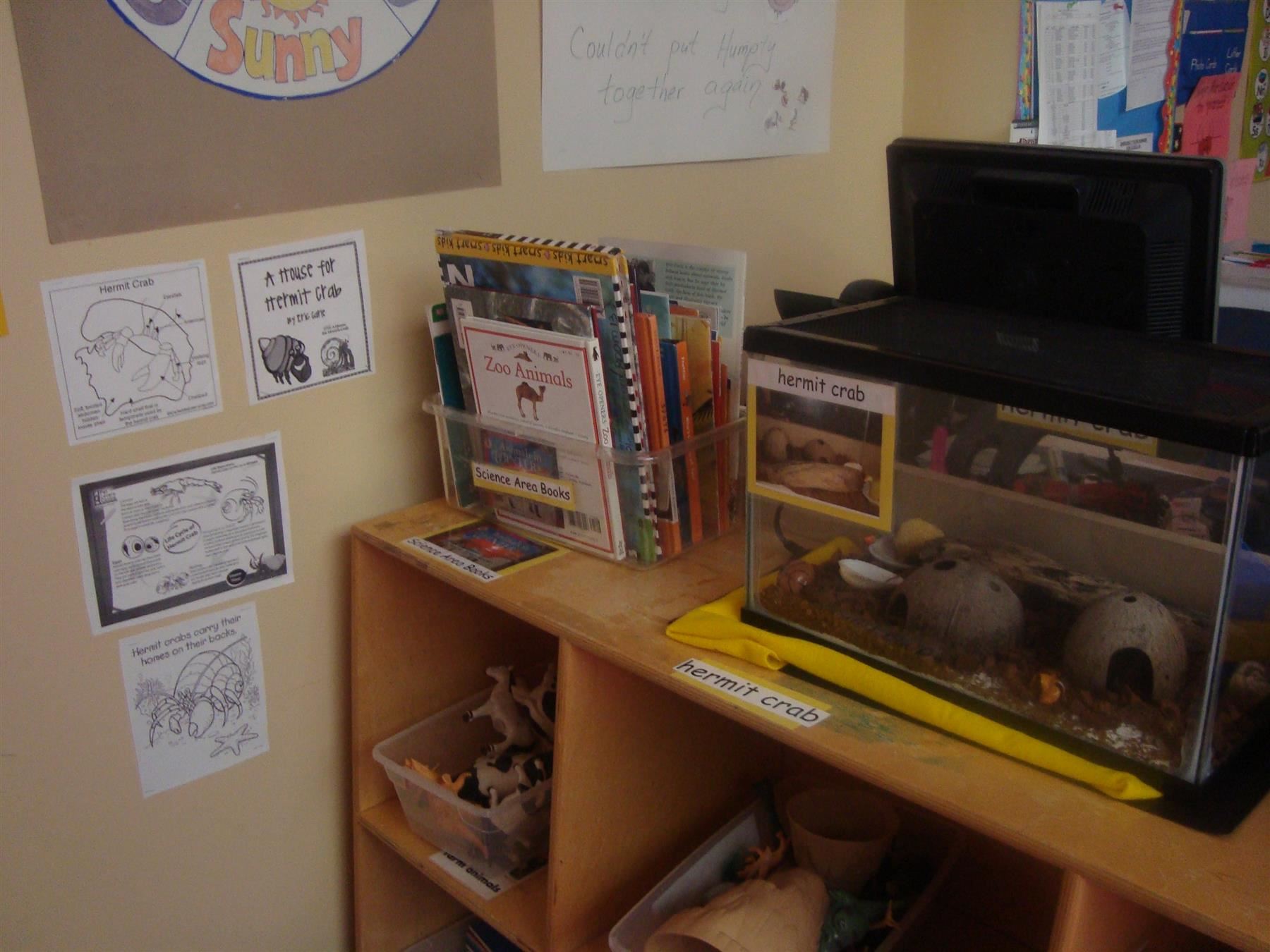 We learned about the life cycle and anatomy of the hermit crab, and posted it next to the hermit crab's cage.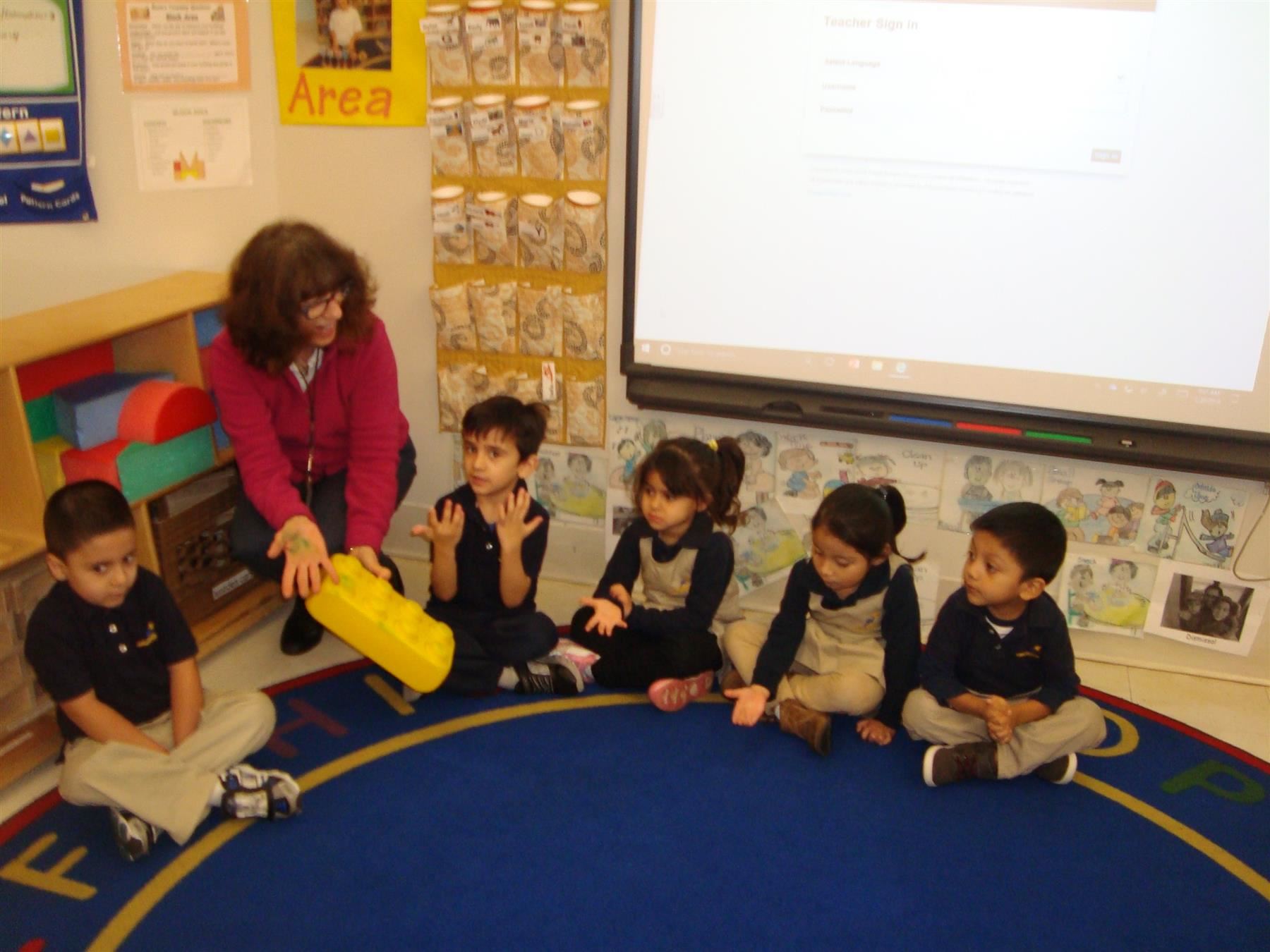 Green (paint) 'germs' on my hands spread onto the block I'm working with. Students are learning to wash hands to prevent becoming infected with viruses, bacteria and other microorganisms.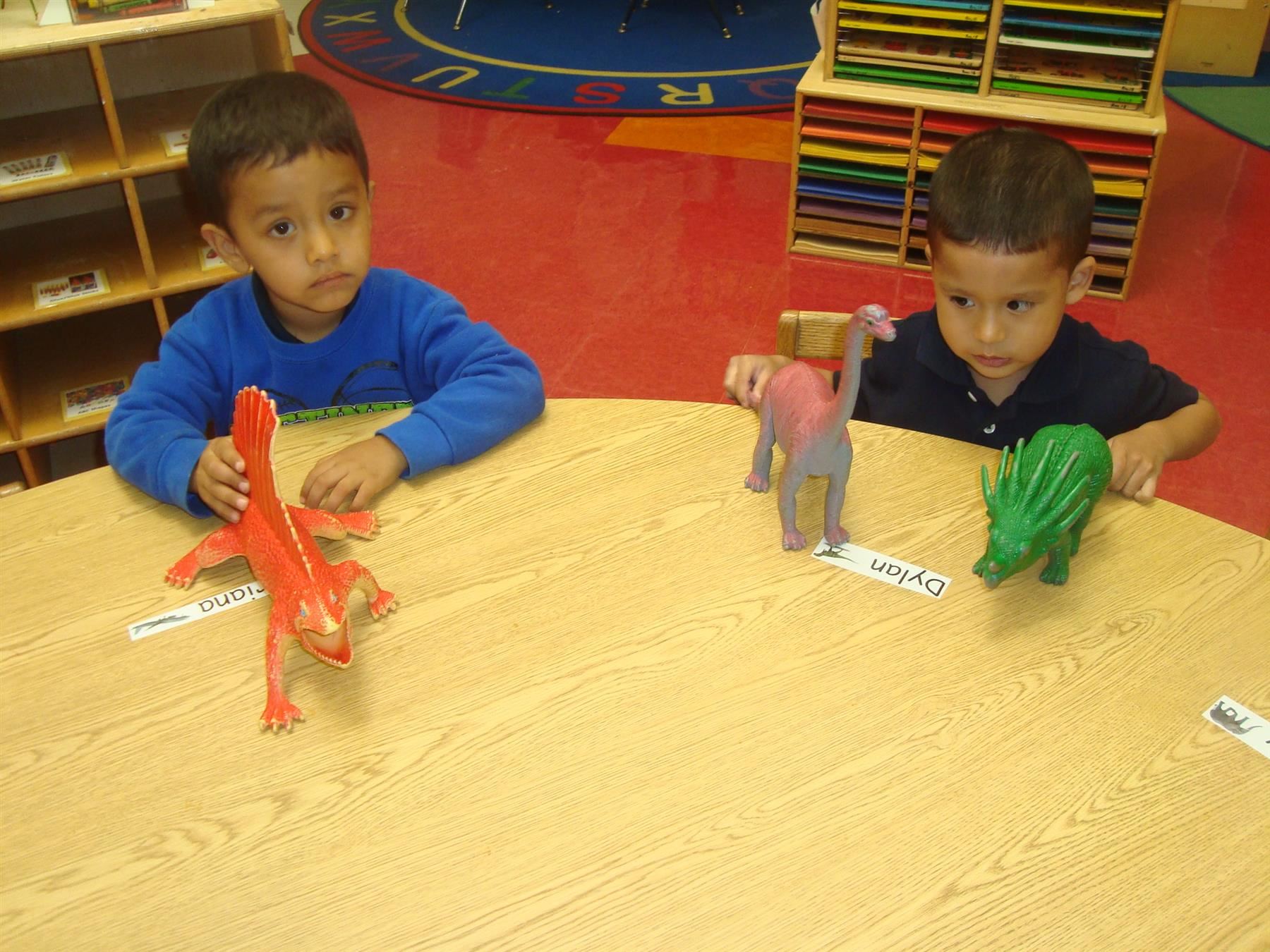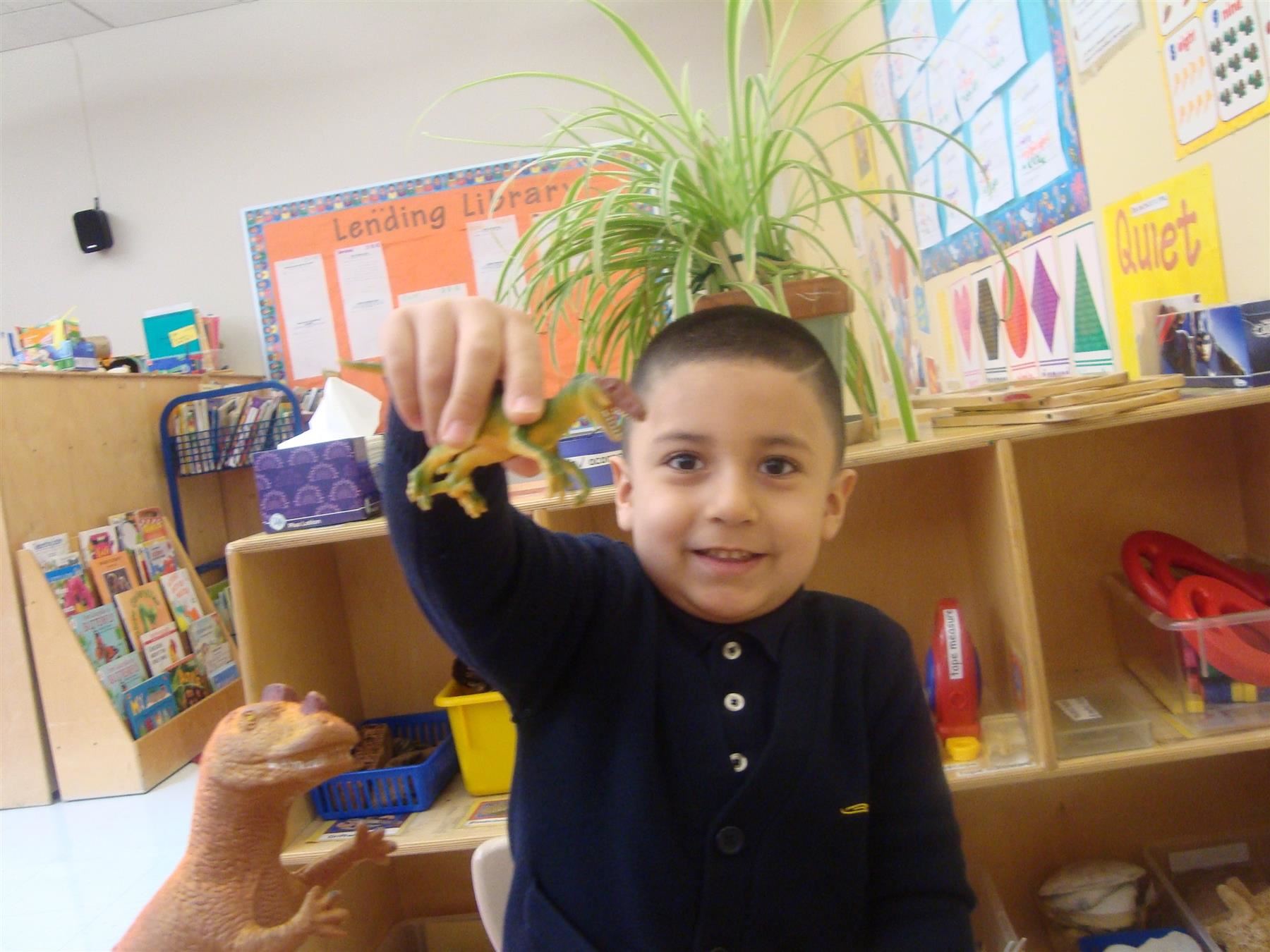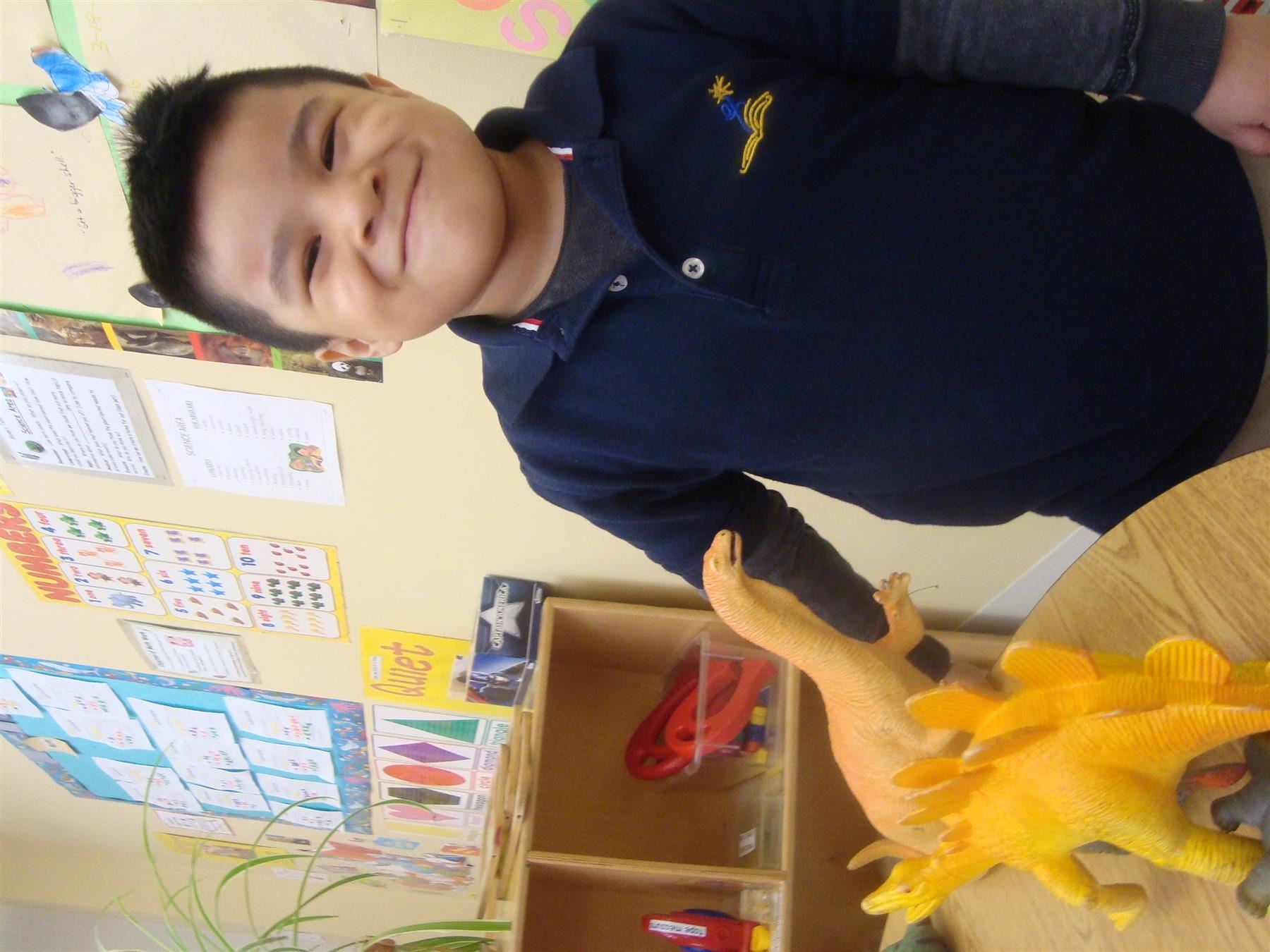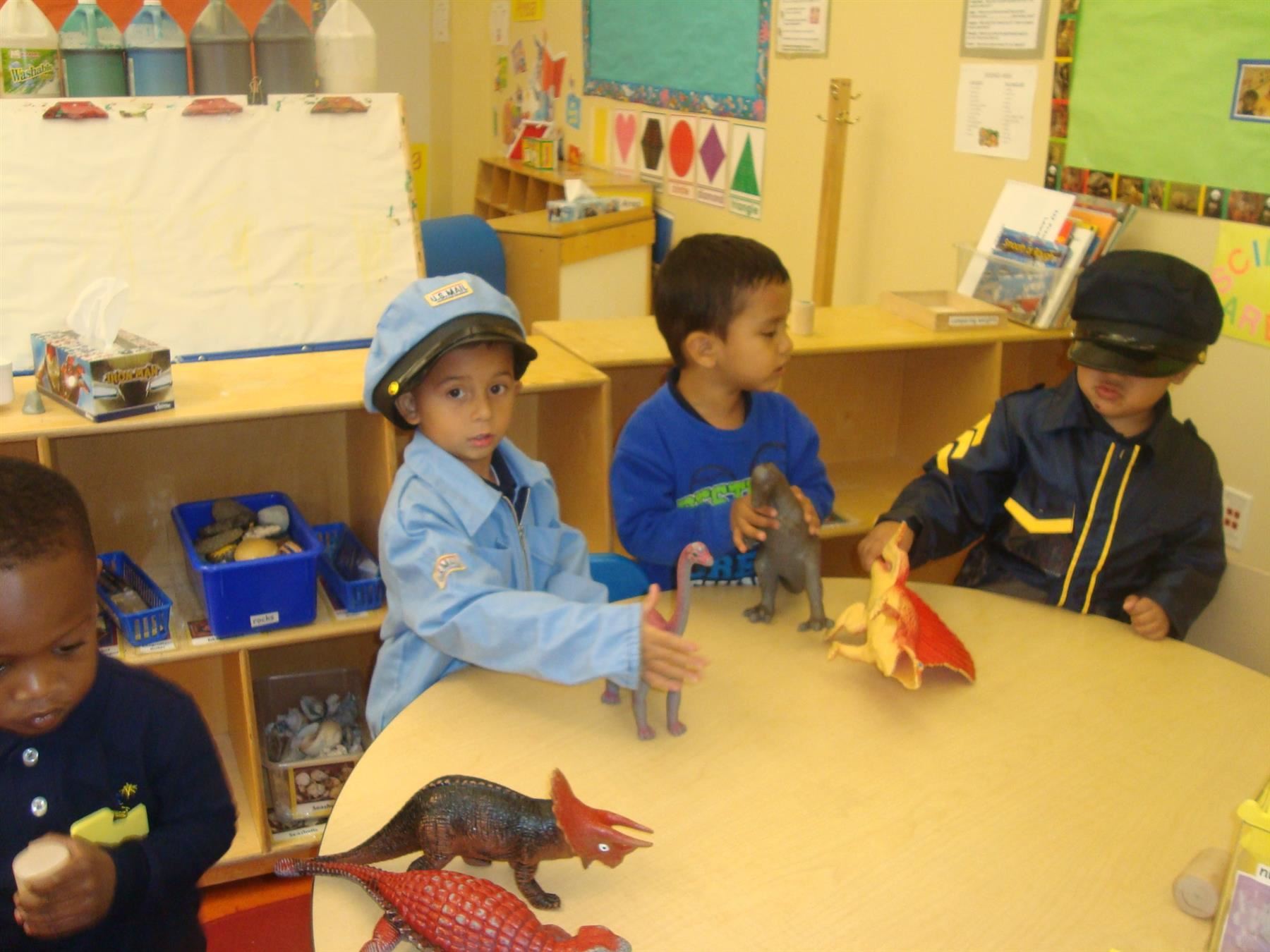 APRIL 2018

On April 9, 10, 12 & 13, Susan Perroulas from Newark Museum taught all our students about animals and their environments using exciting hands-on objects including an ostrich egg and feather, animal skins and a skull, etc.

We then celebrated Week of the Young Child from April 16-20, including community helper day. Some students came to school as doctors, and they left as veterinarians as we worked to help stuffed animals, discussing the ways that animals may be helped by humans.

Earth Week was celebrated from April 23-27, with activities for each day. On Monday, students brought in posters made with their families at home using recycled materials. They were hung in the hallways, and we discussed environmental issues including reduce, reuse and recycle, along with how some garbage adversely affects wildlife. Tuesday was planting day, and seeds were planted in classrooms. On Wednesday, families came to read to students, and books about biodiversity were among those offered. Our annual Earth Day Fair was held on both Wednesday and Thursday, with the theme of Biodiversity. Different environments and ecosystems were covered by the fair, including extinction of dinosaurs. A Celebration of Biodiversity was held on Friday, with songs and dances about different ecosystems

We continue feeding the birds, and many more birds are arriving as they migrate back to and through New Jersey.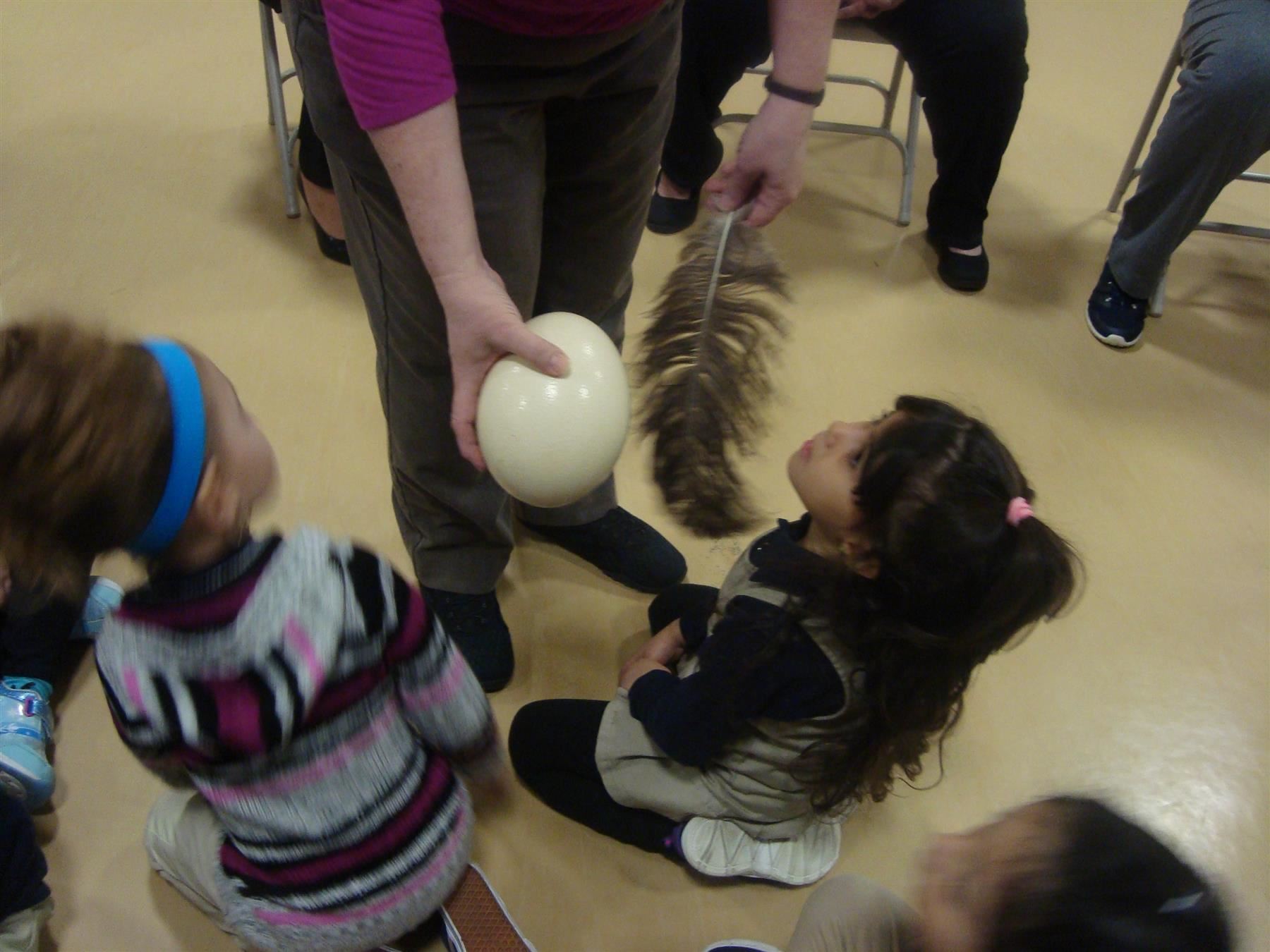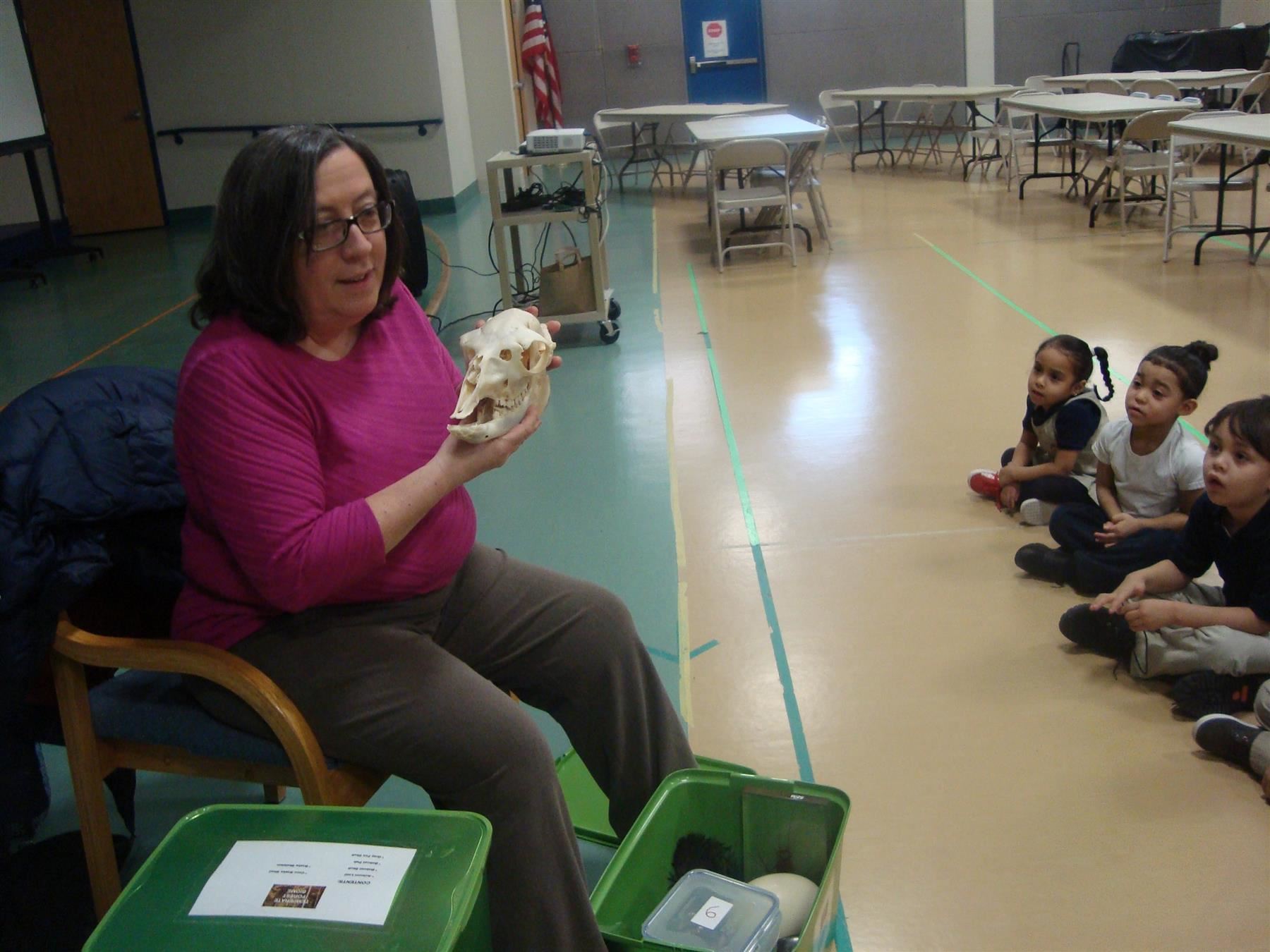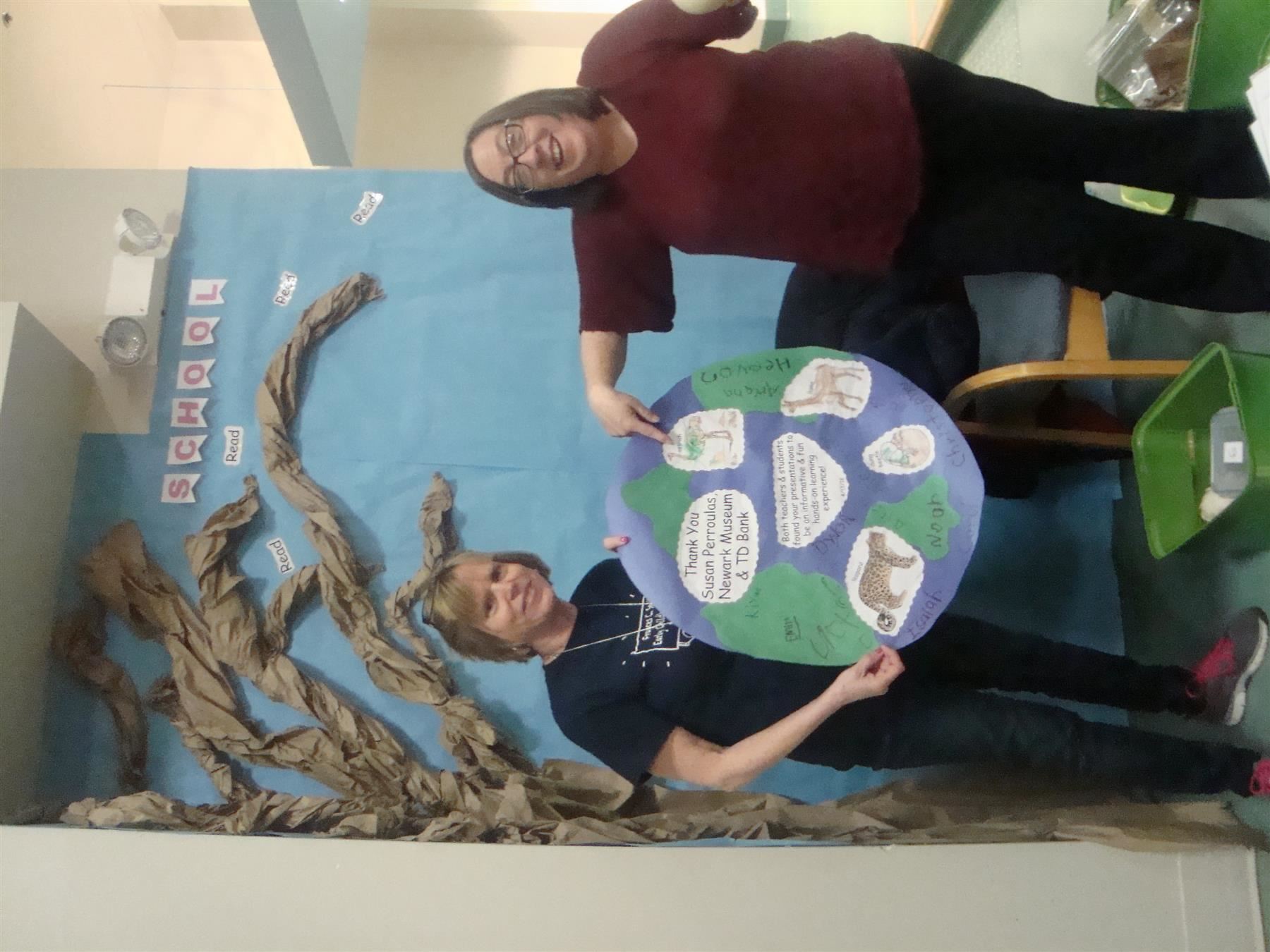 Thank you to Susan Perrouli and the Newark Museum for teaching all of our students about animals and their habitats.
During Week of the Young Child we held a carreer day, and students dressed as doctors. We looked at healing both humans and animals. Possible future MD's or veterinarians above...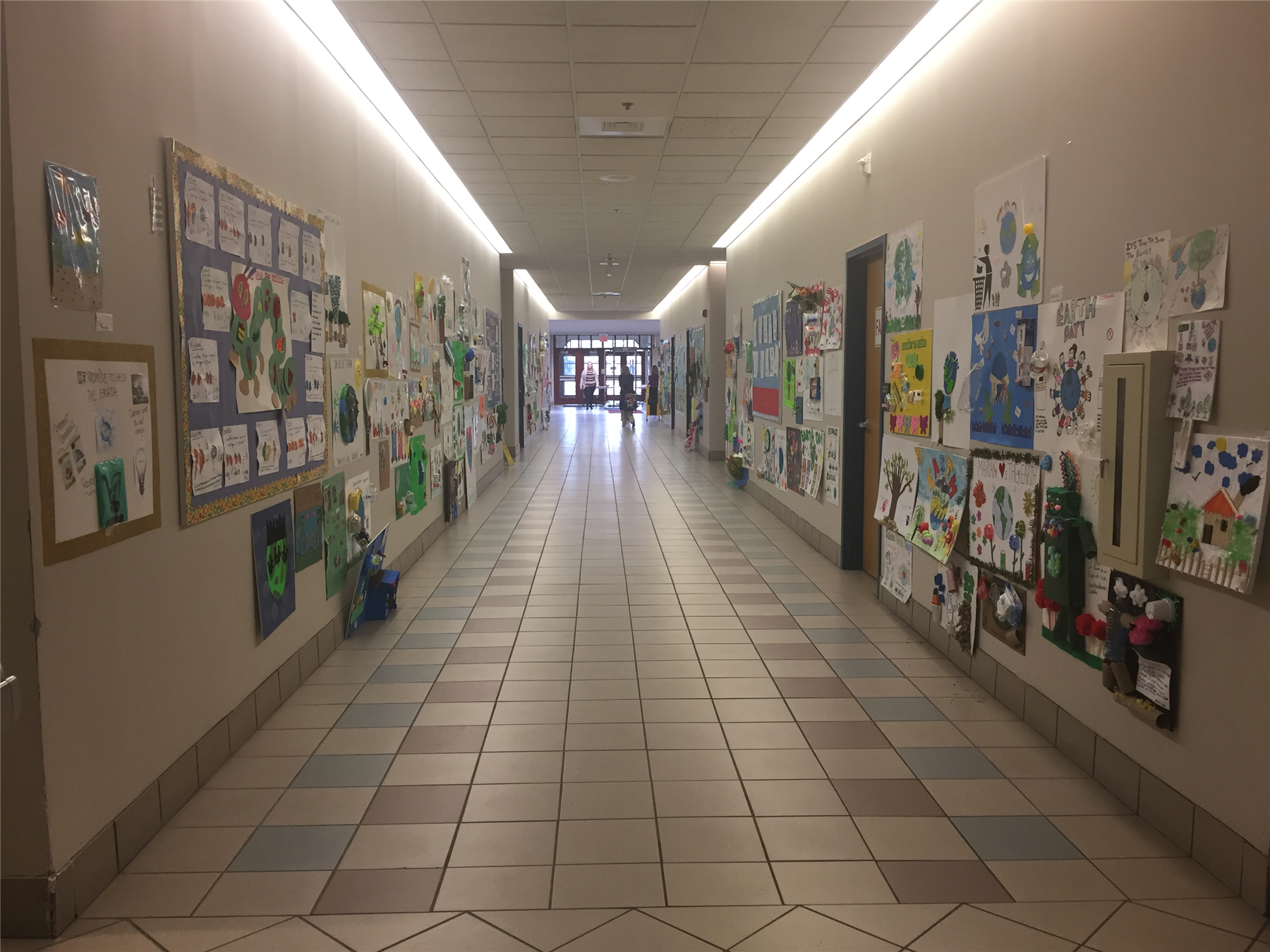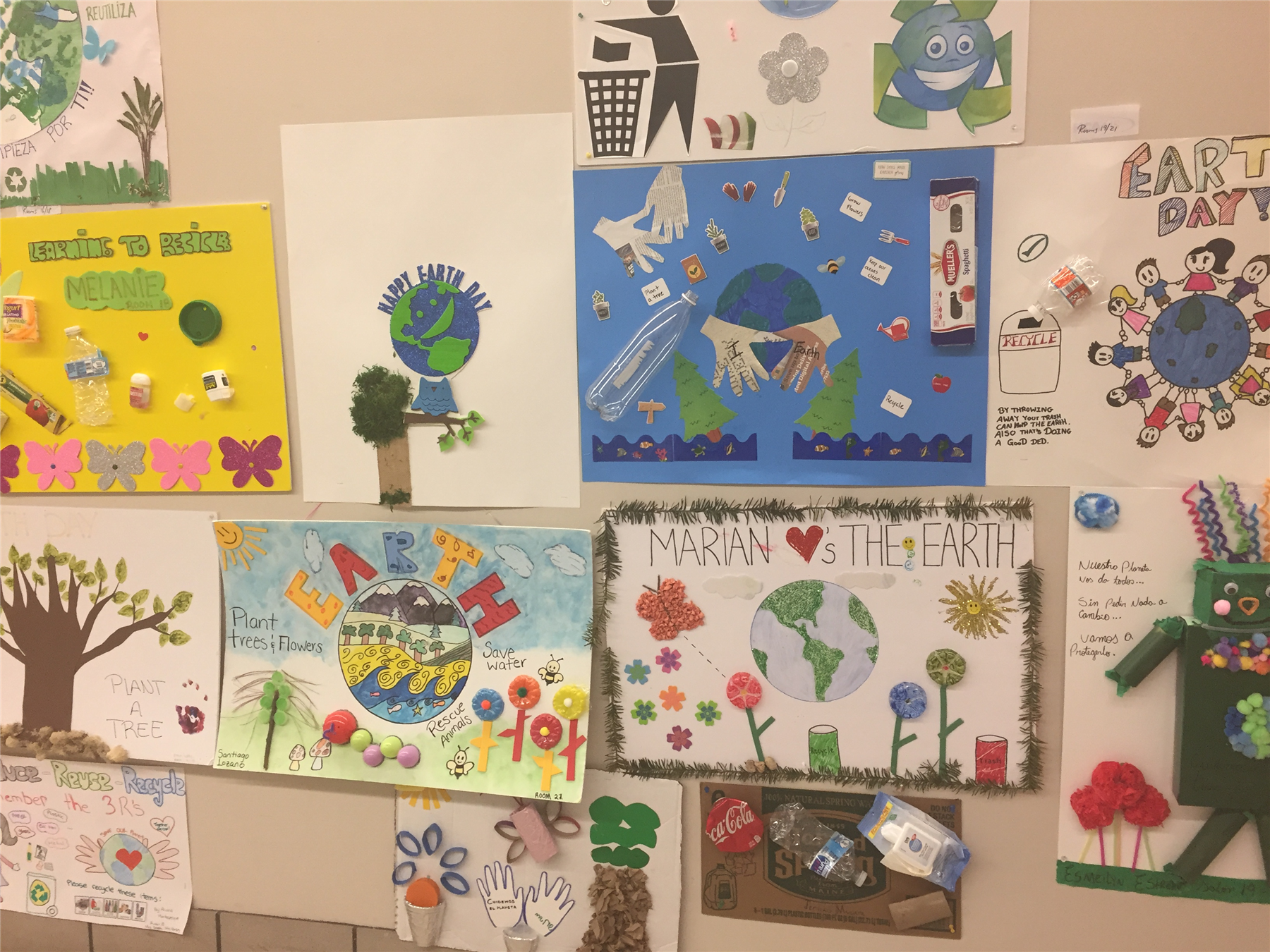 Earth Day posters were created by students with their families using recycled materials.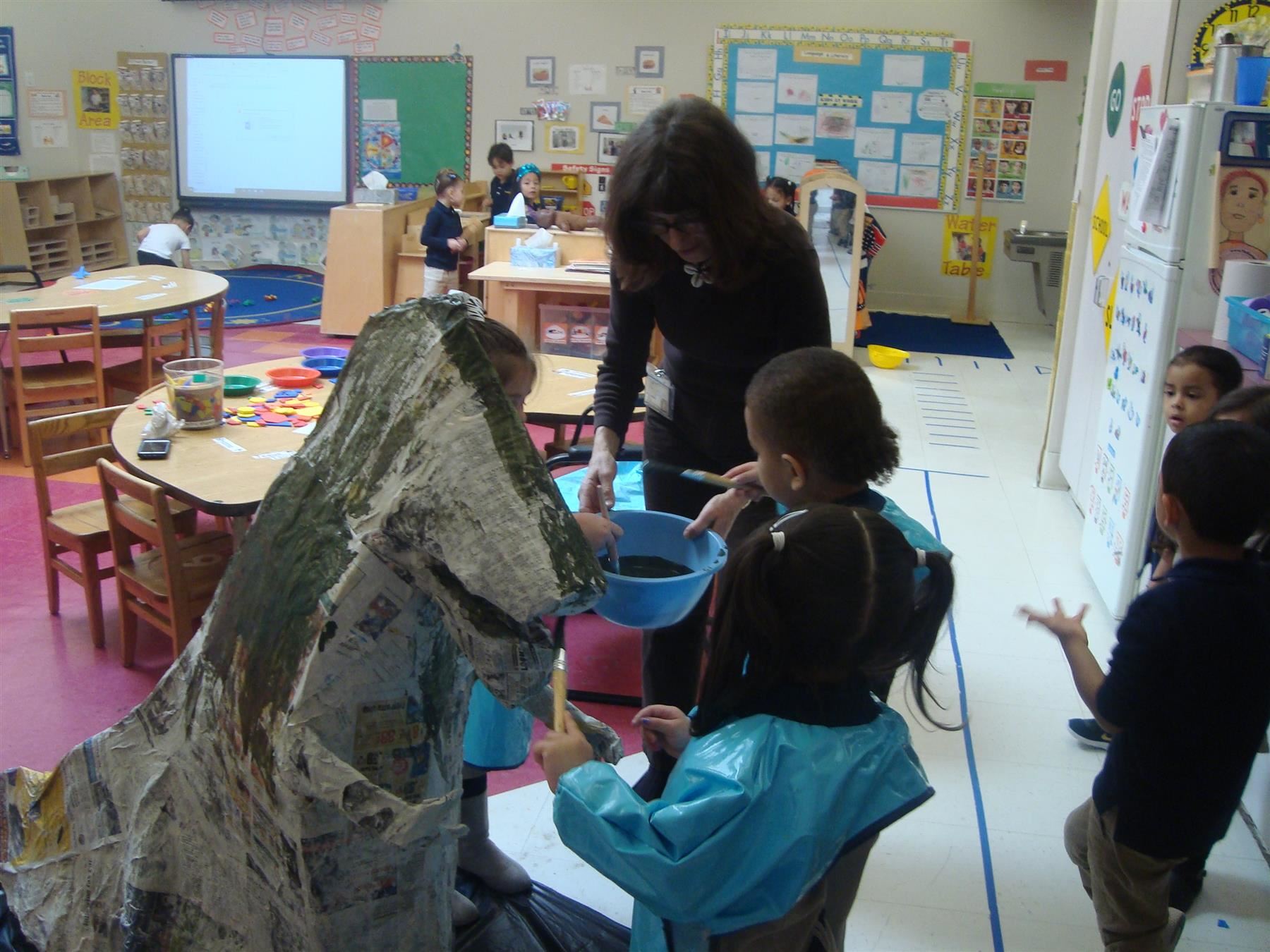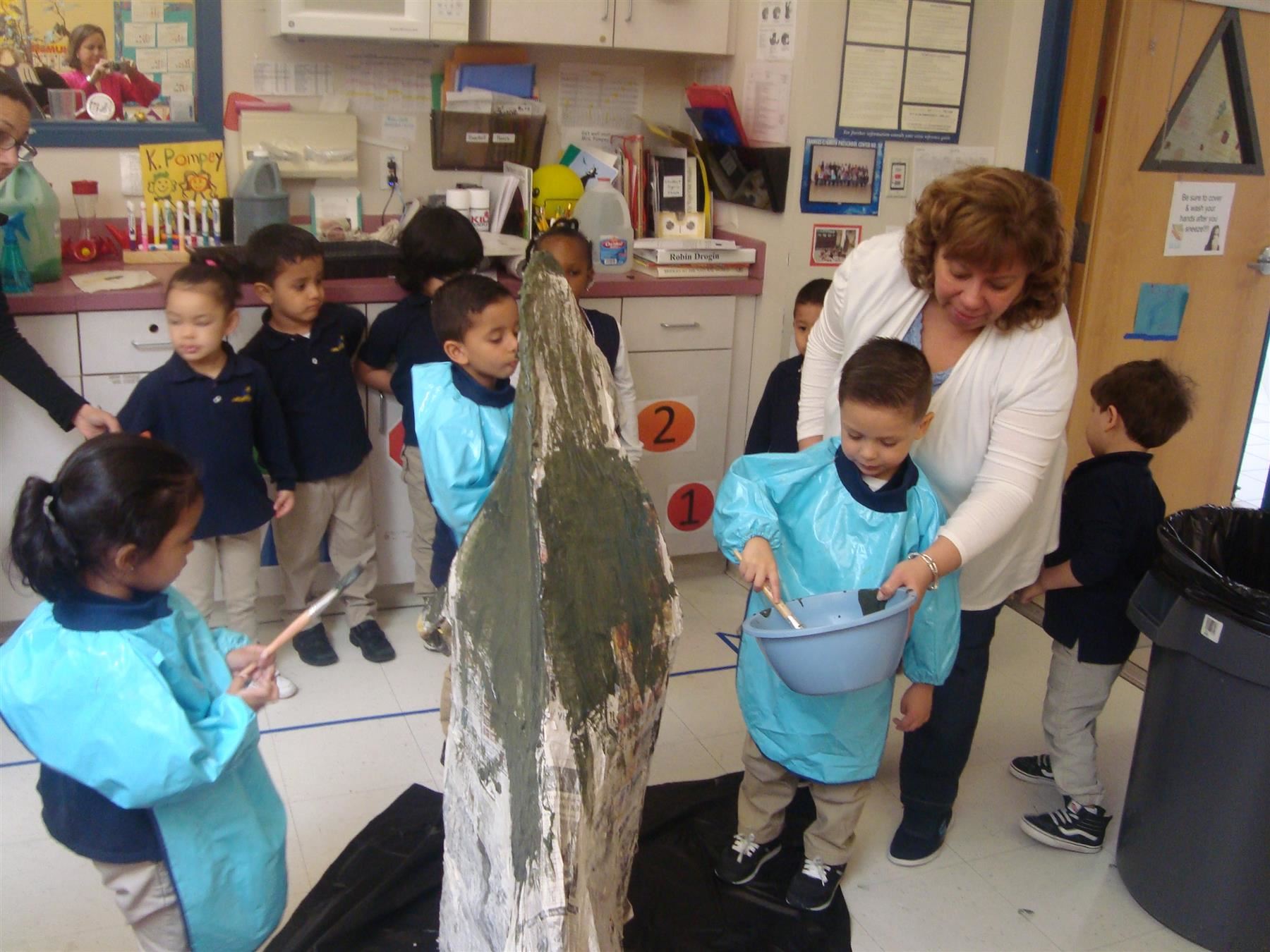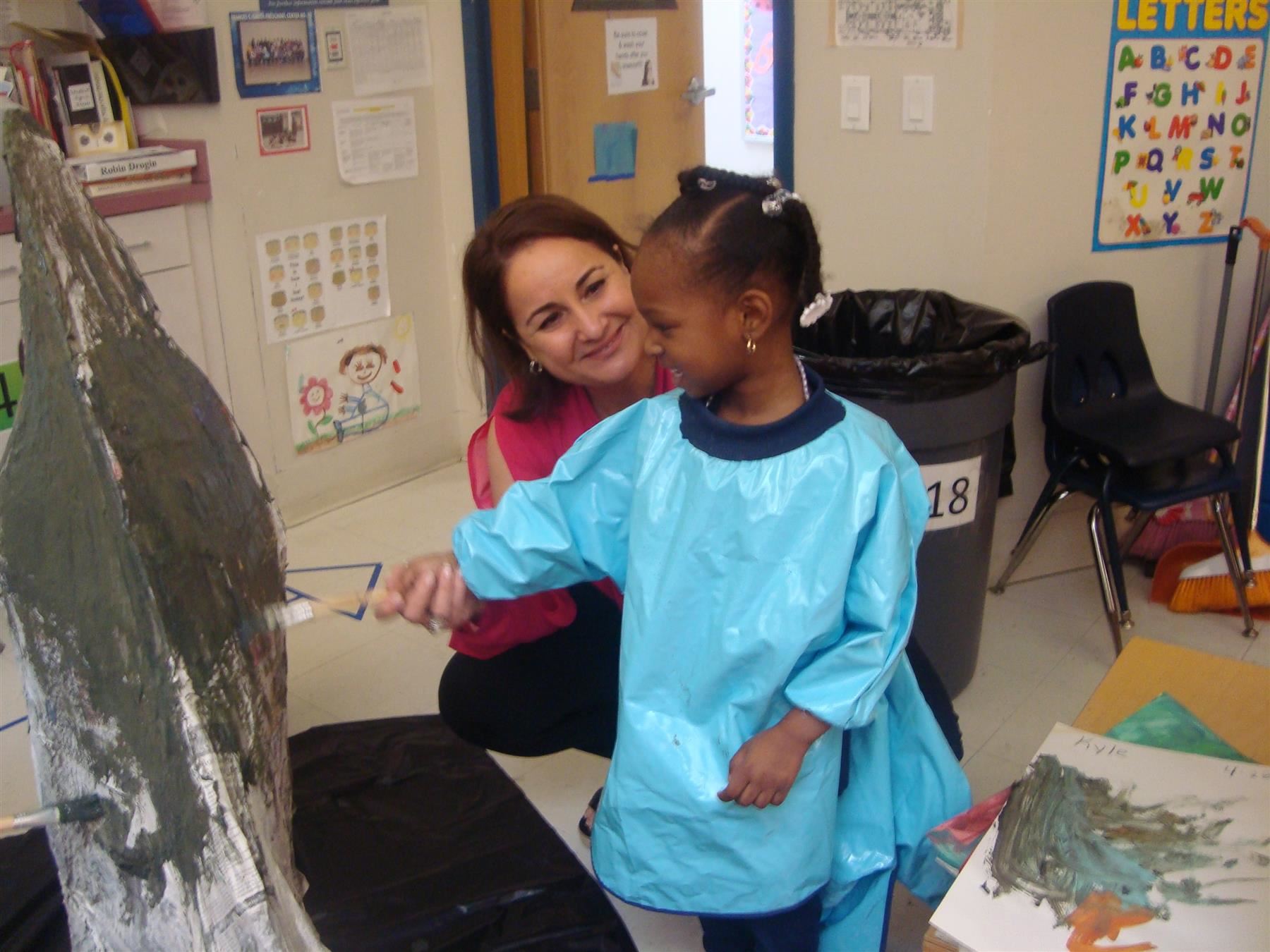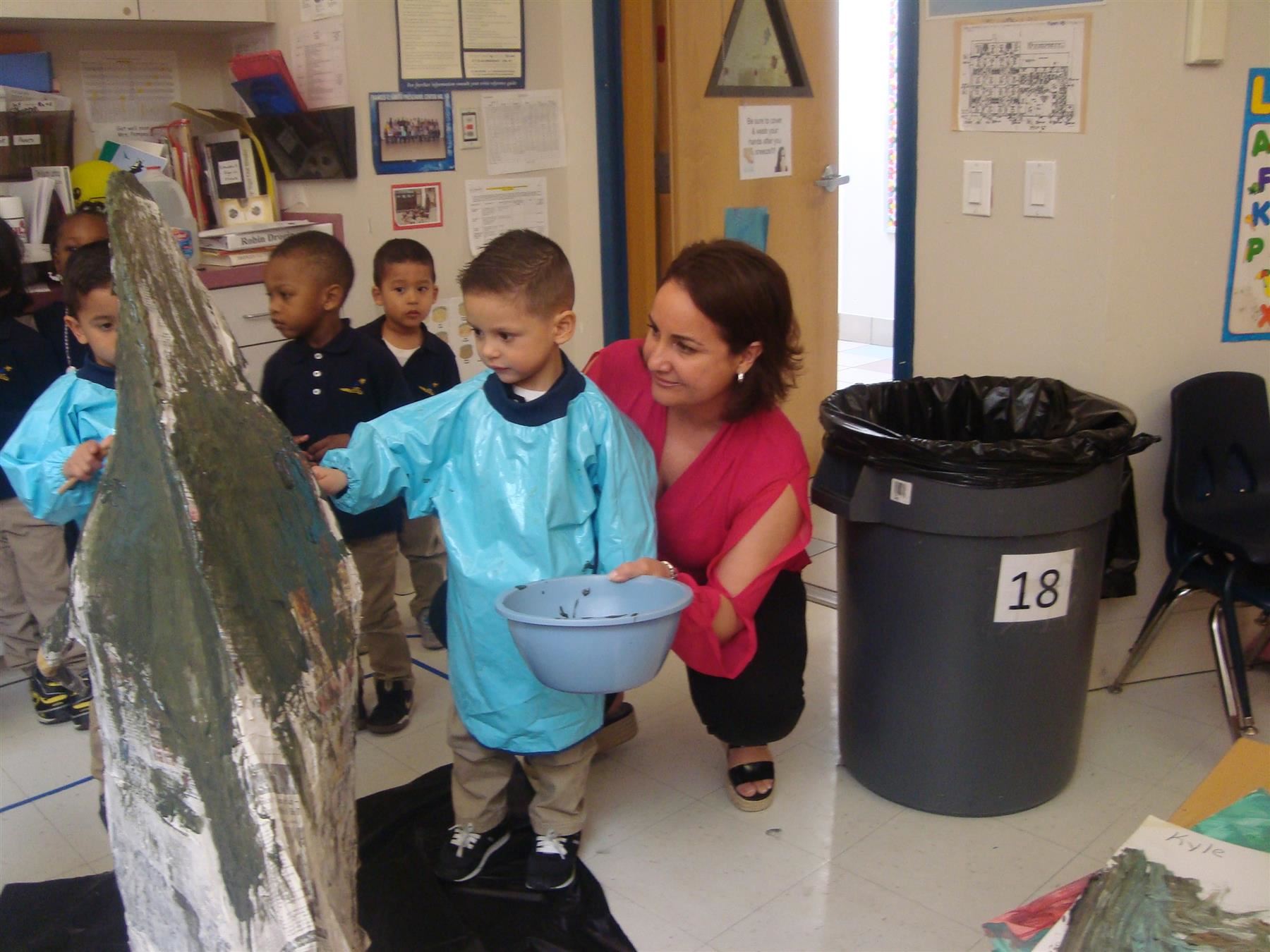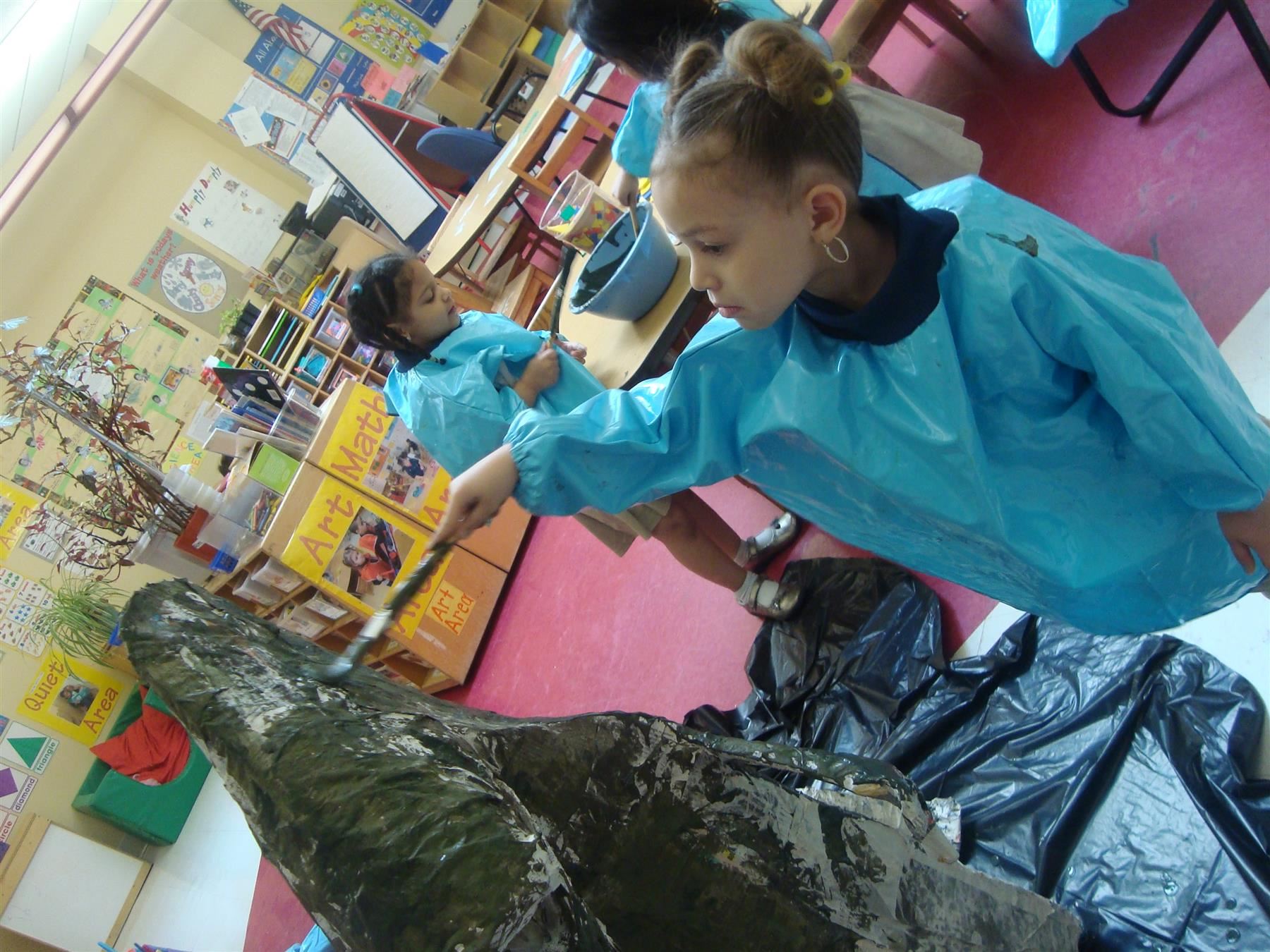 In the above pictures students are painting a paper mache Tyrannosaurus rex dinosaur in preparation for our Earth Day Fair.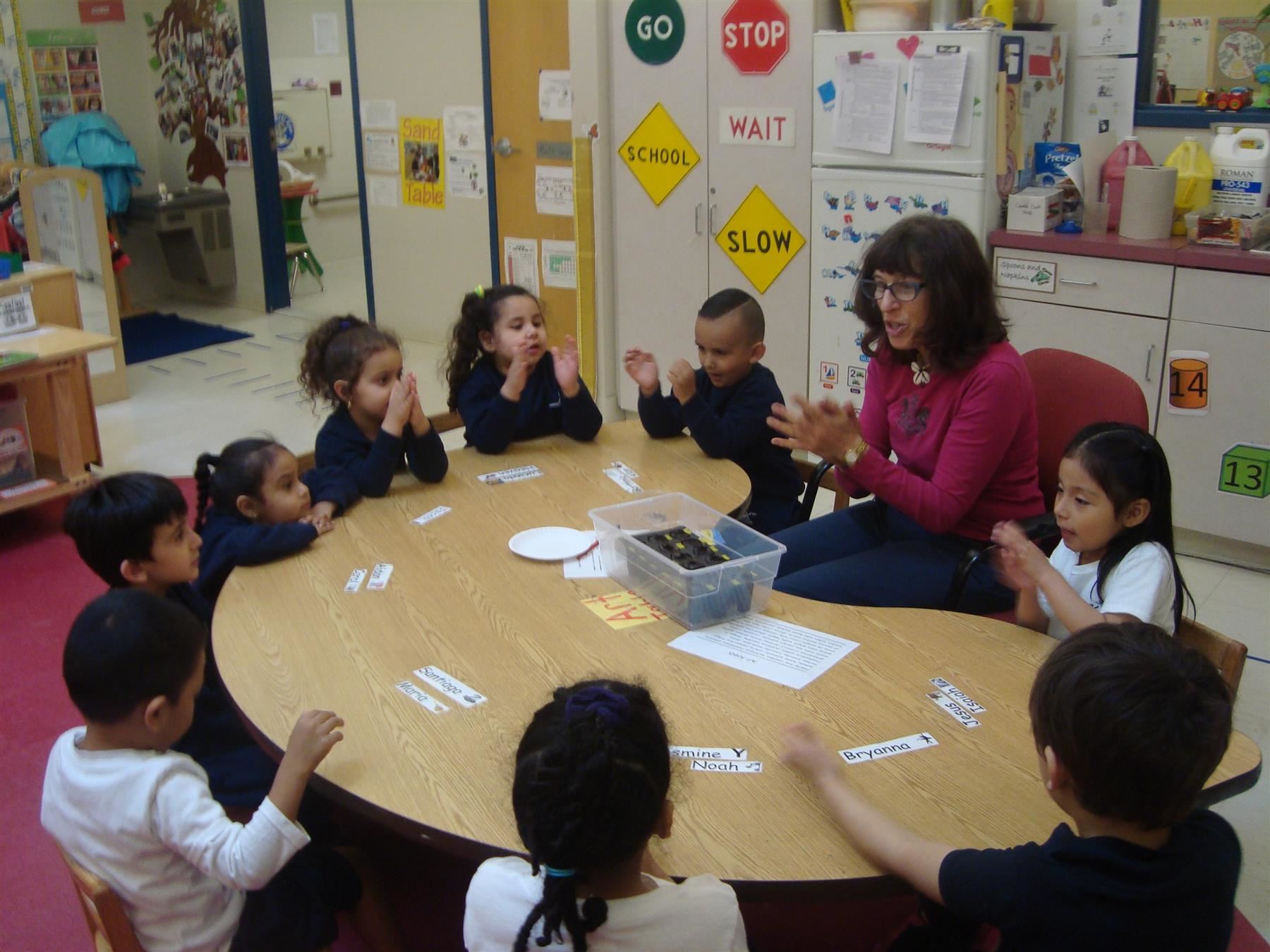 Clapping out syllables in plant parts and plant needs.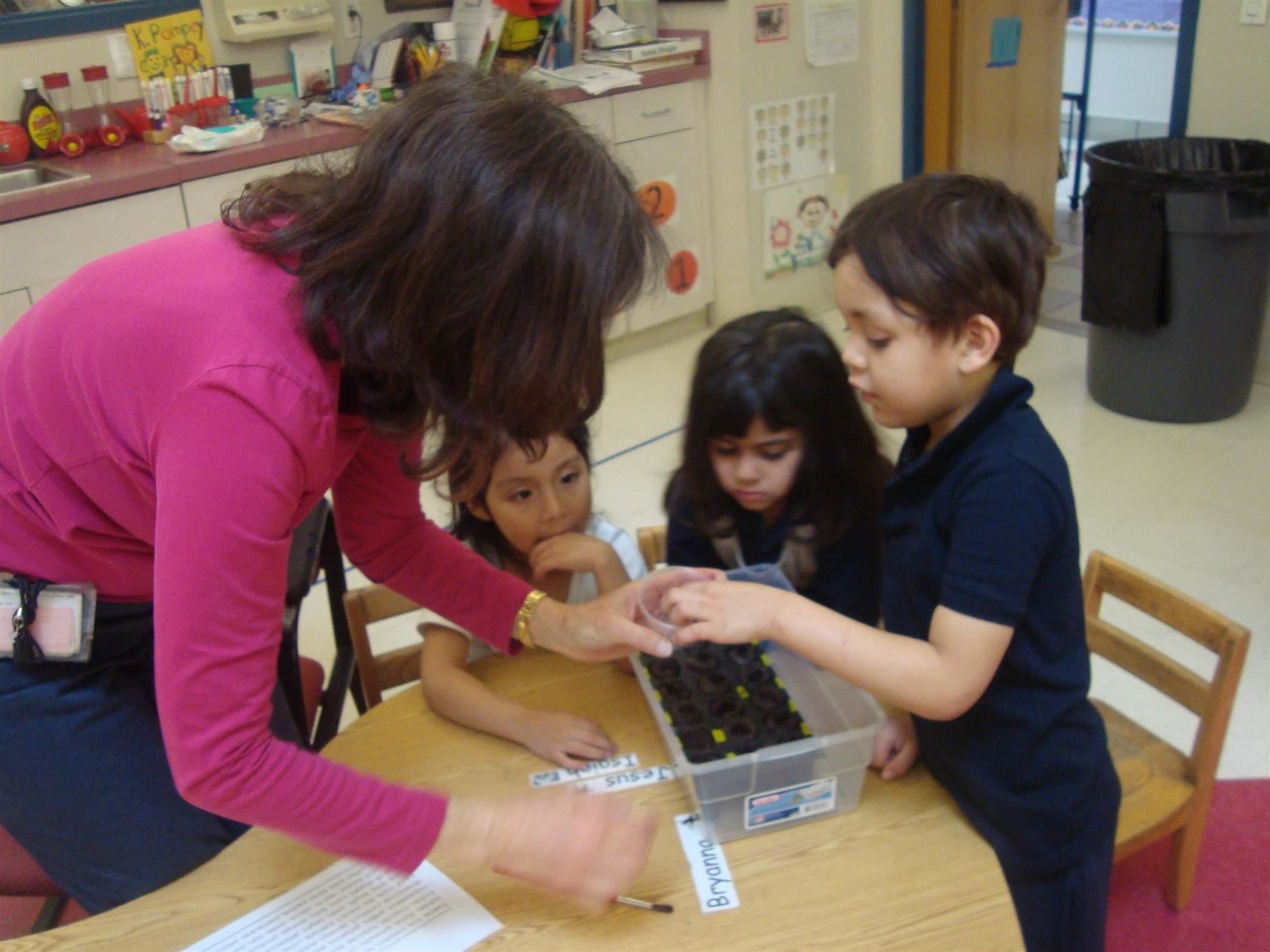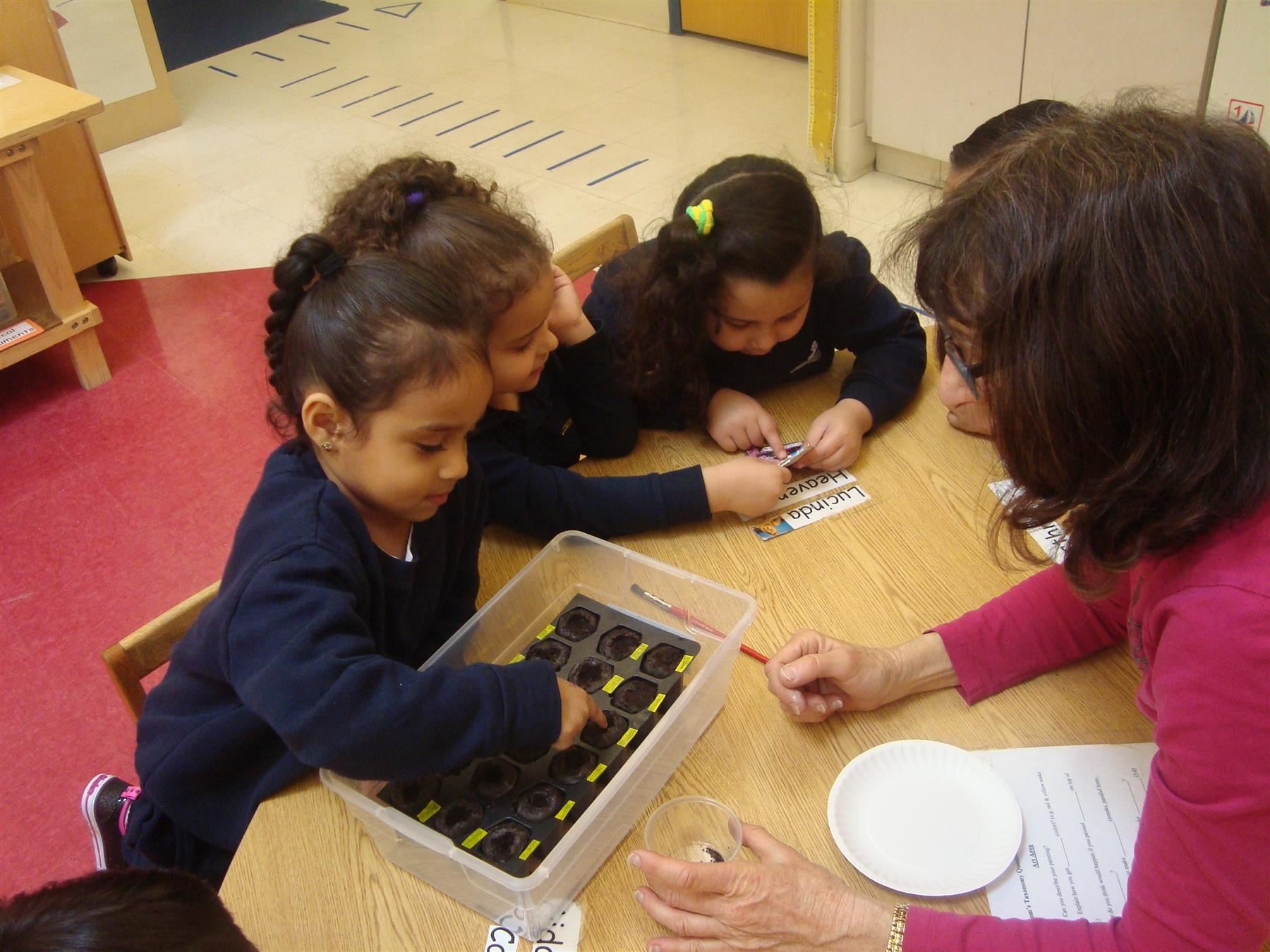 Students planted seeds in their classrooms in celebration of Earth Week, as shown in the above two pictures.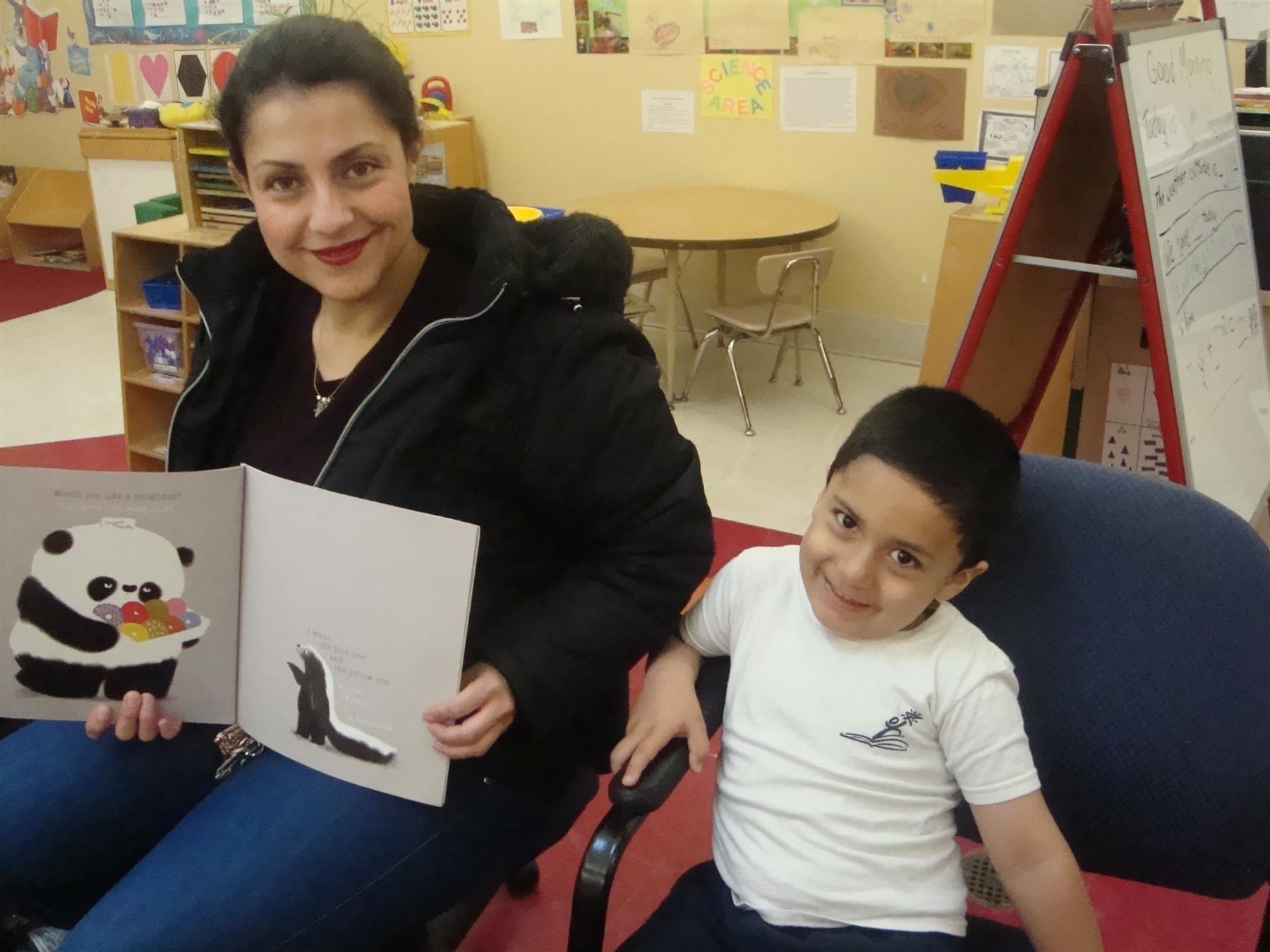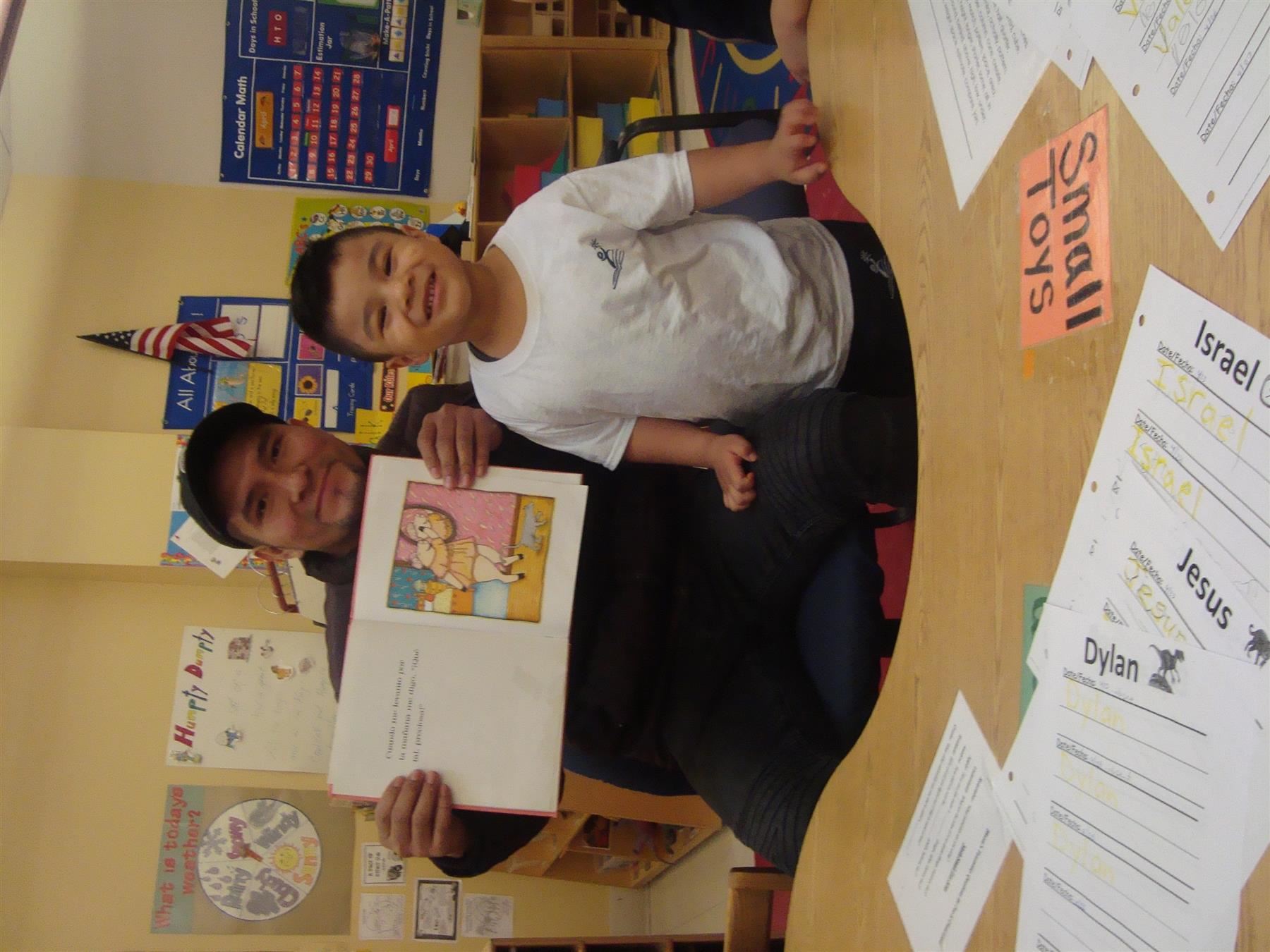 Parents read books about nature and our earth to students in celebratio of Earth Week.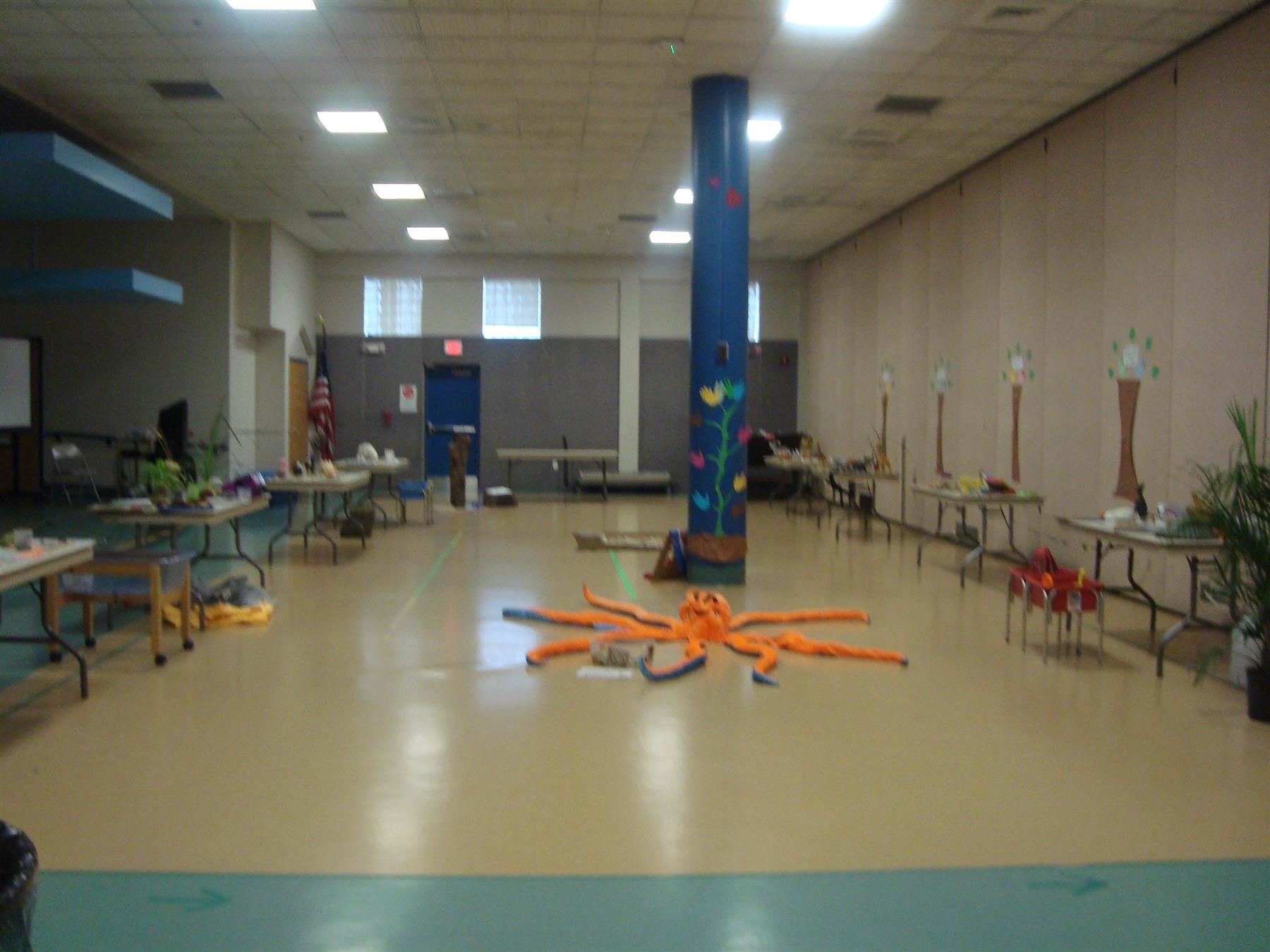 Above is an overview of our Earth Day Fair. The below pictures are of the tables and activities, student visitors and parent helpers at our Earth Day Fair.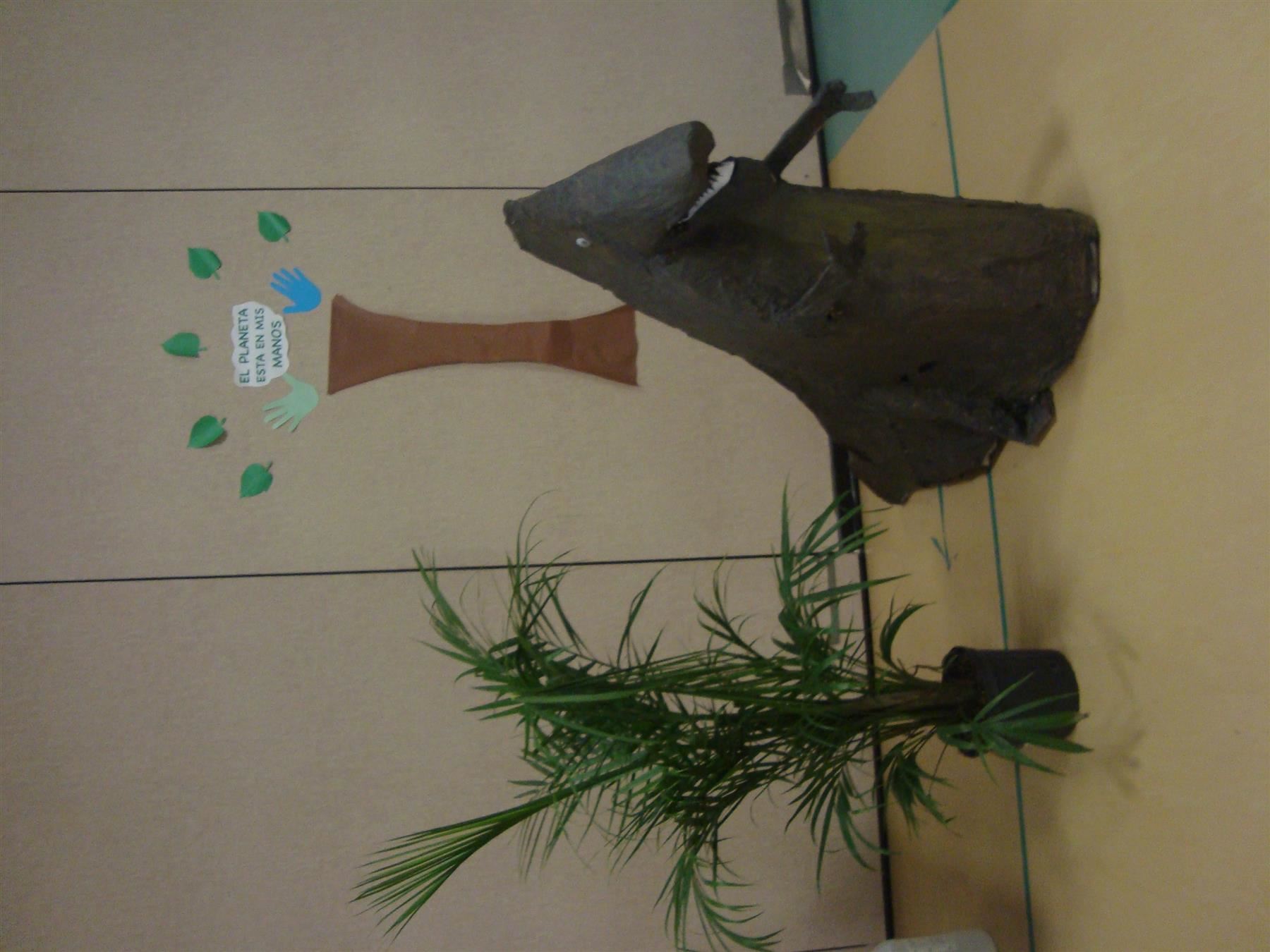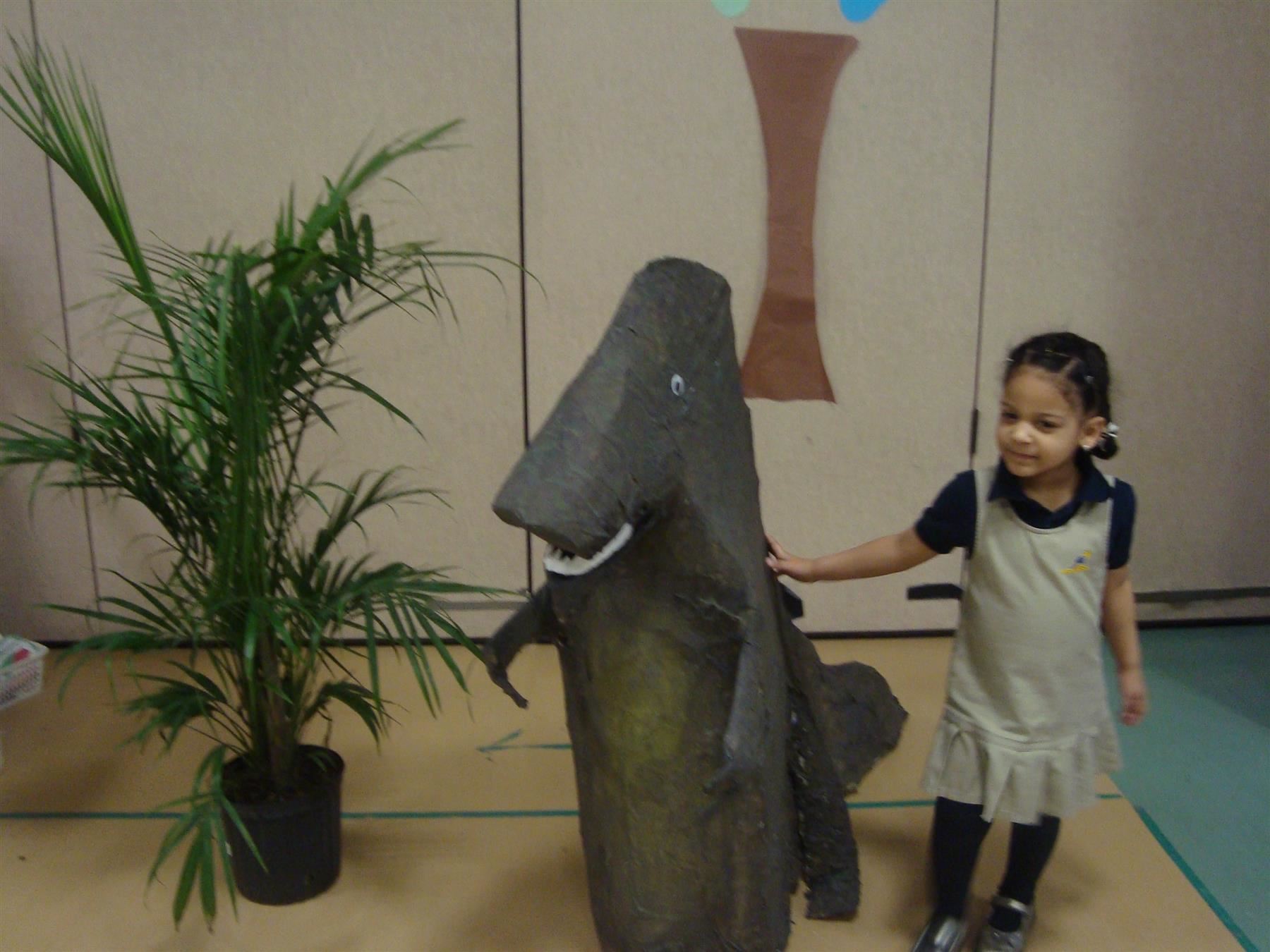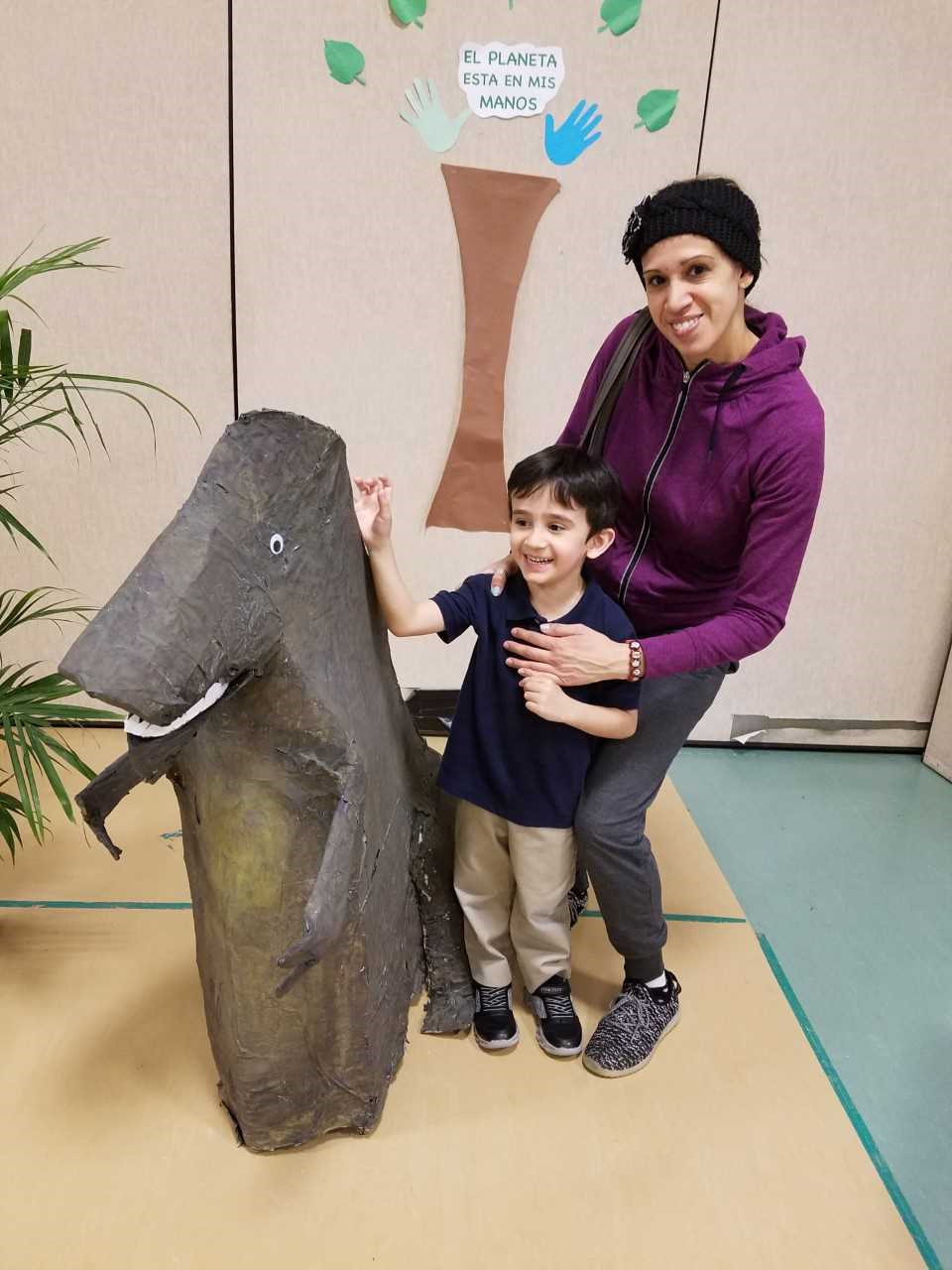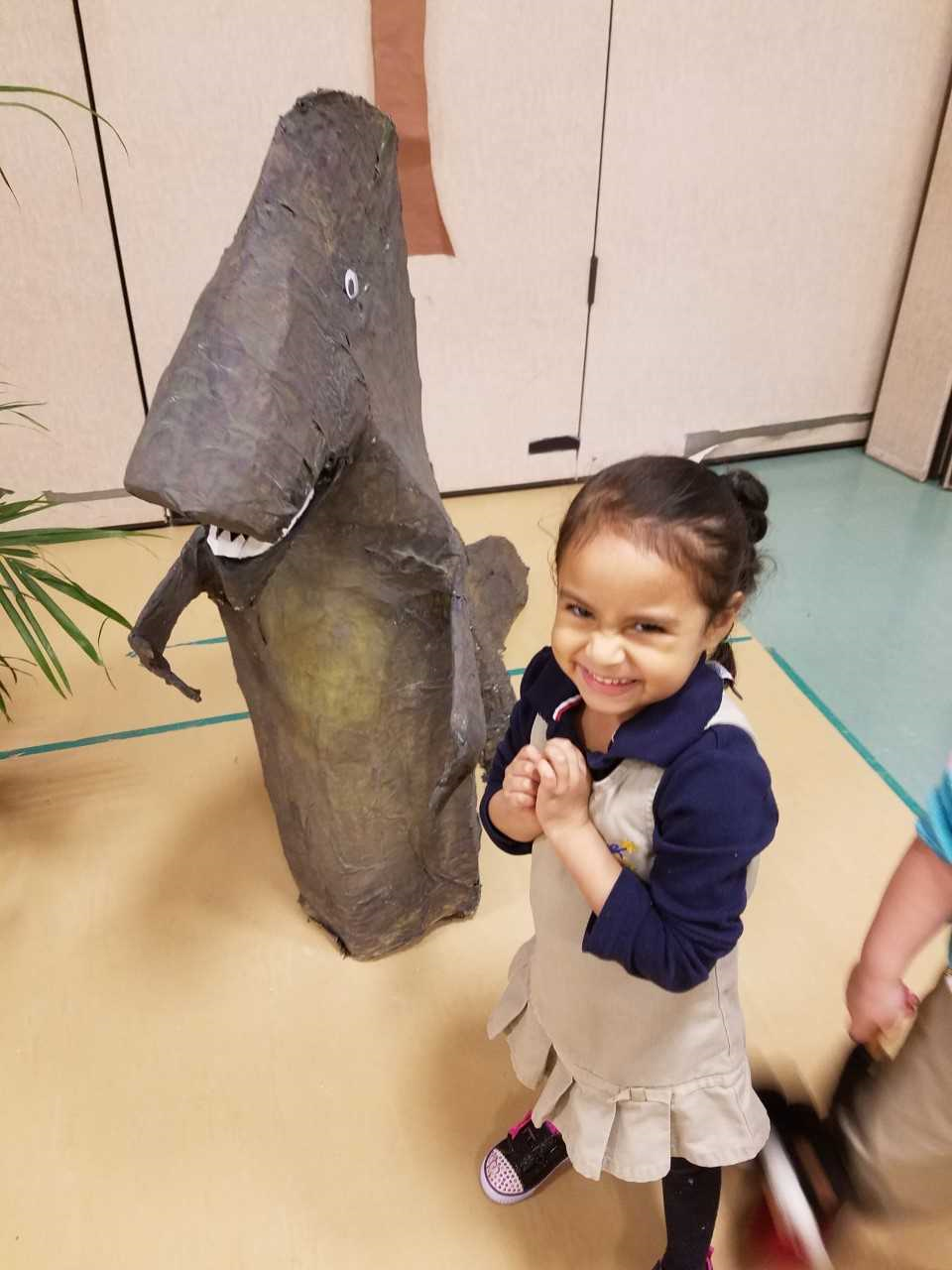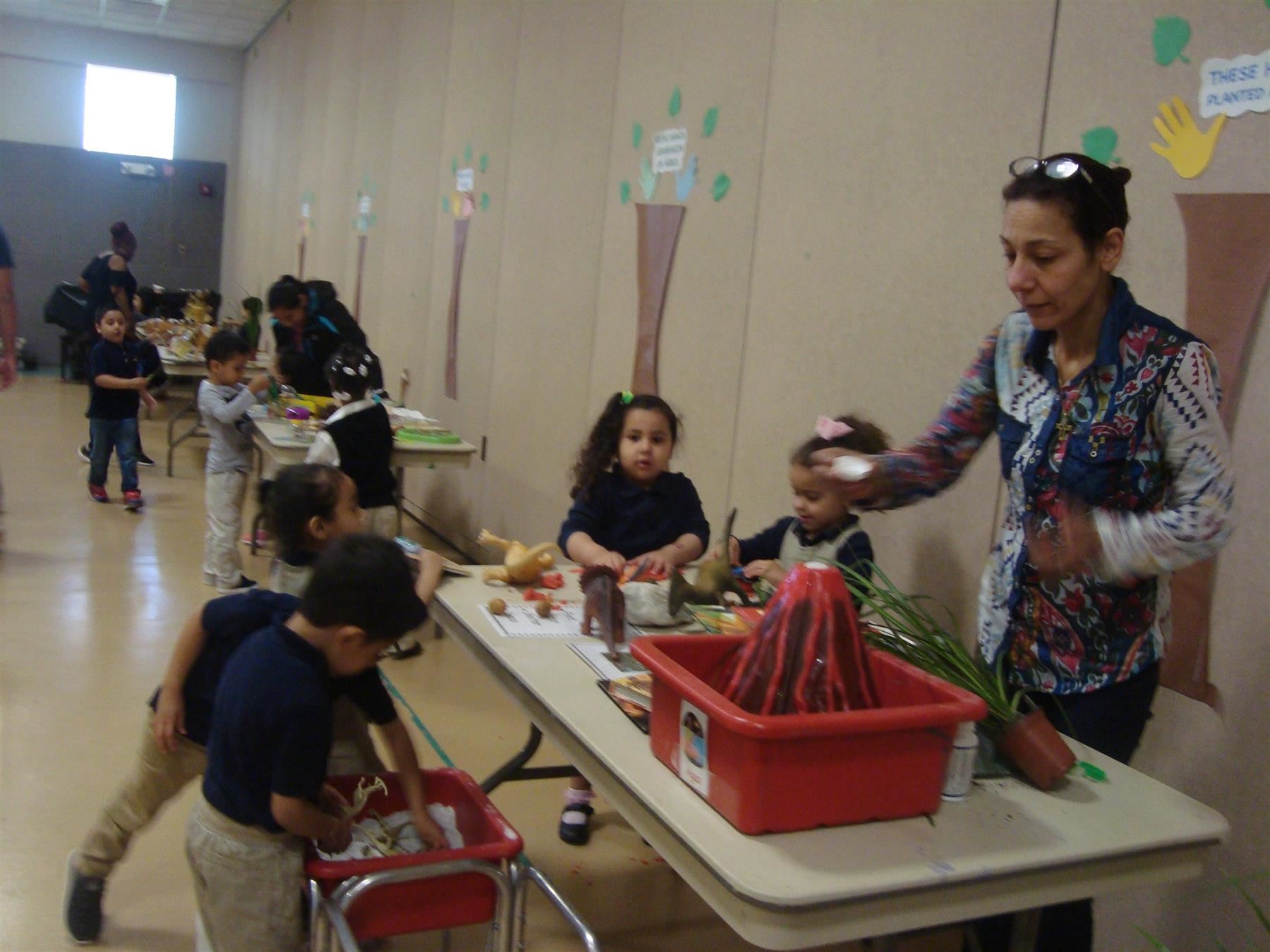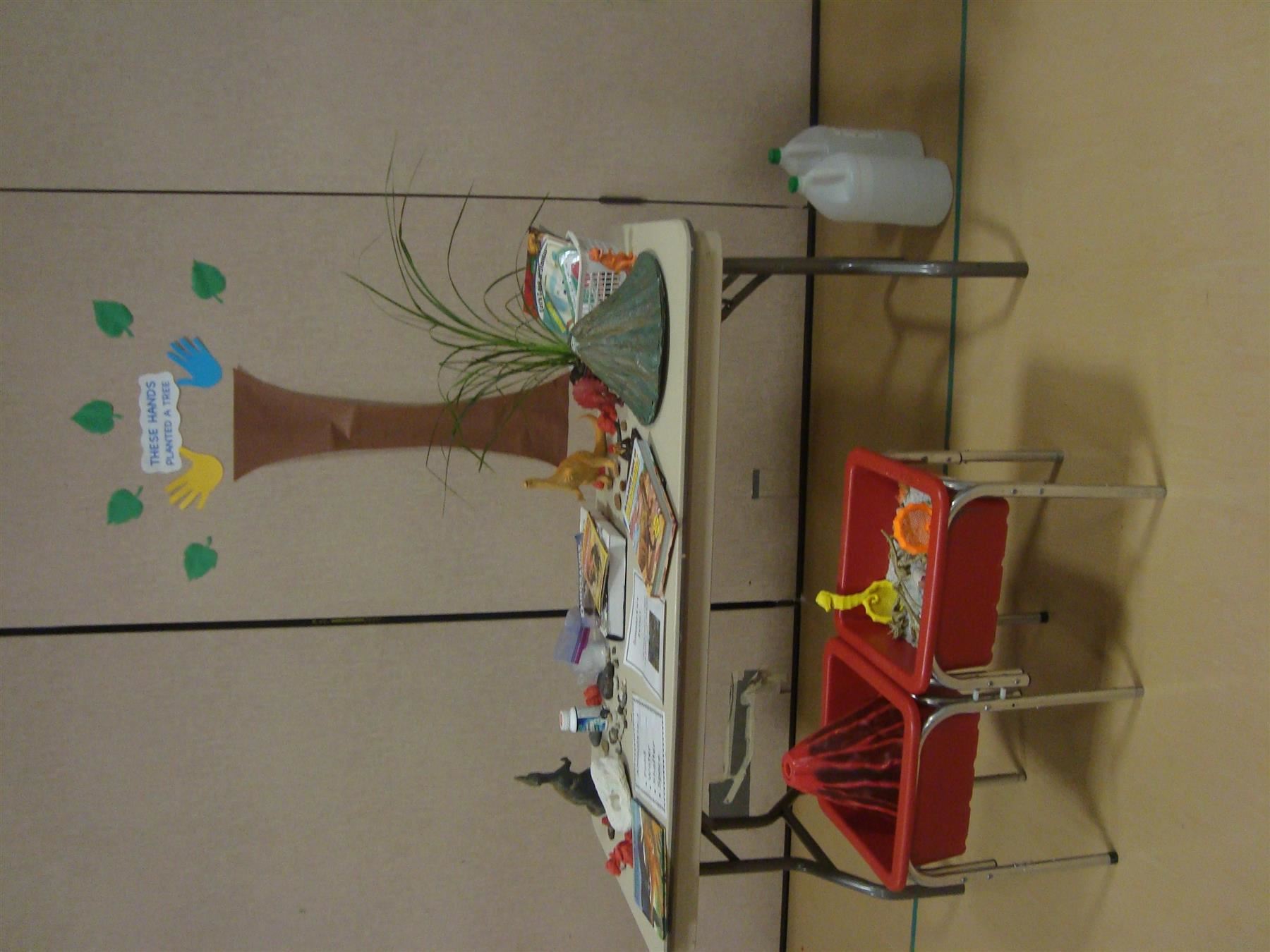 Above is our extinct dinosaurs table containing moon sand with dinosaurs and books on dinosaurs. In front of this table is a sensory table. On the left side of the sensory table a working volcano was erupting, with the help of baking soda and vinegar. On the right side was a dig for dinosaur bones.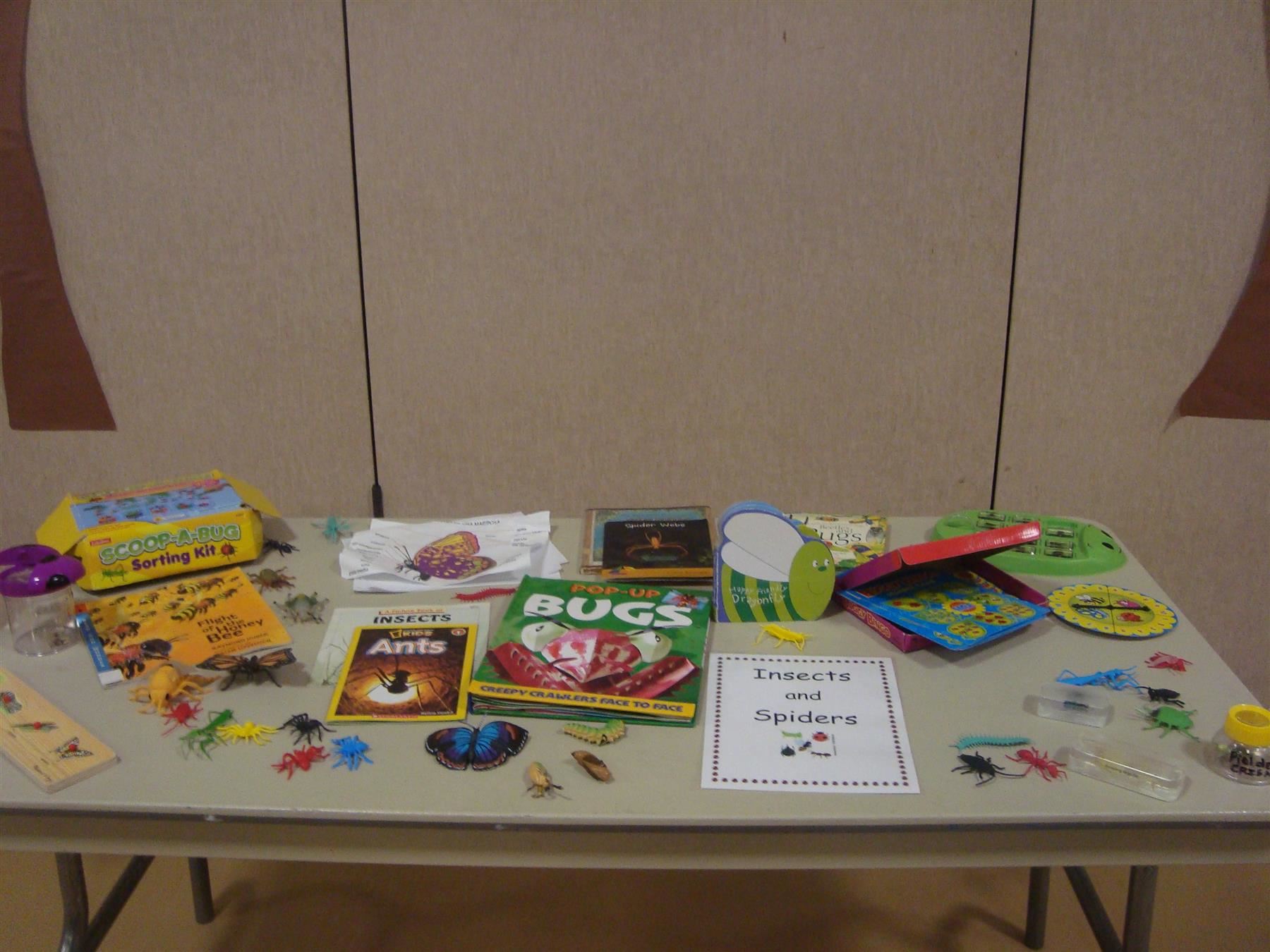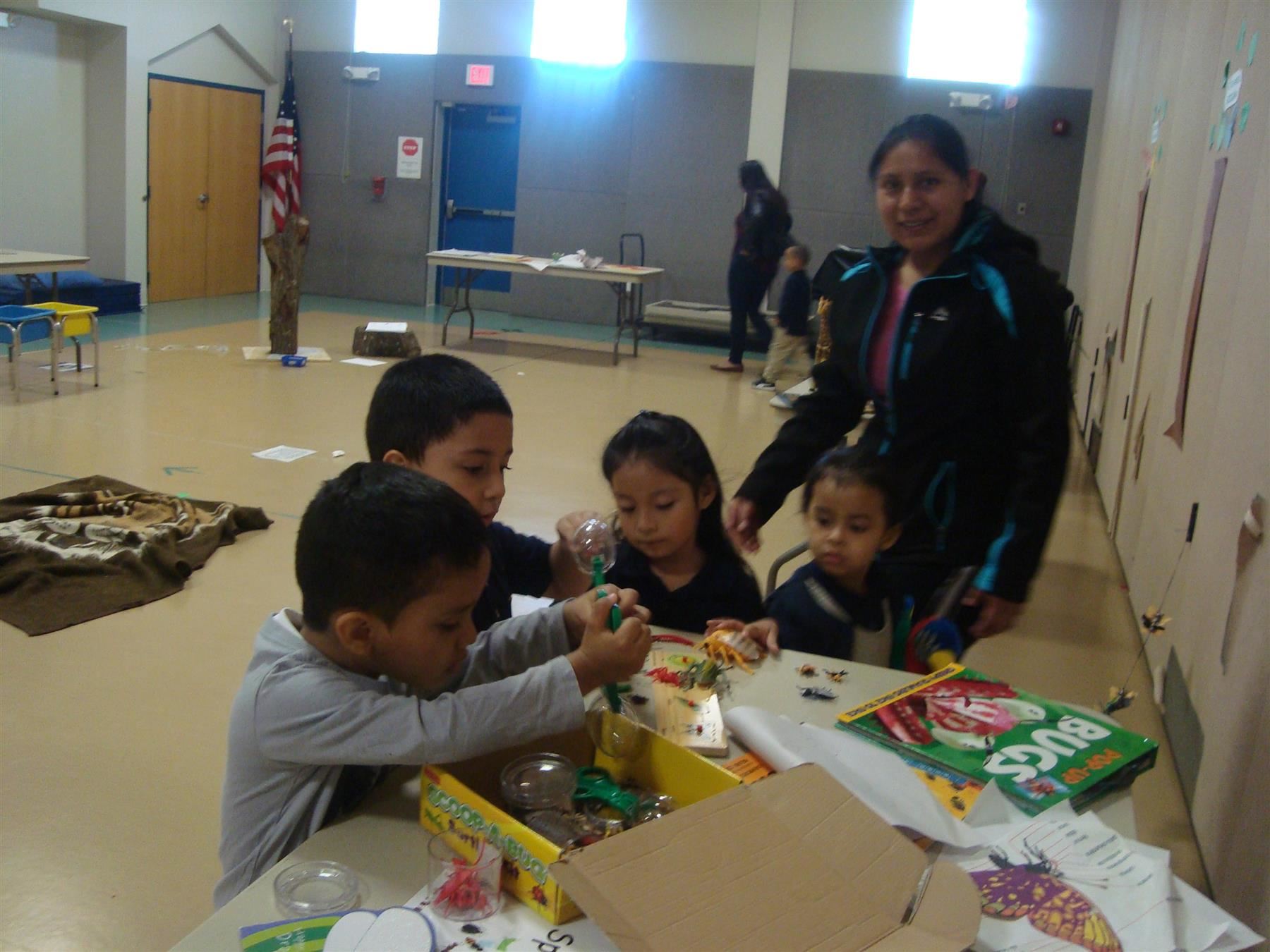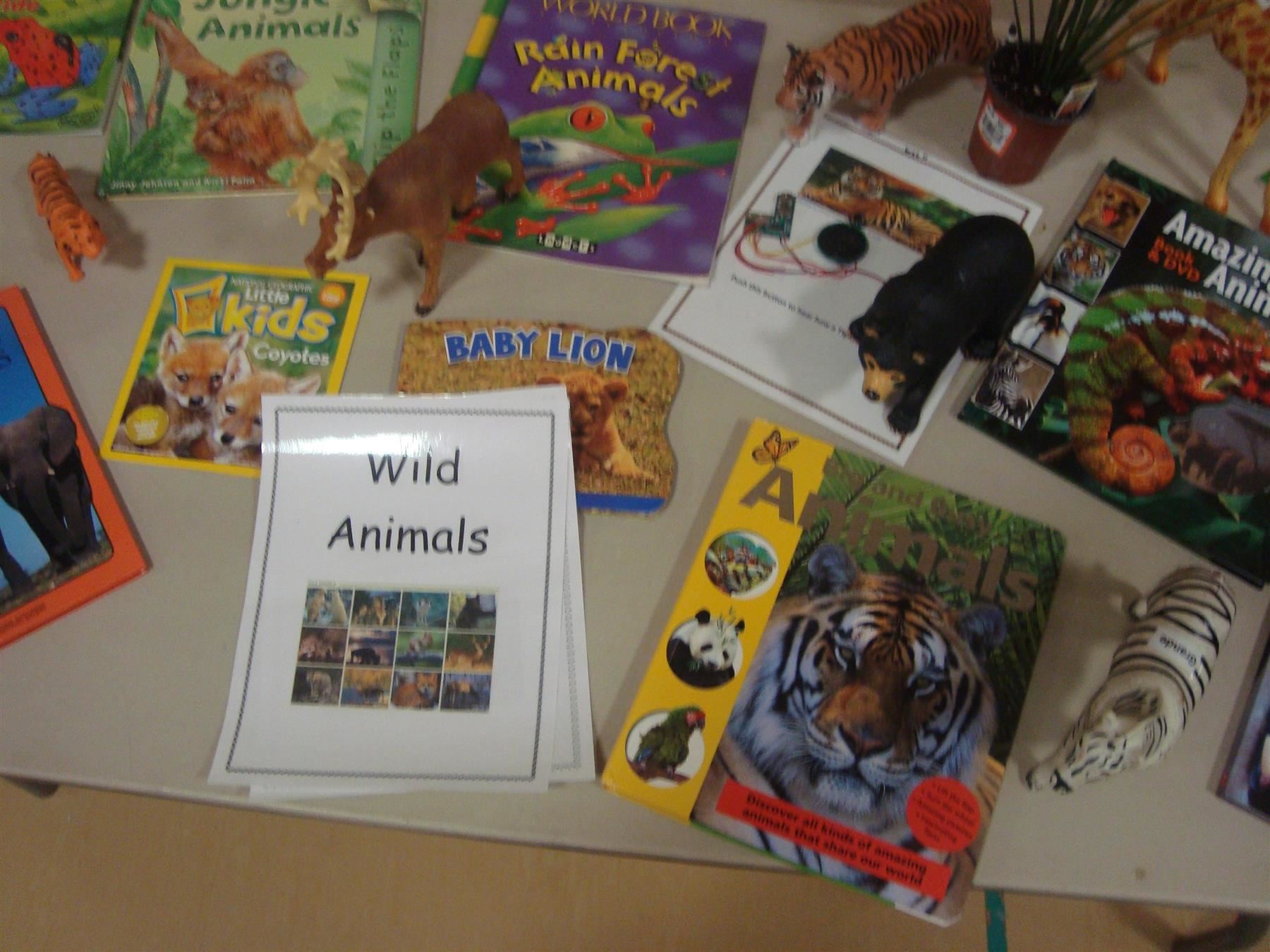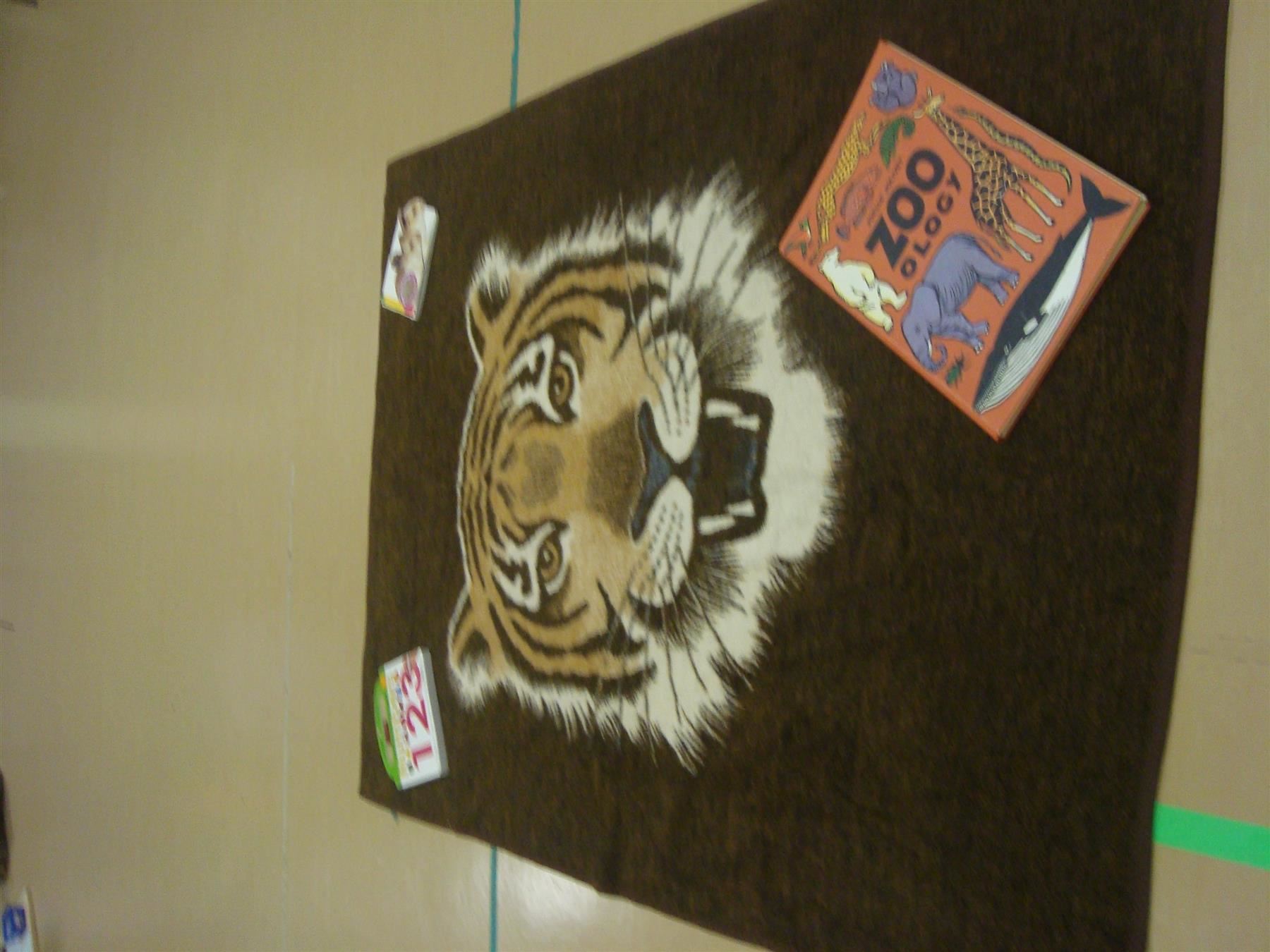 Pictures above is our fair's reading blanket.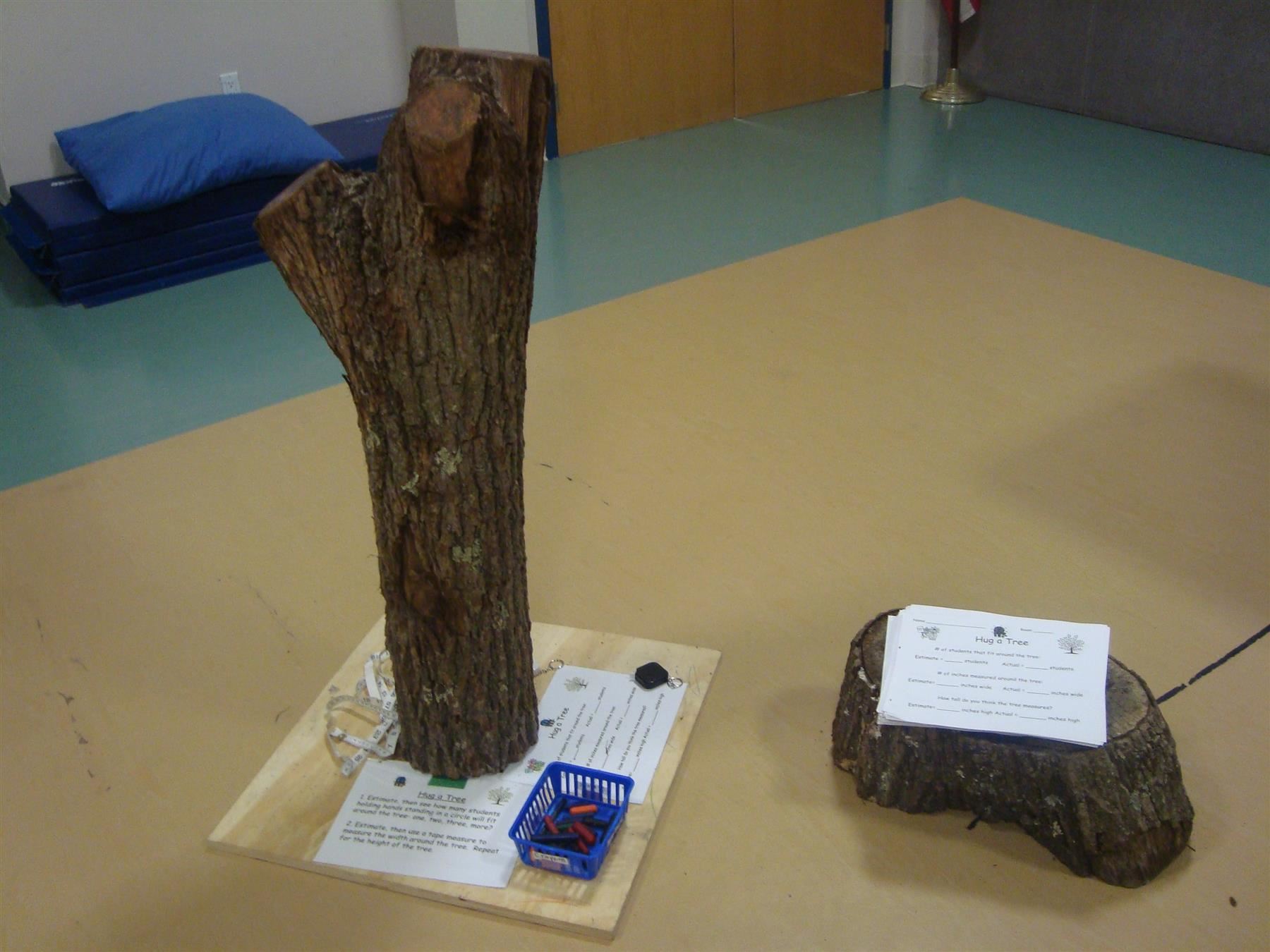 Students were able to estimate, and then measure the circumference and height of our 'tree' using a tape measure.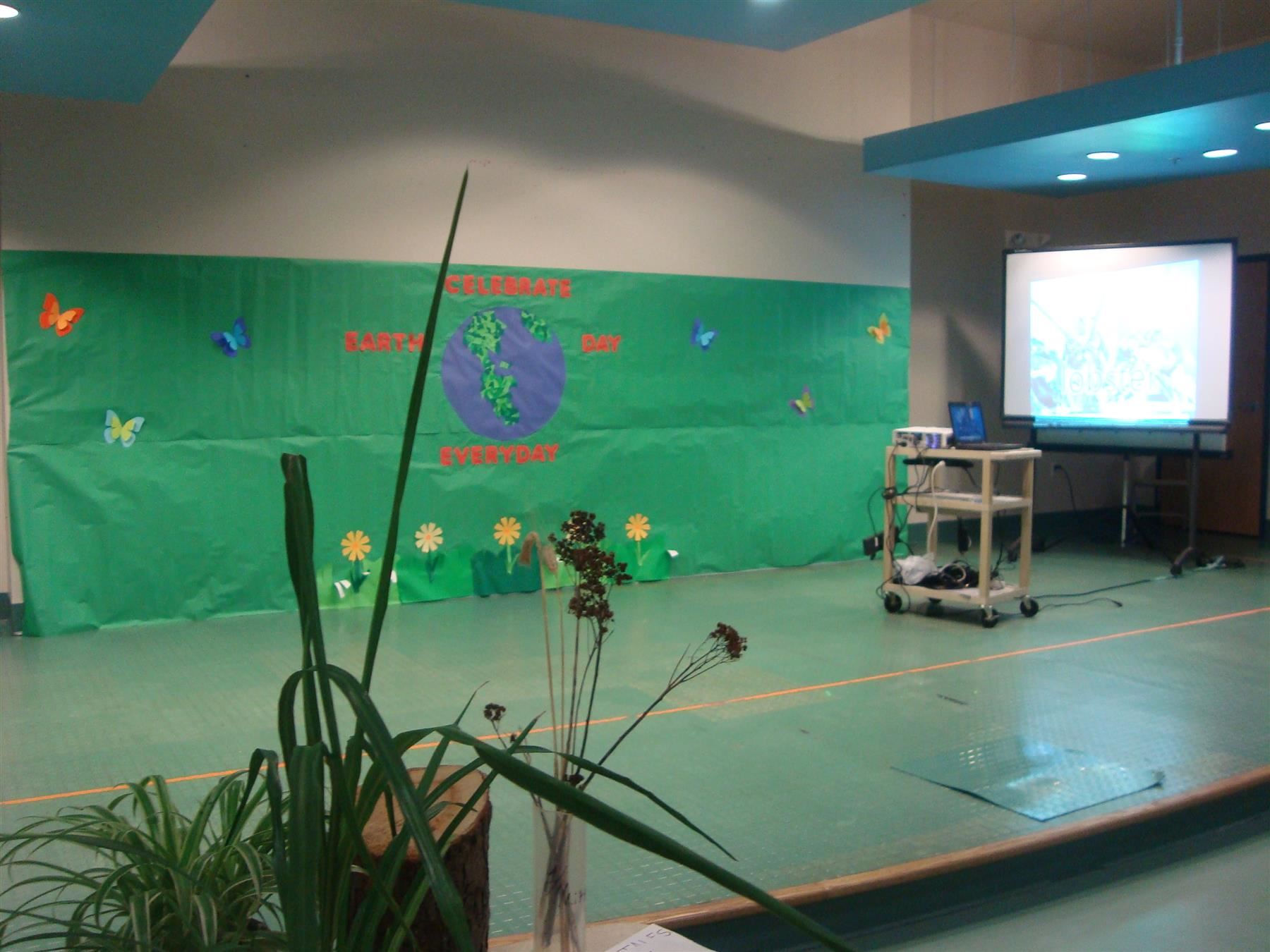 School 50 is very lucky to have dedicated and talented PTO parents this year who made us beautiful decorations for our Earth Day Fair. Students followed animal movements to the animal exercise video posted in Januray's bulletin above.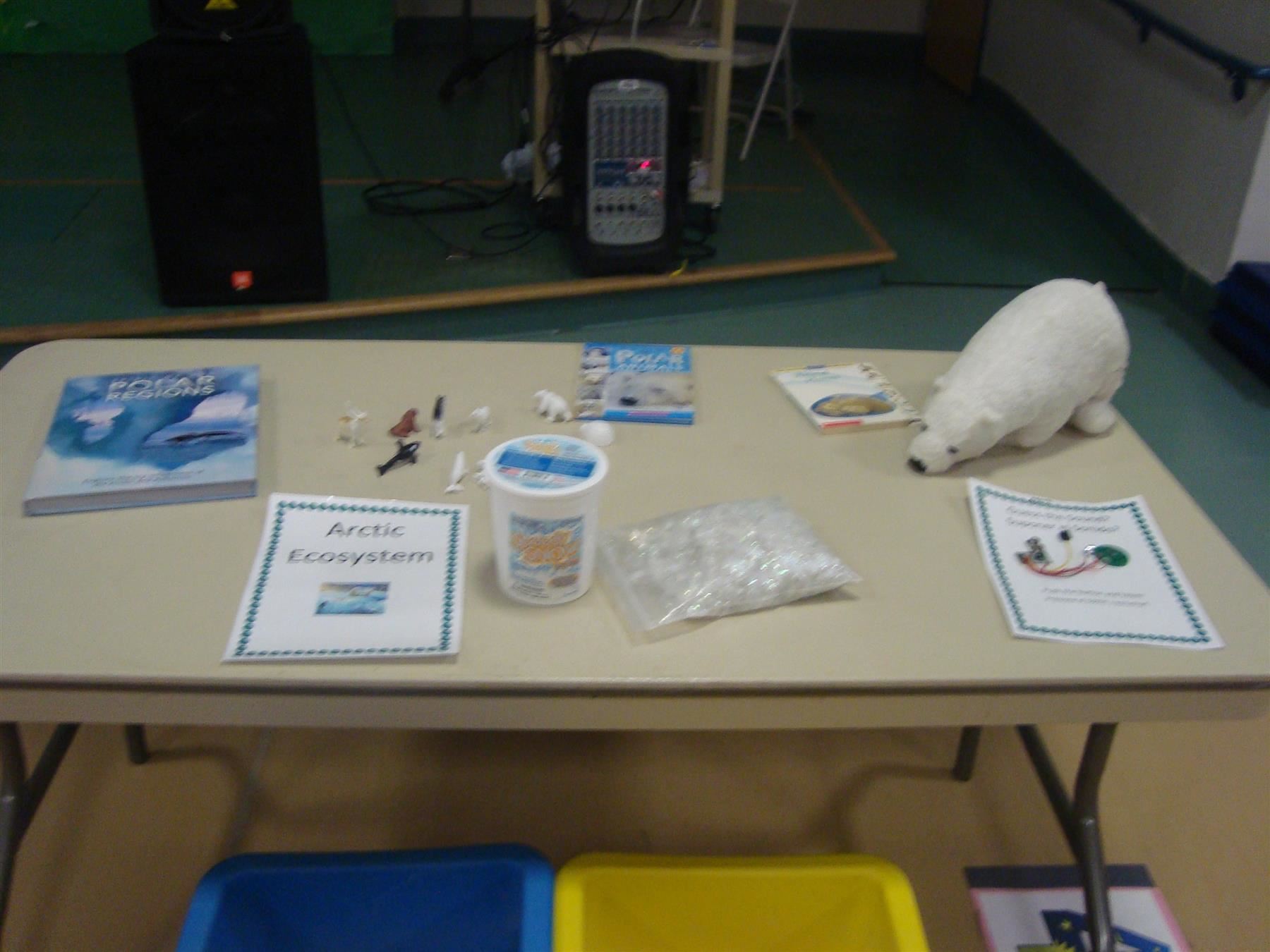 In front of our Arctic animals table above was a sensory table filled with fake snow and arctic animals.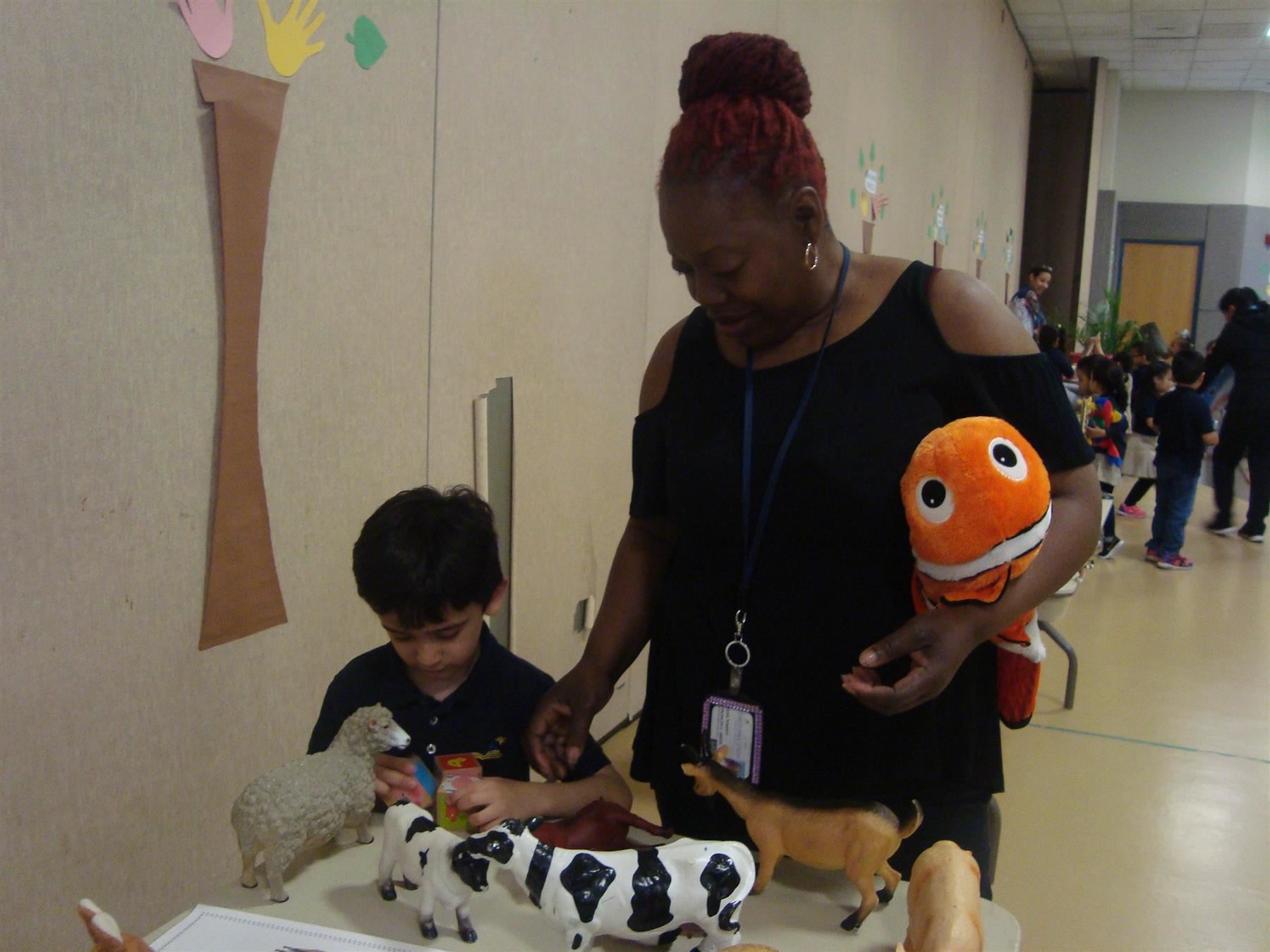 Working with farm animal blocks at our farm table.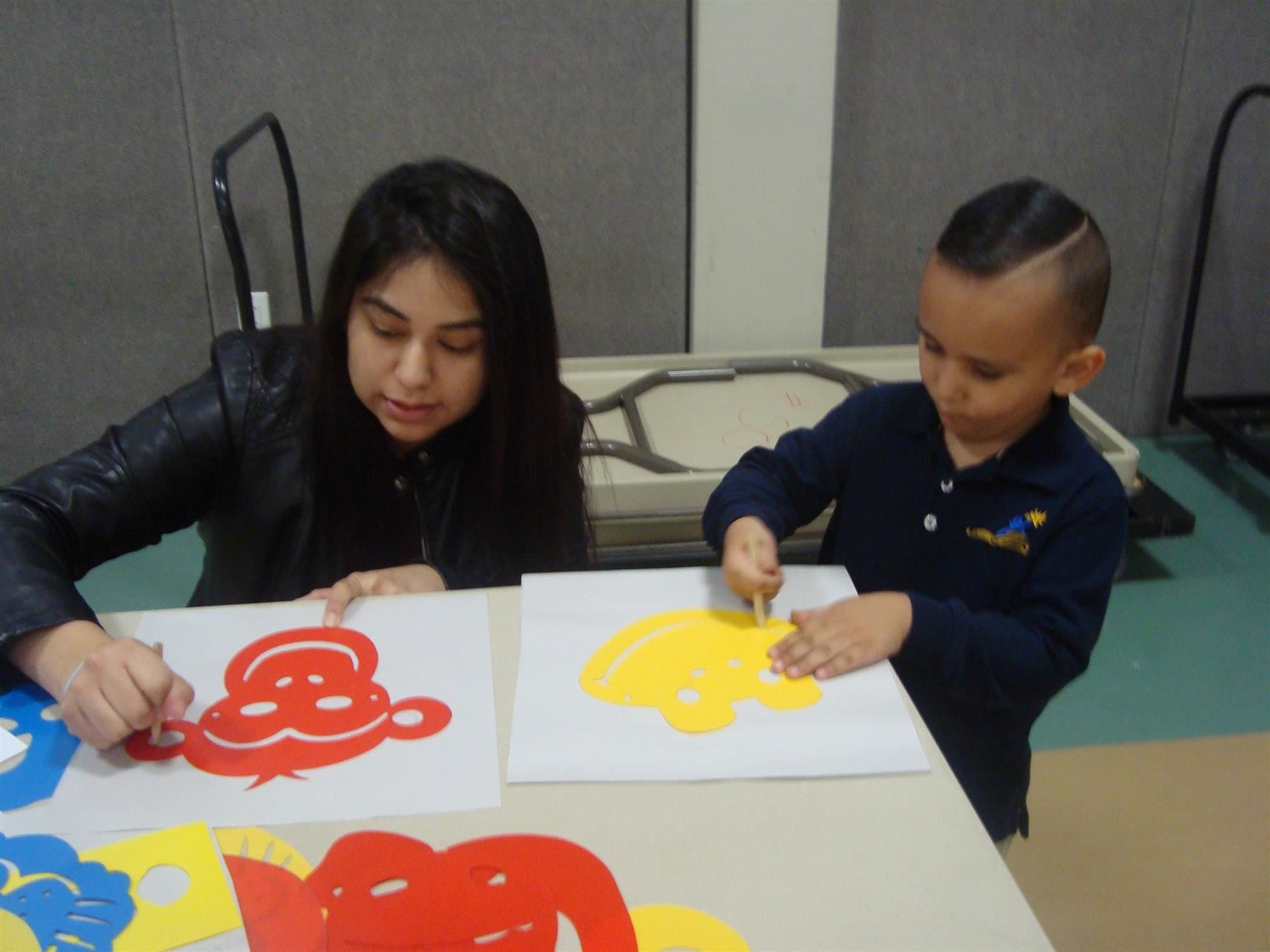 Stencilling animals with Mom.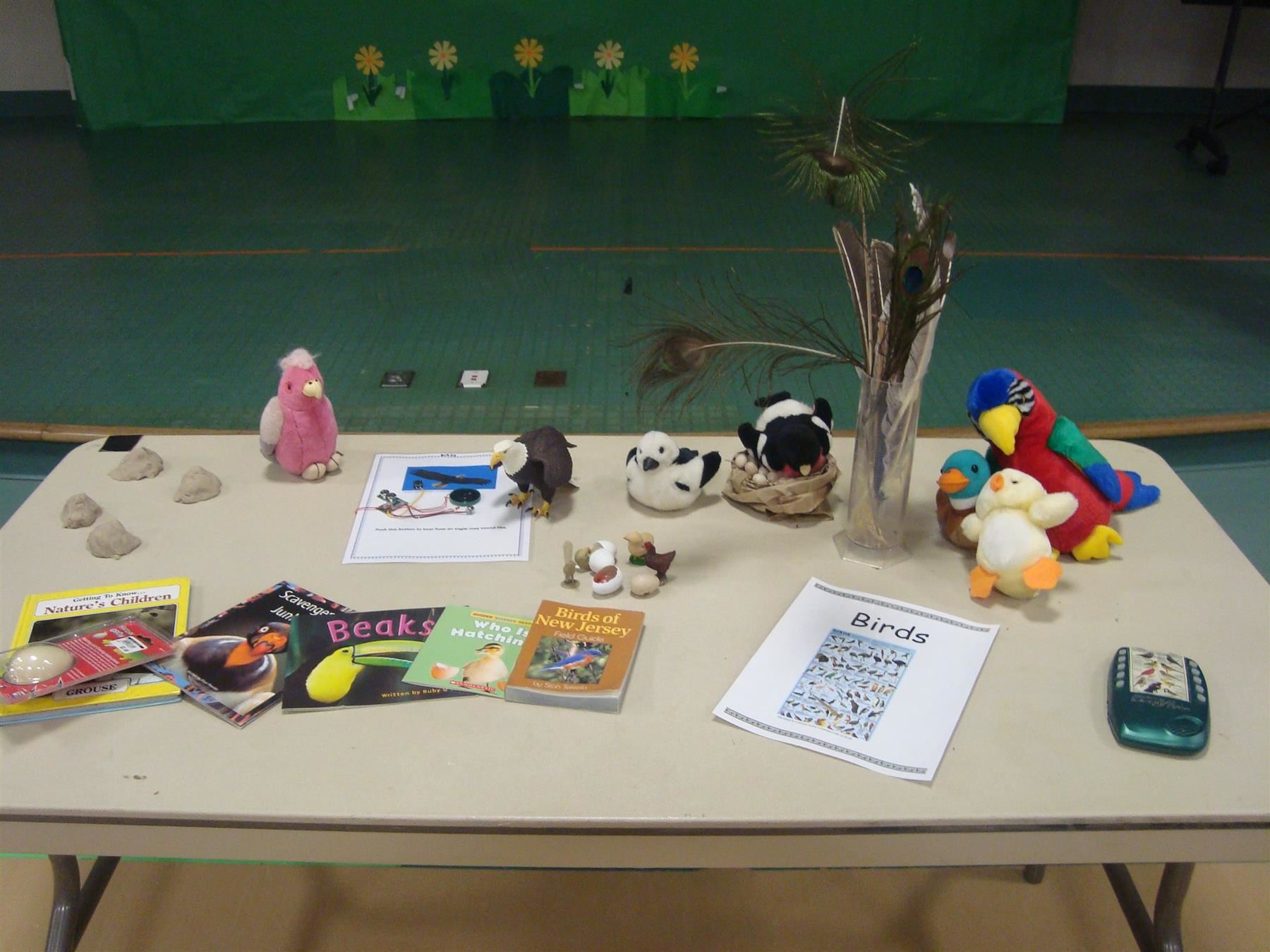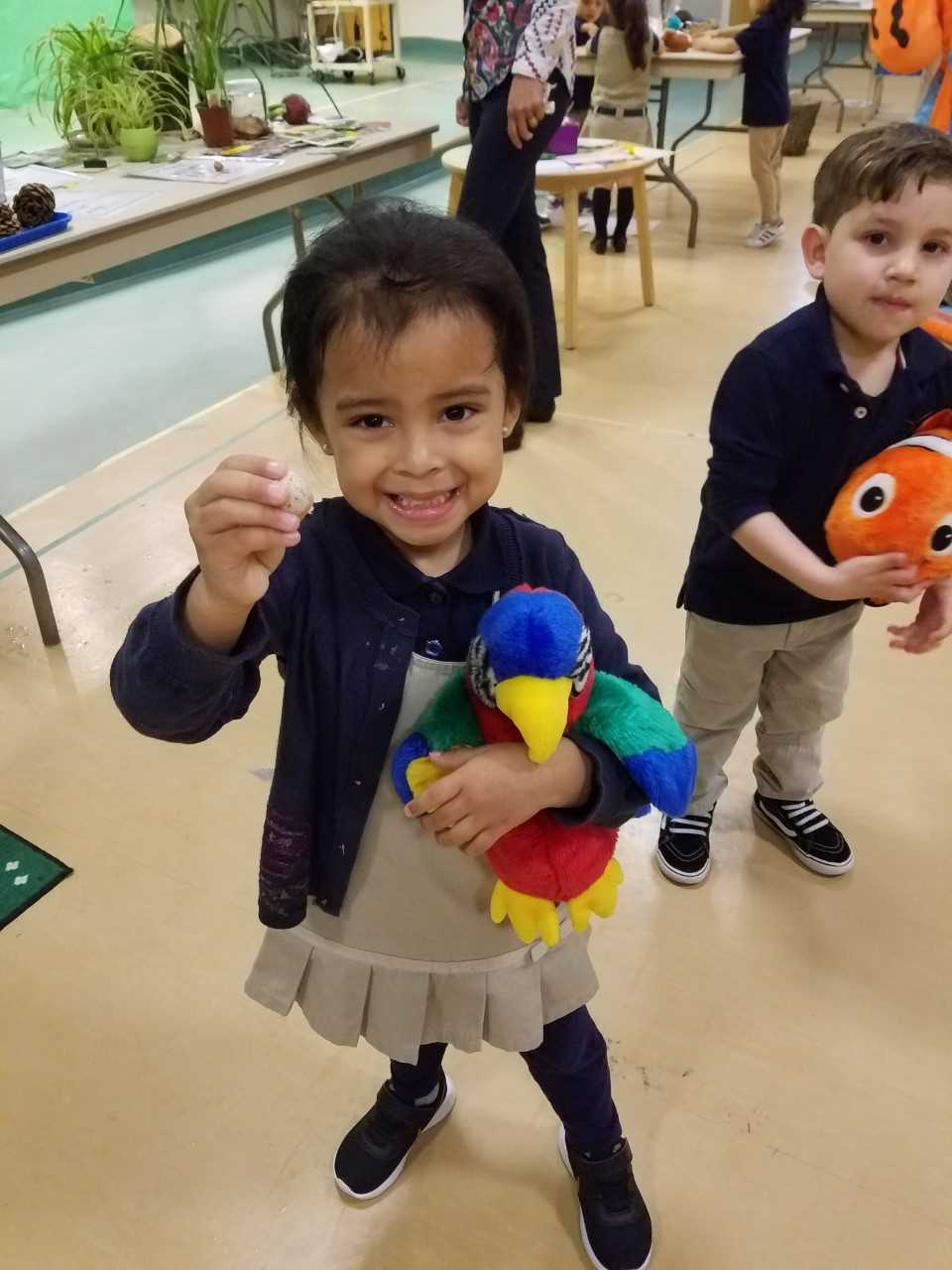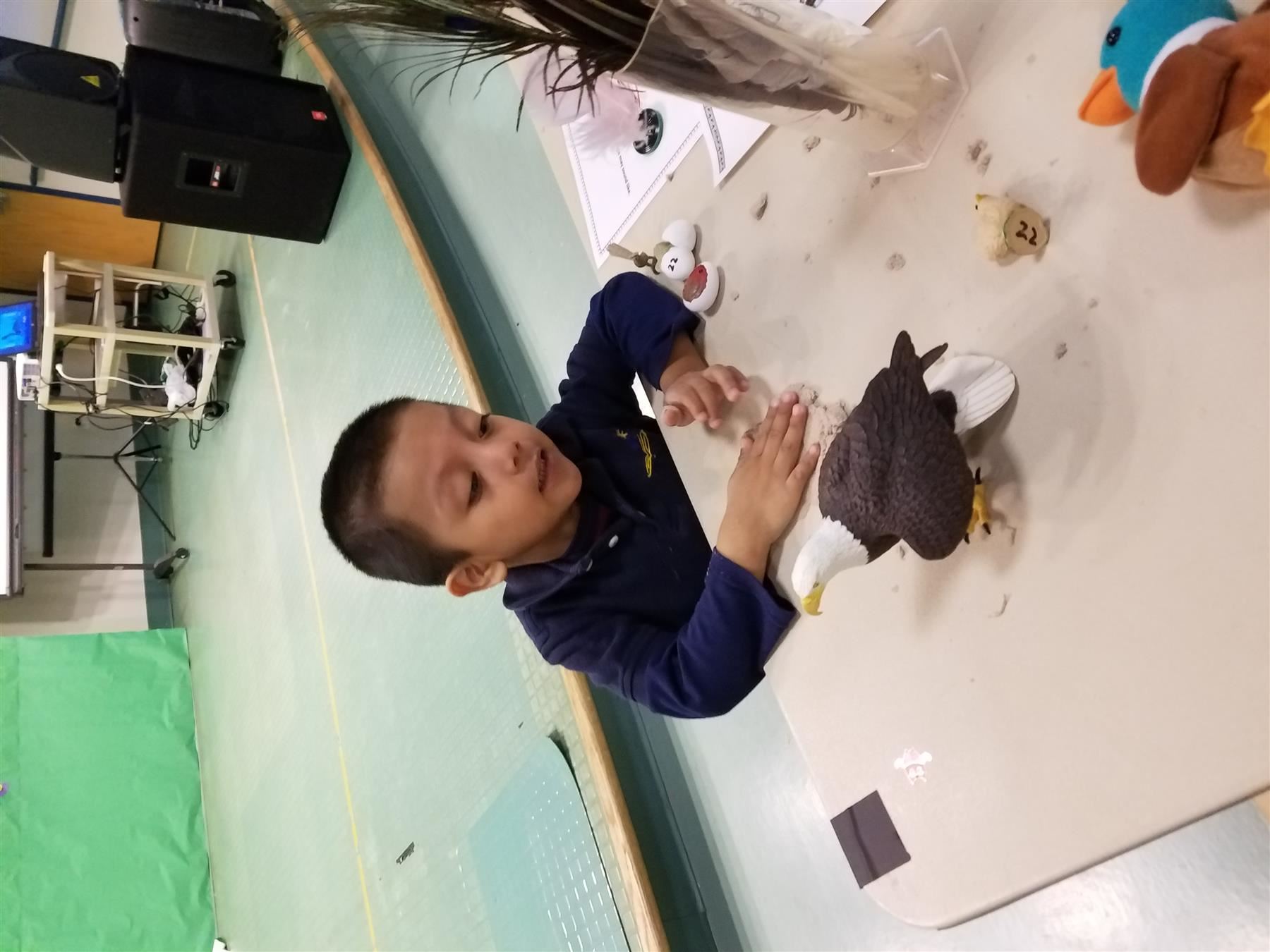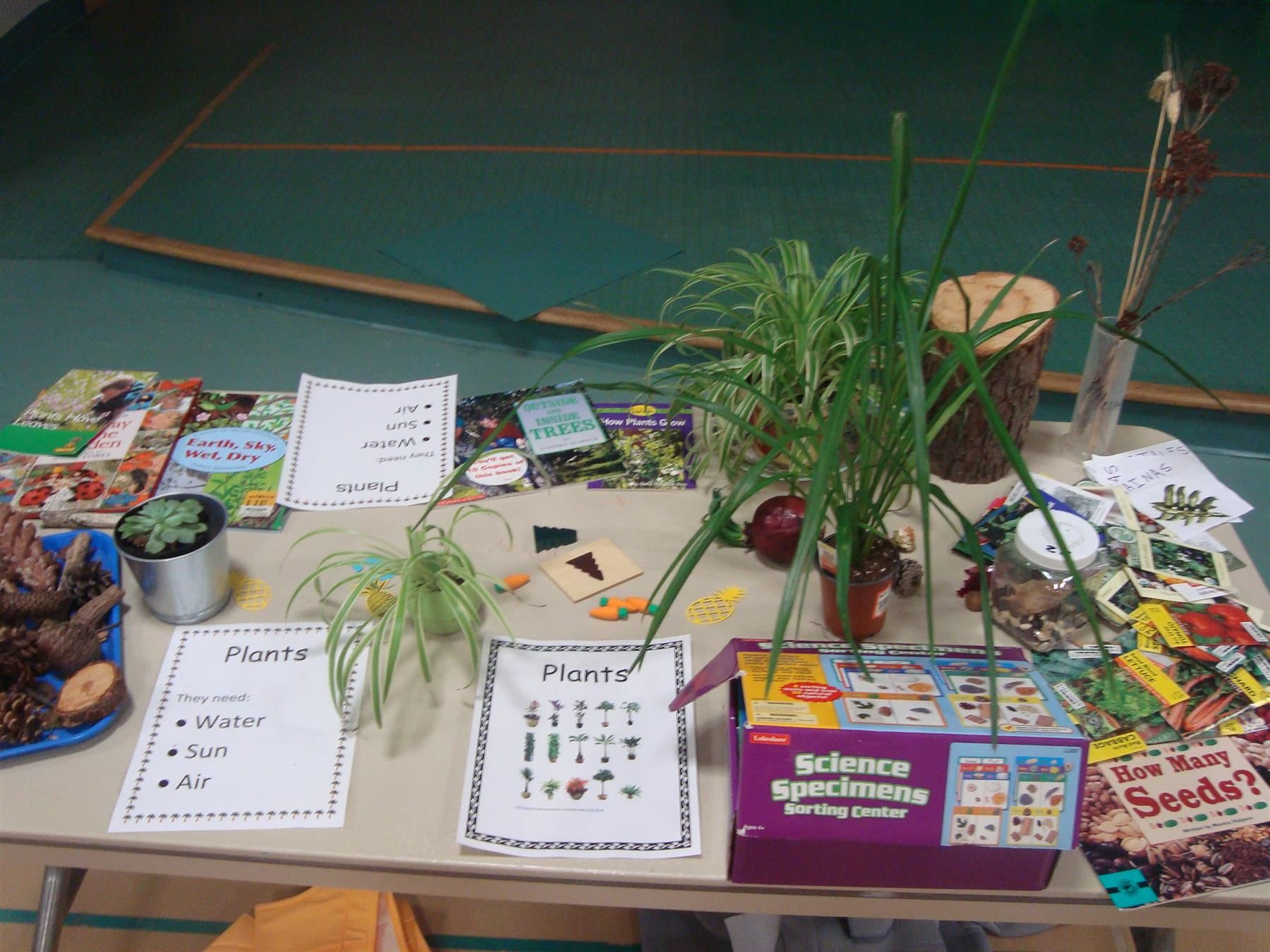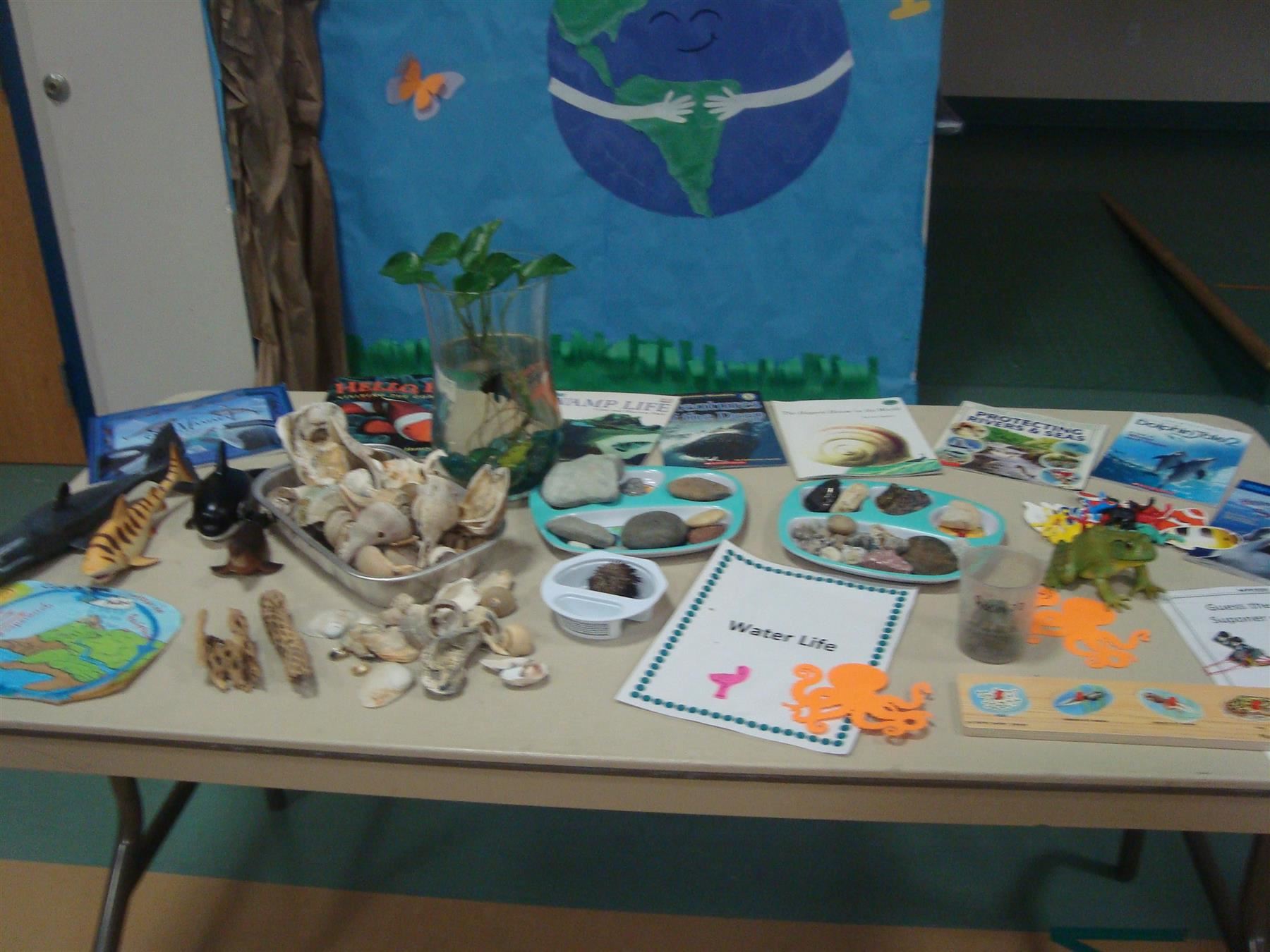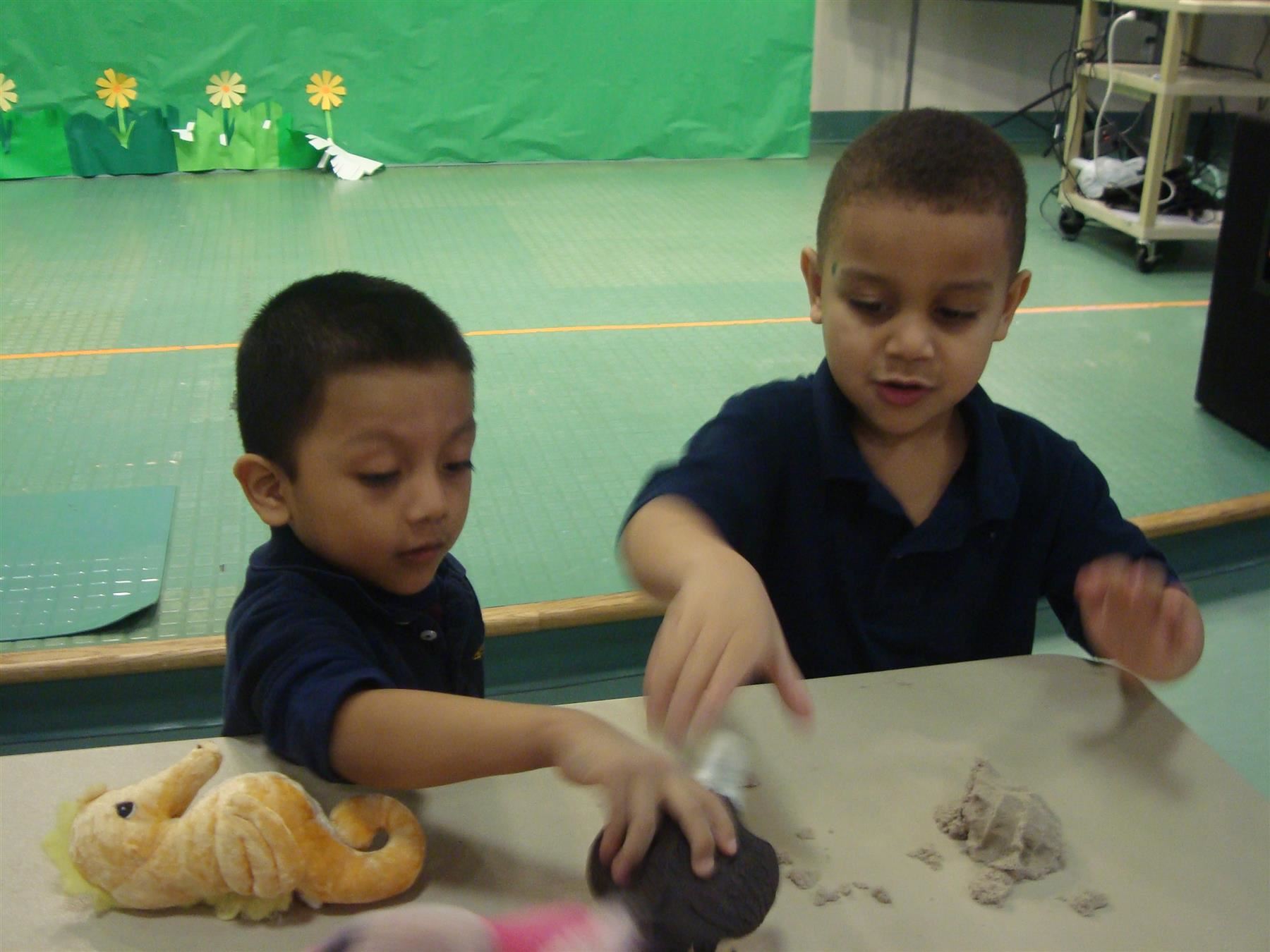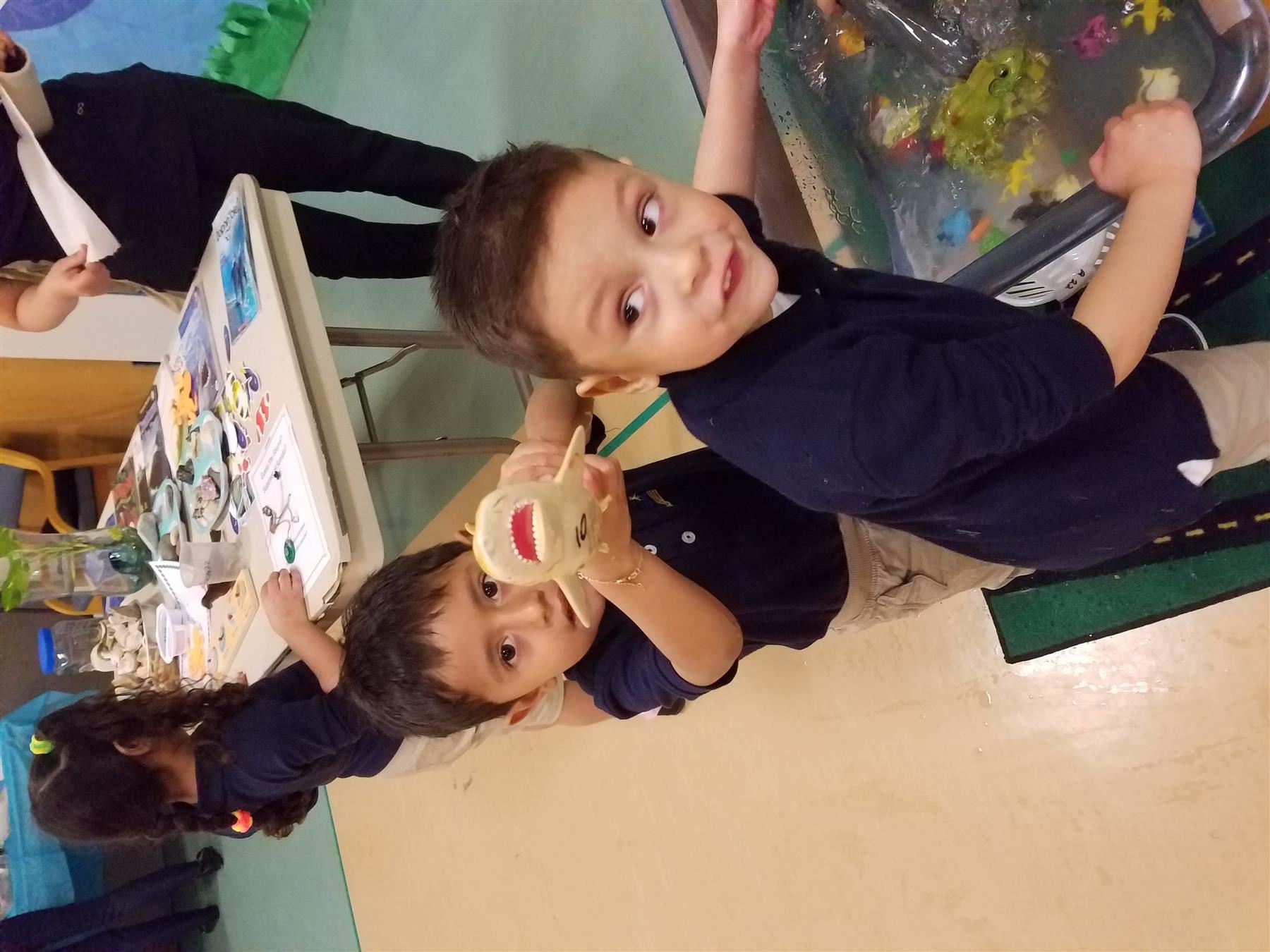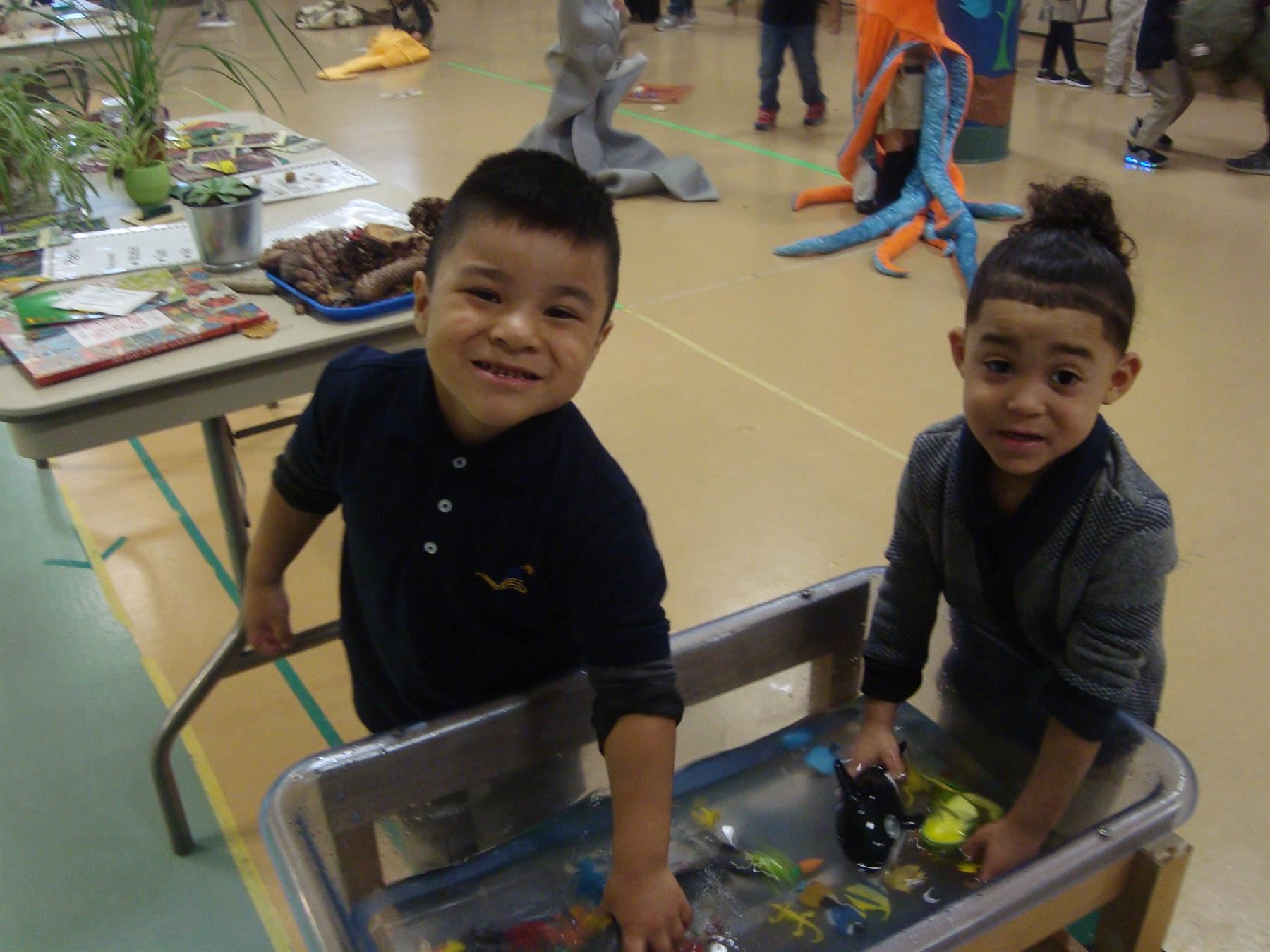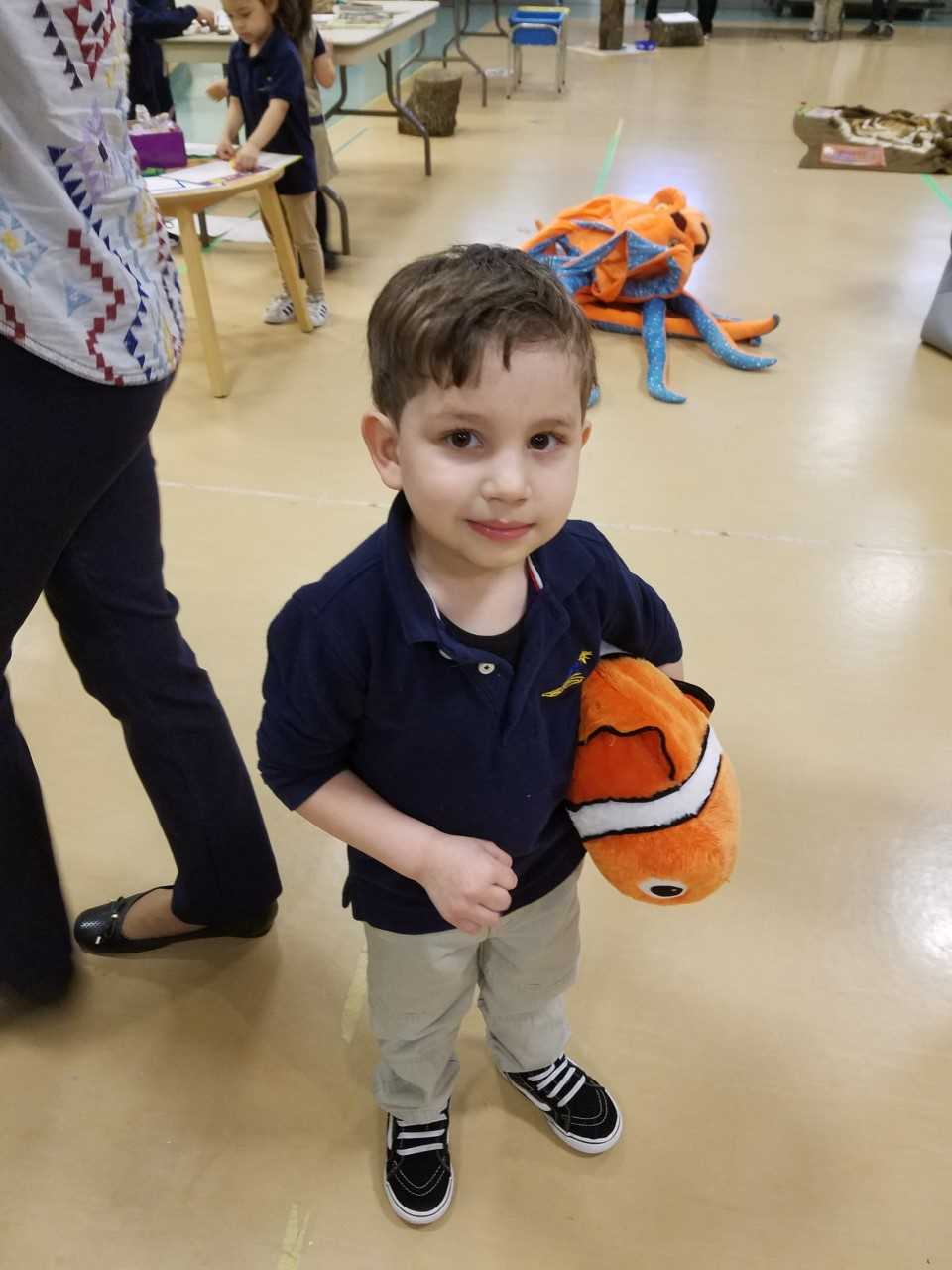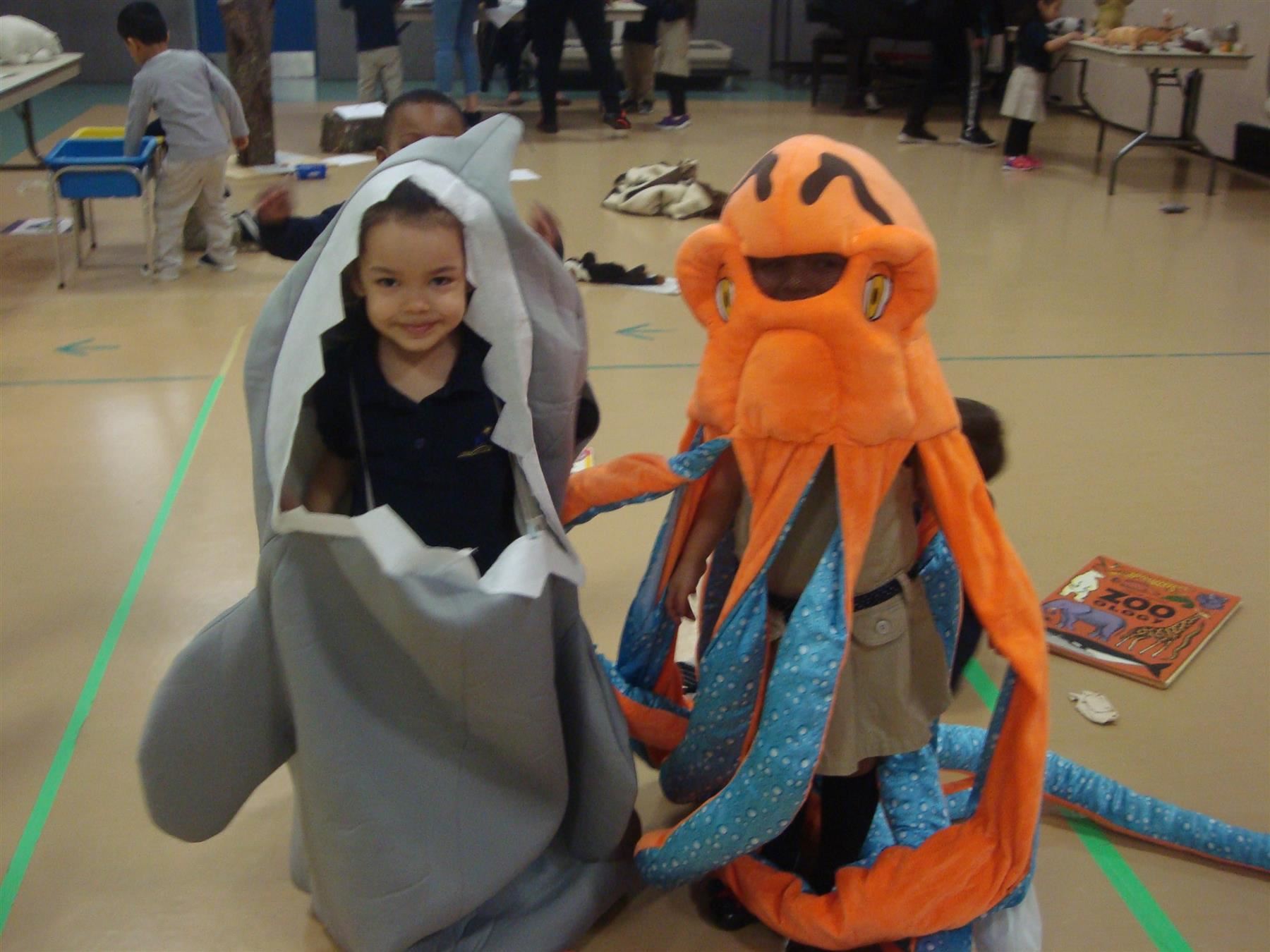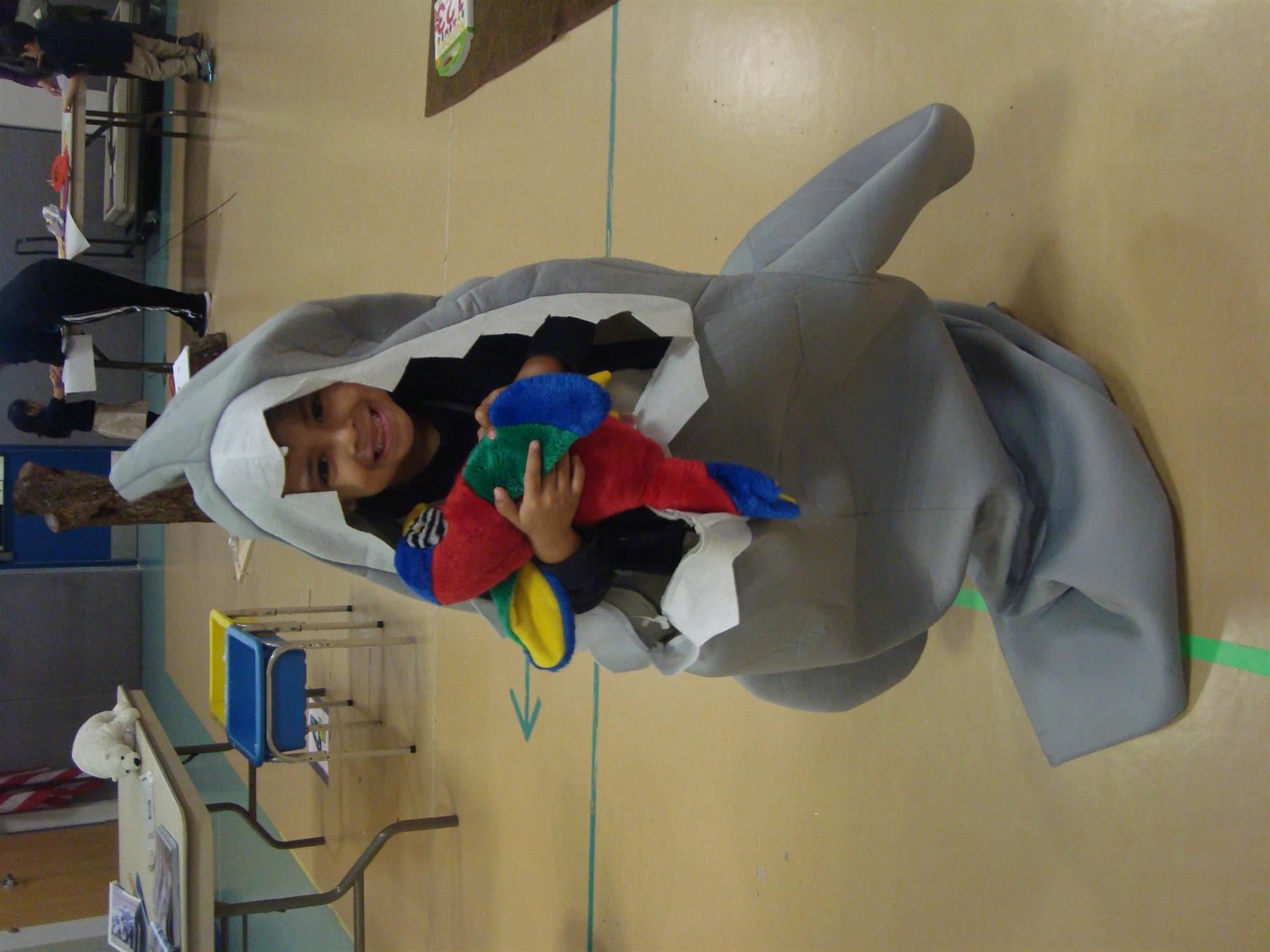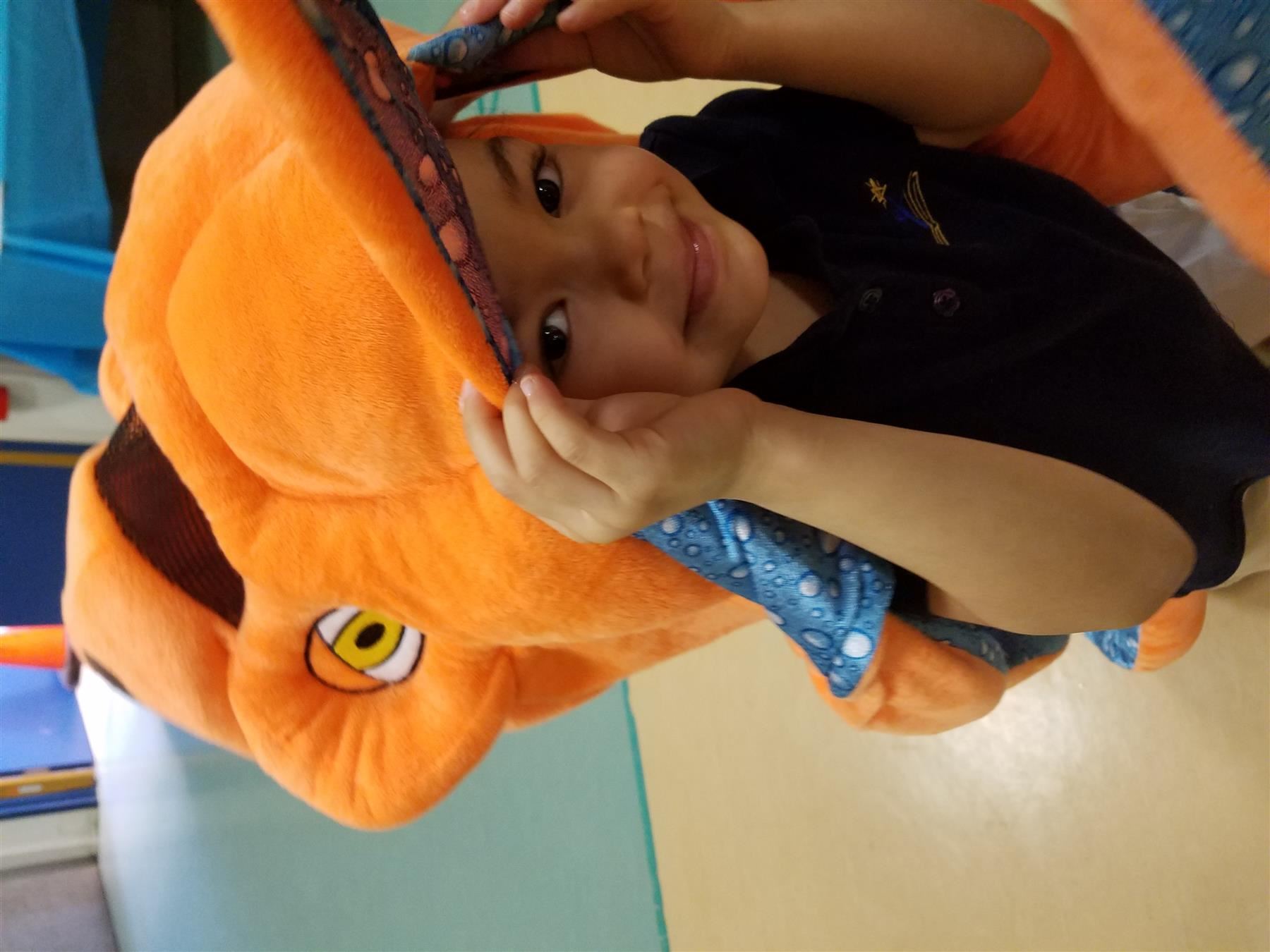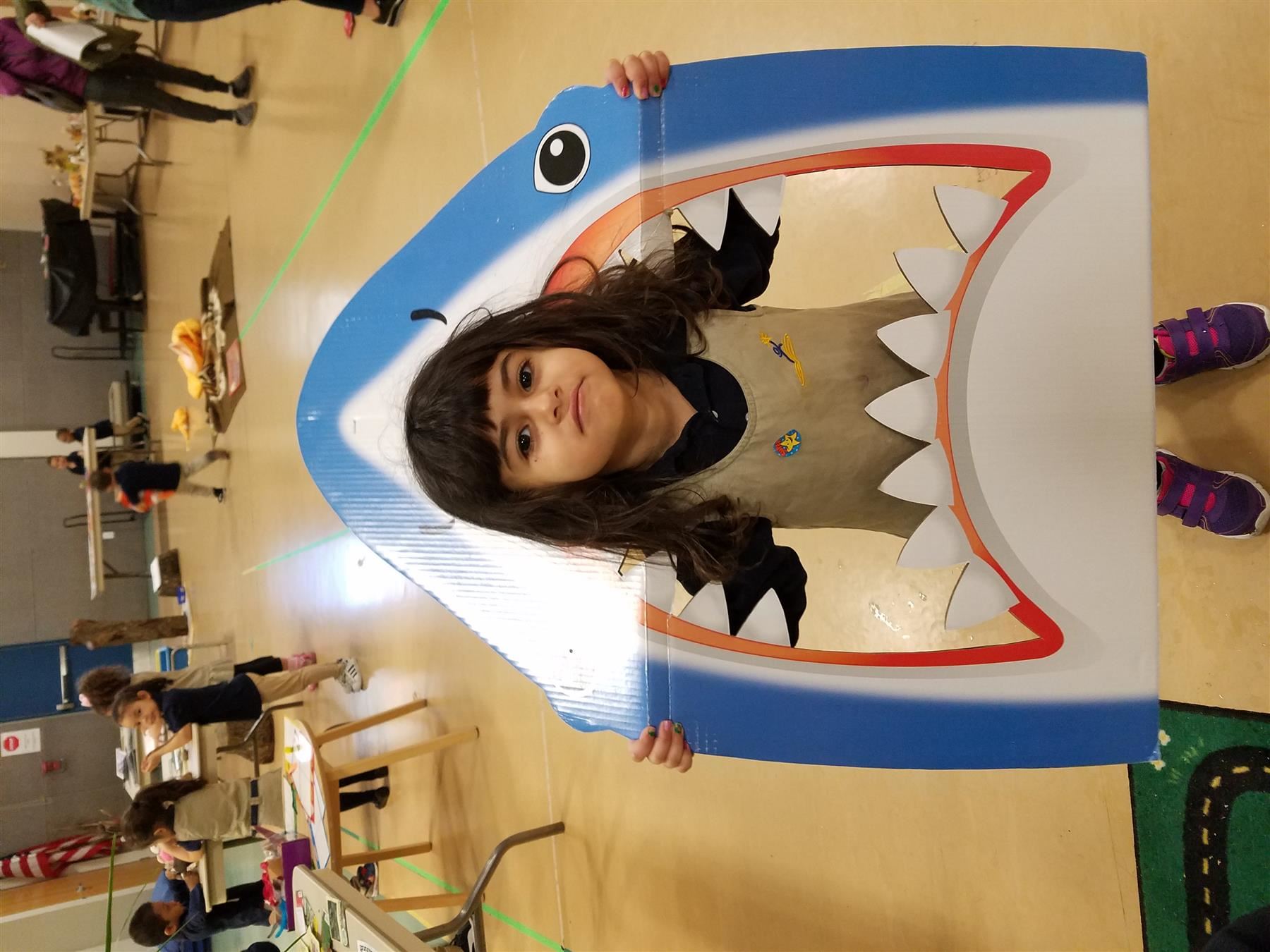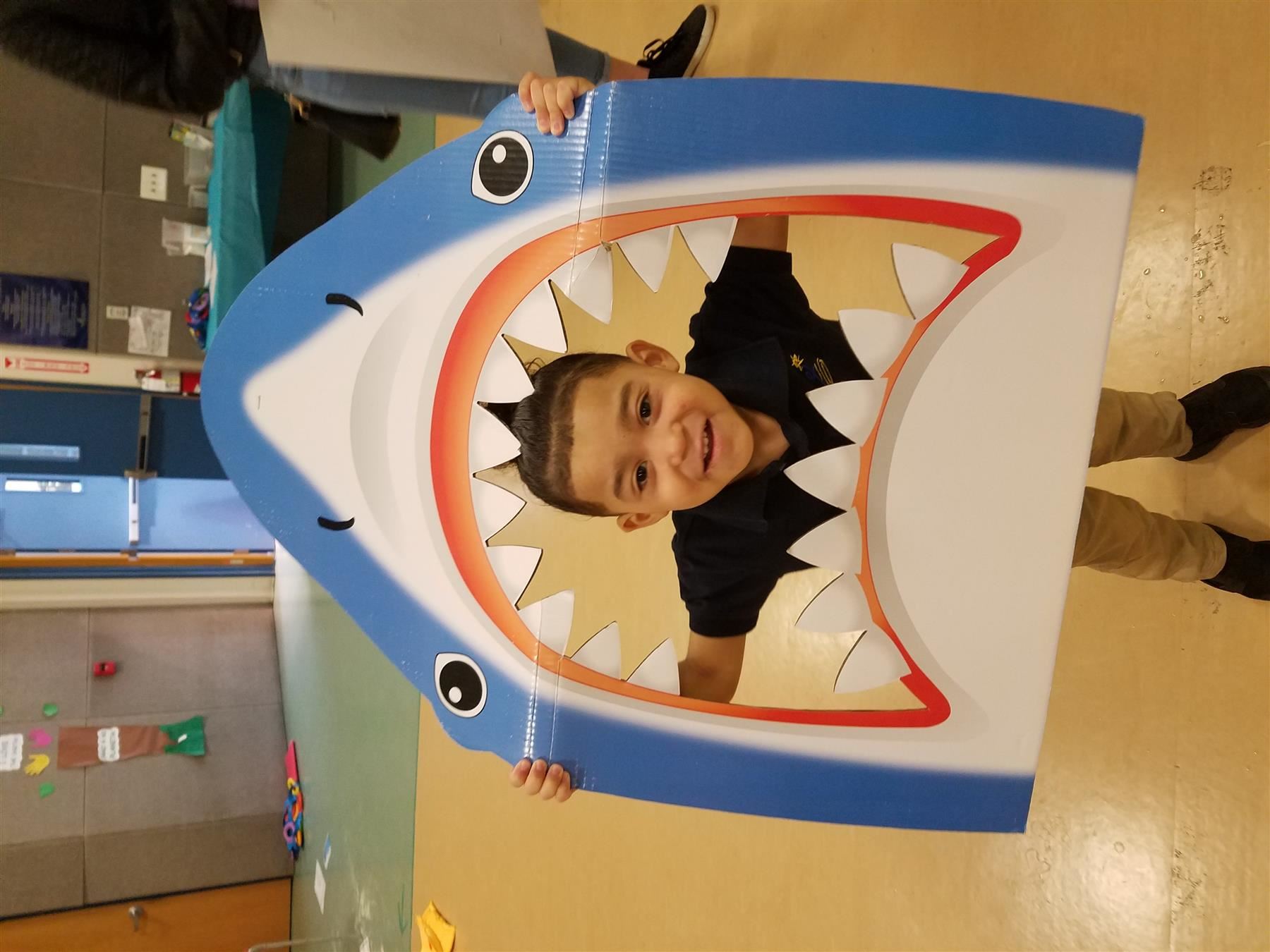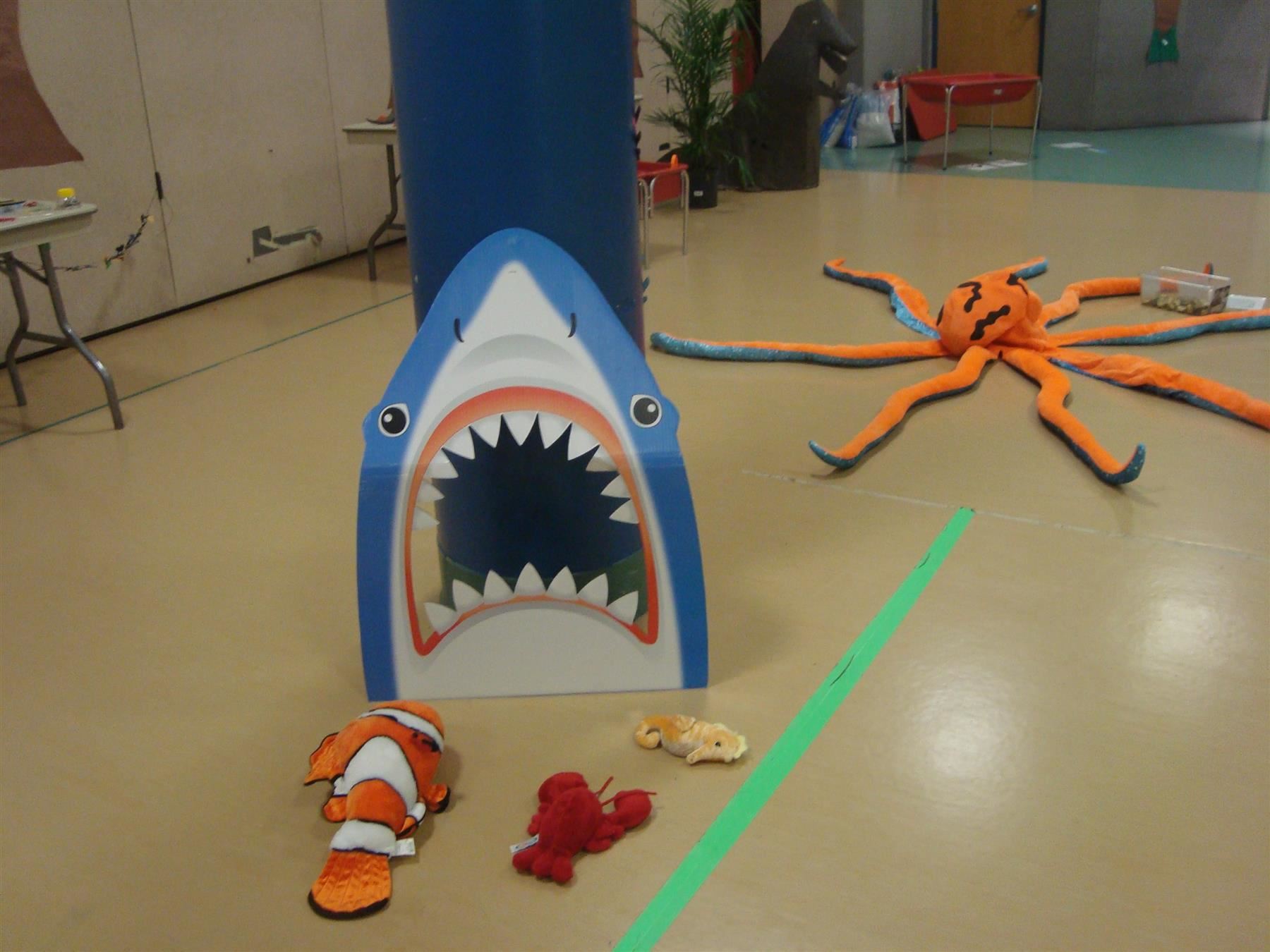 The above picture is of our 'feed the shark' game.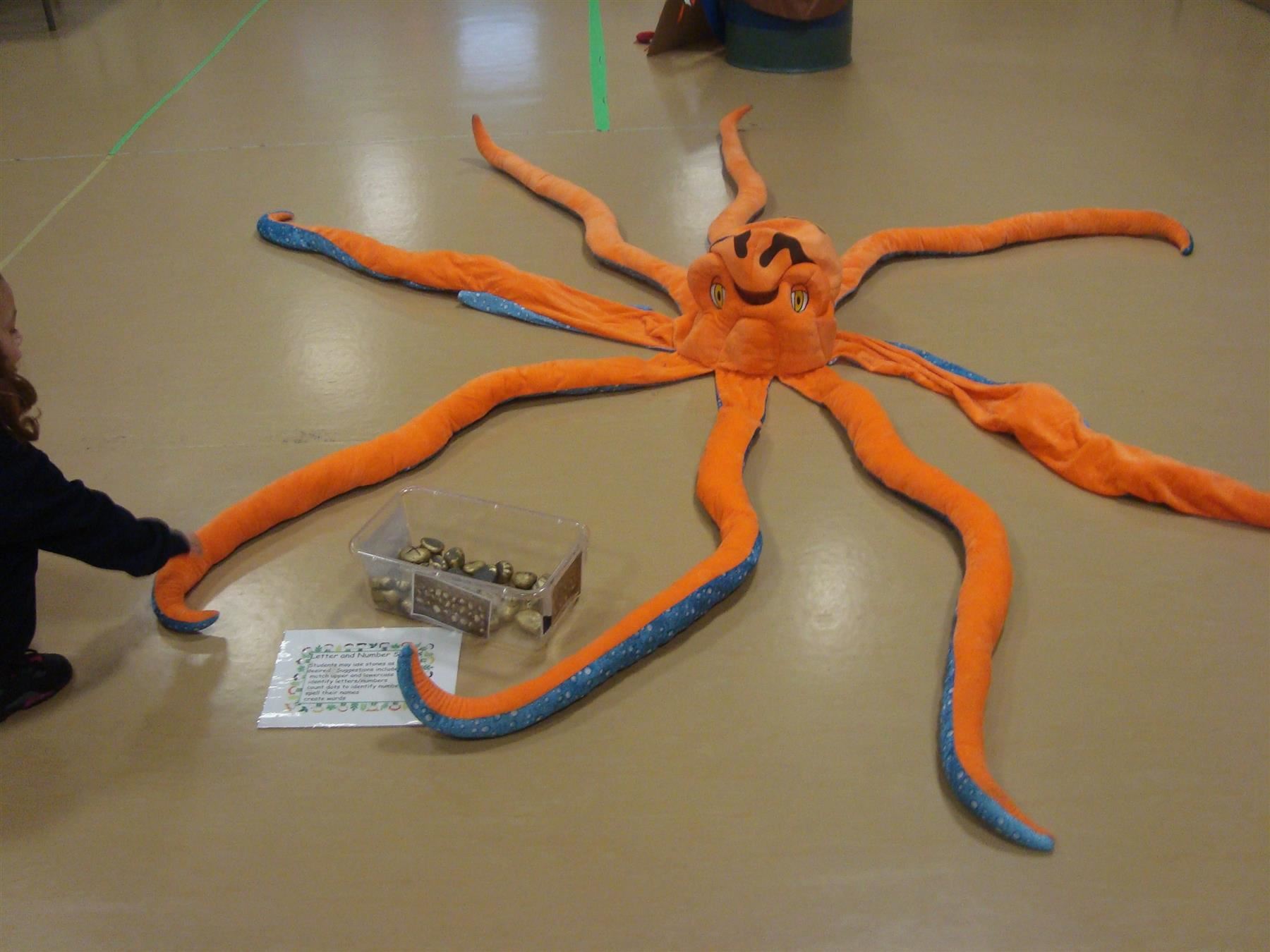 The above picture is of our octopus letters and number rocks used far matching uppercase and lowercase letters, spelling, phonemic awareness activities, number recognition, one-to-one correspondence and counting.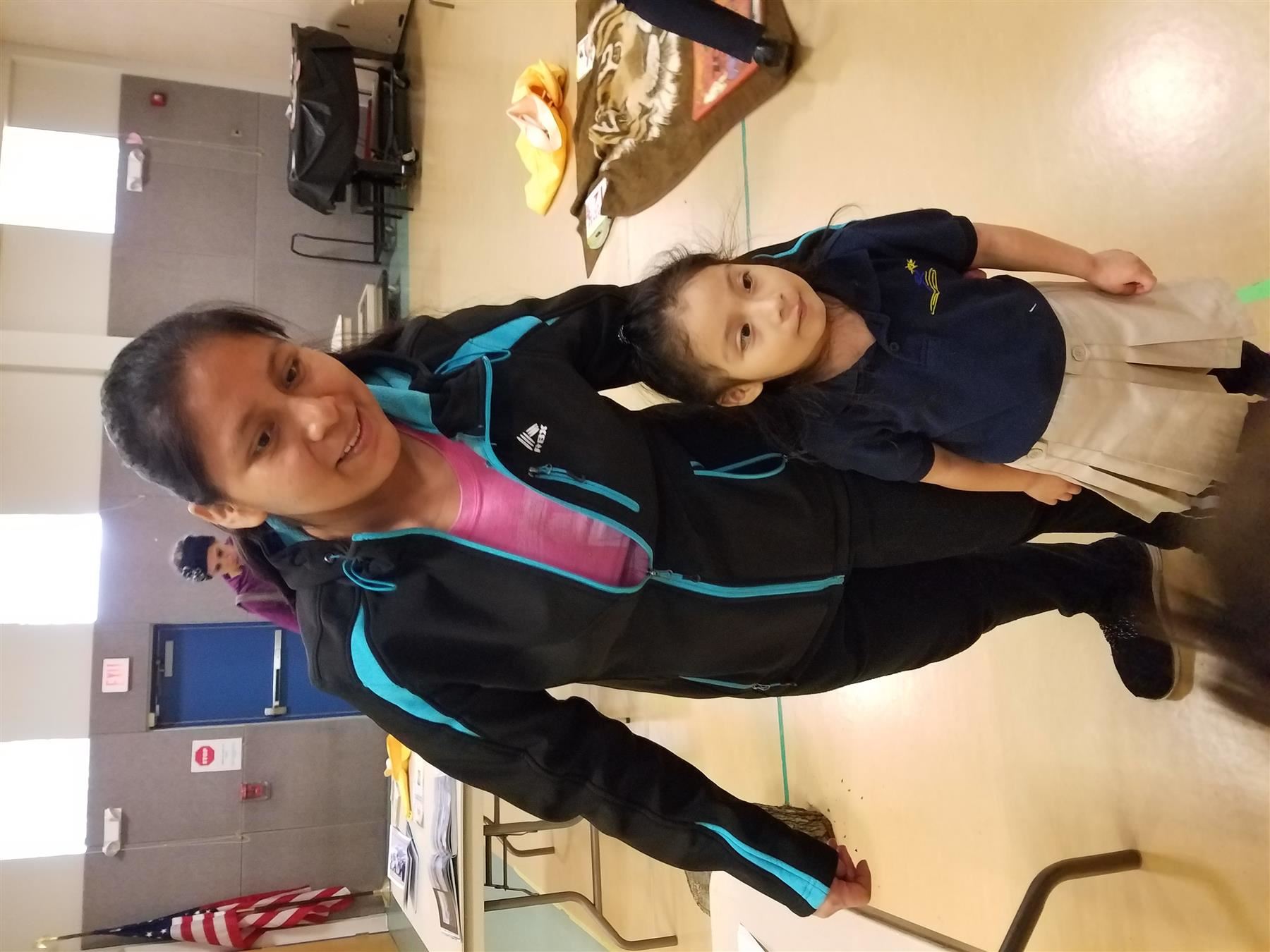 Thank you to all of our fabulous families who helped at the fair.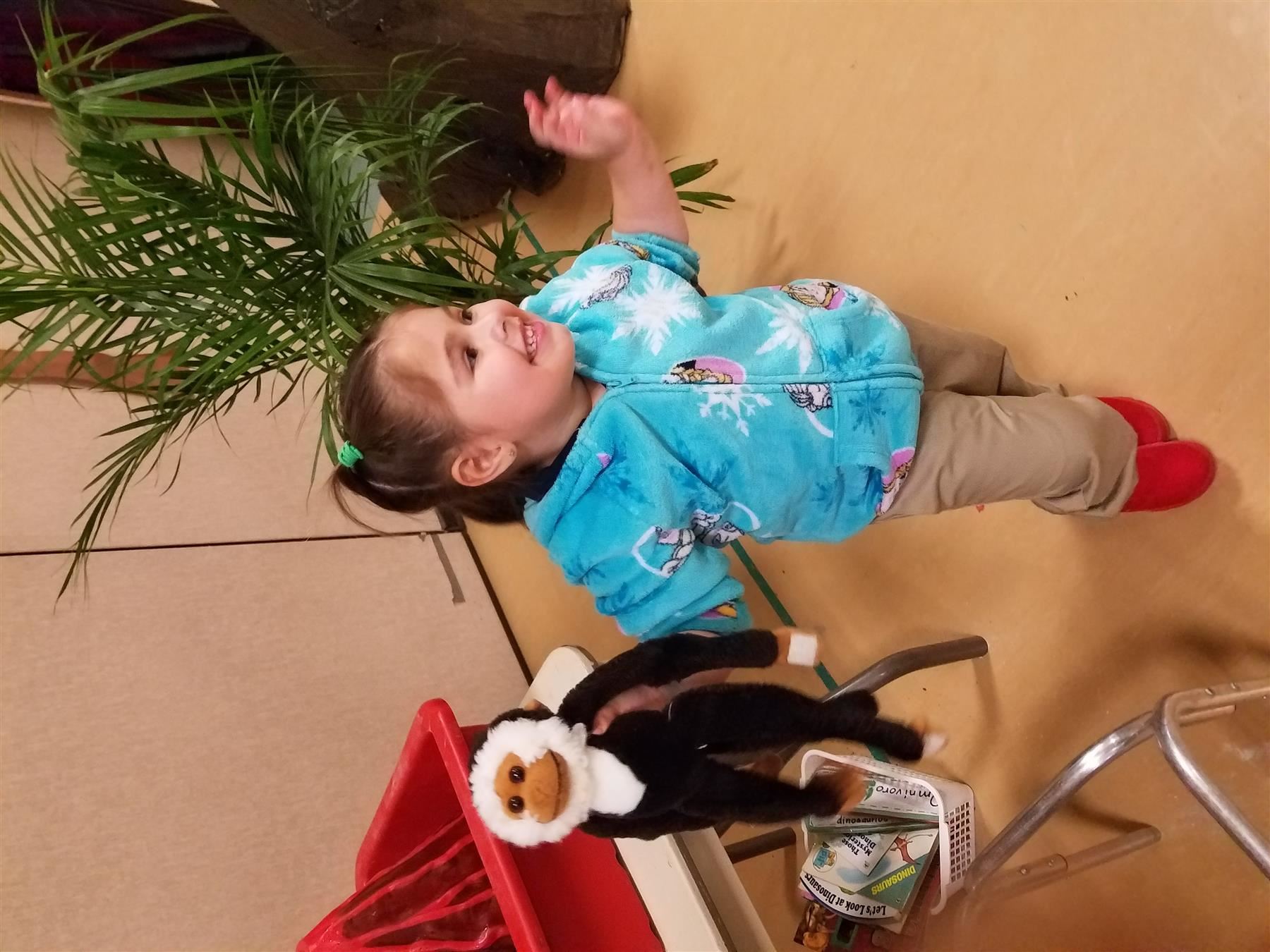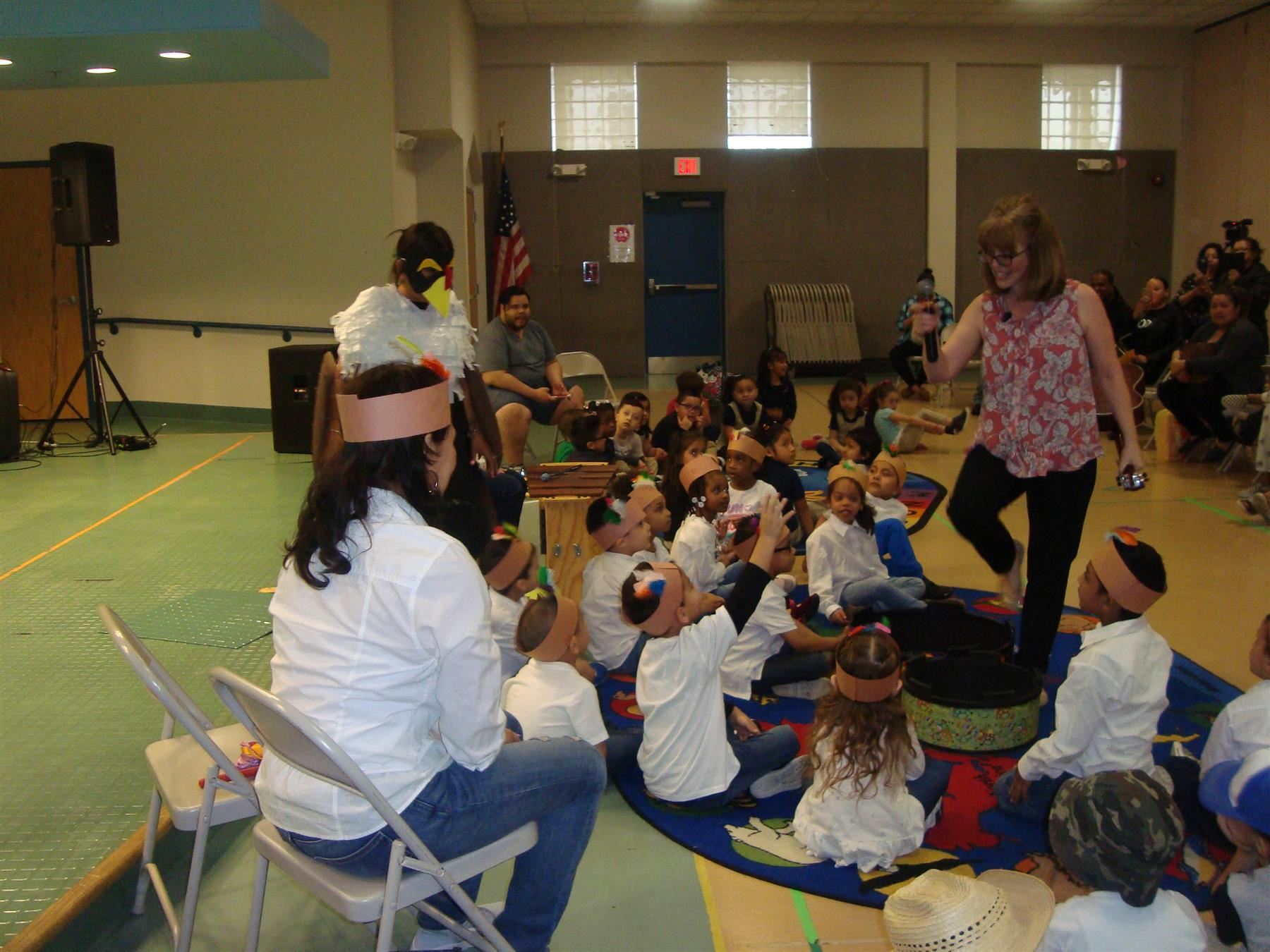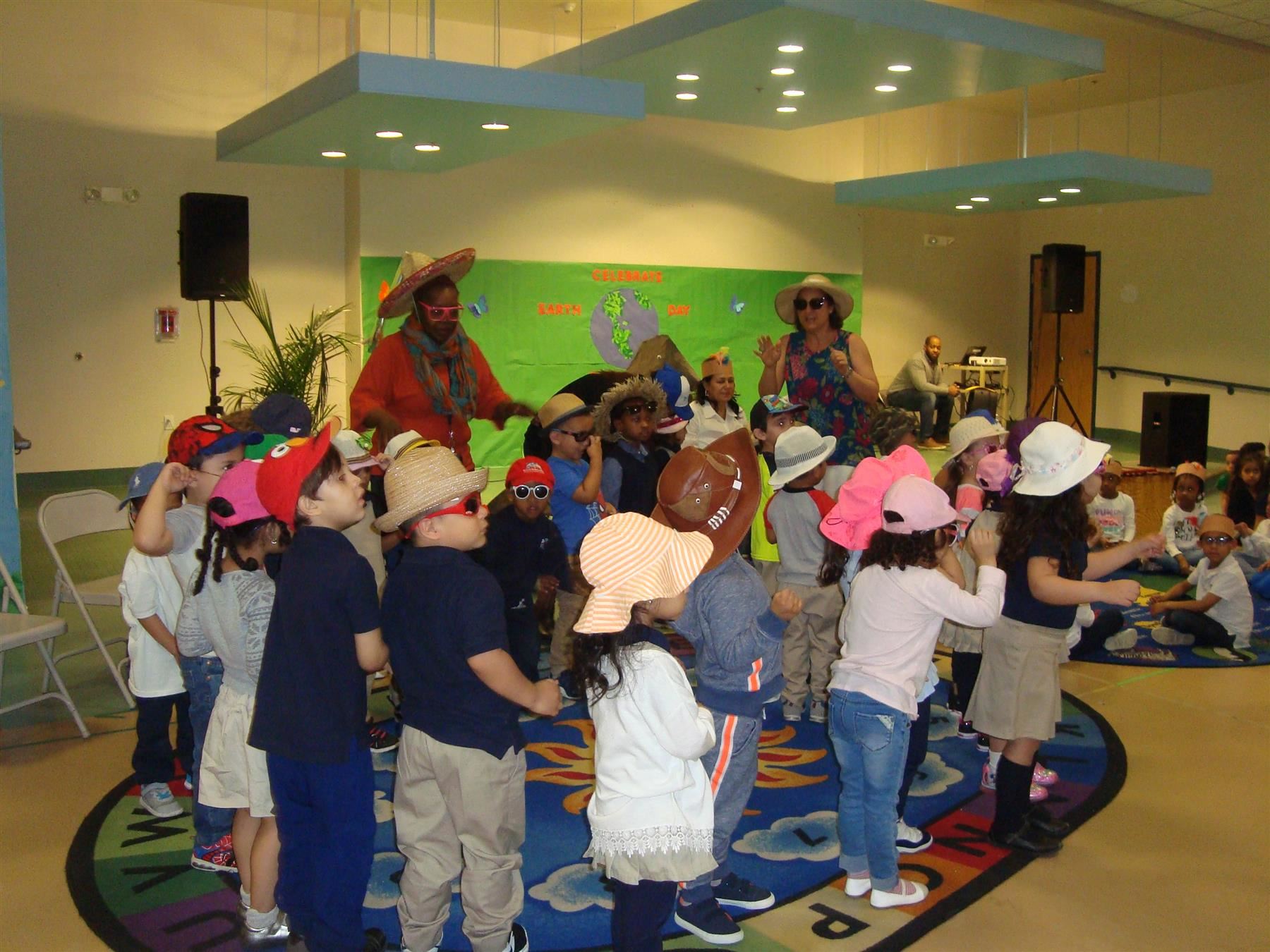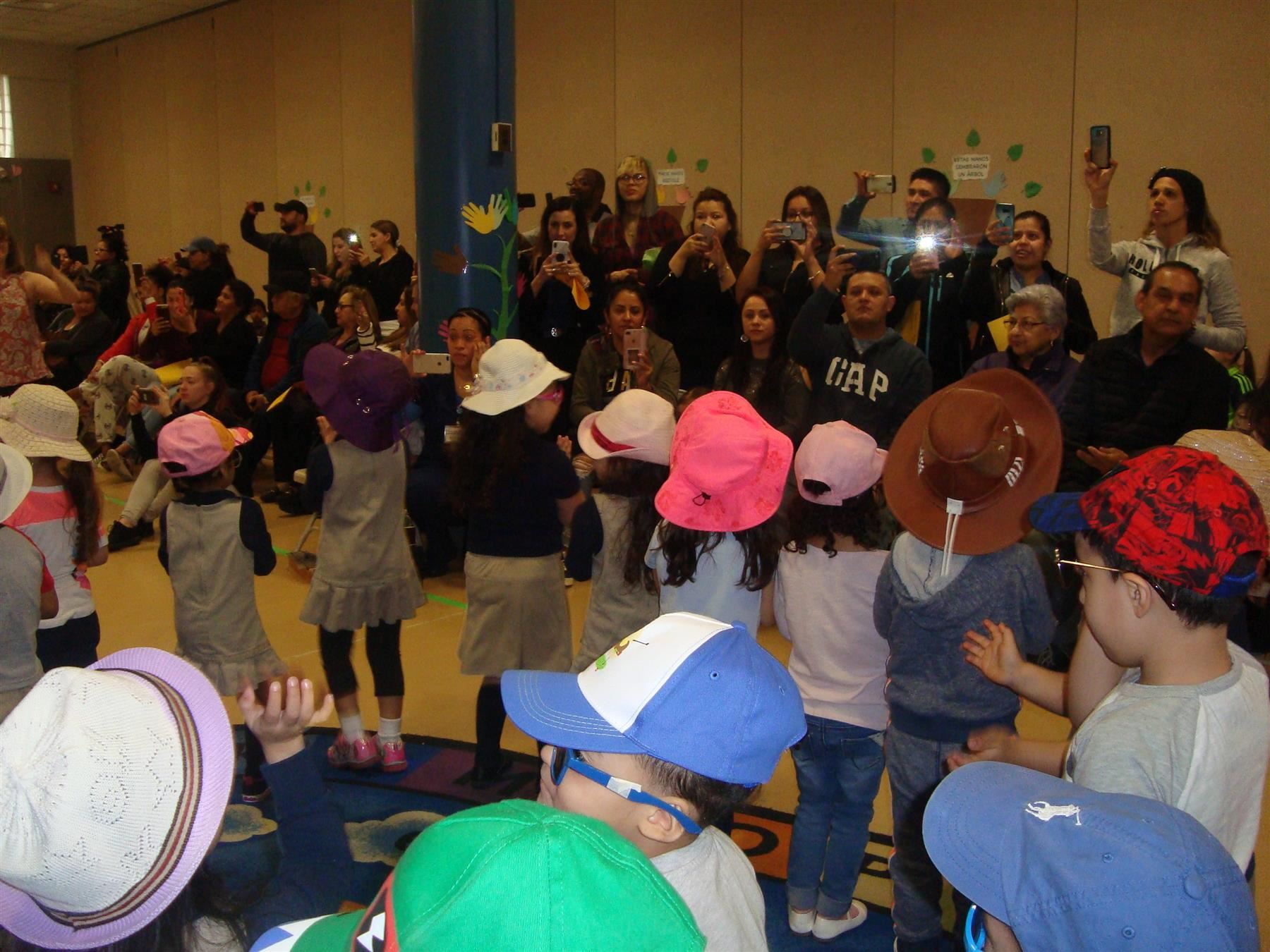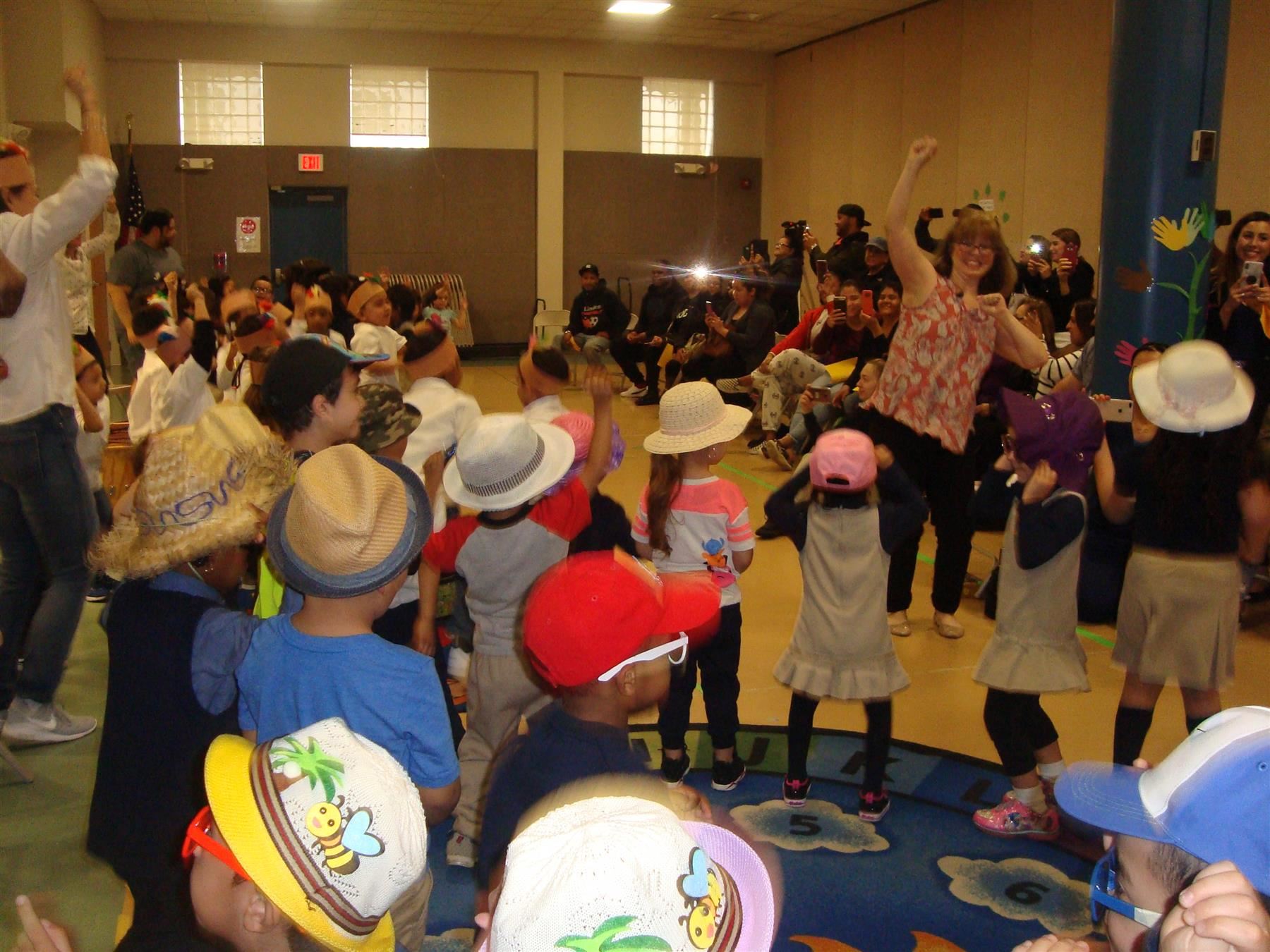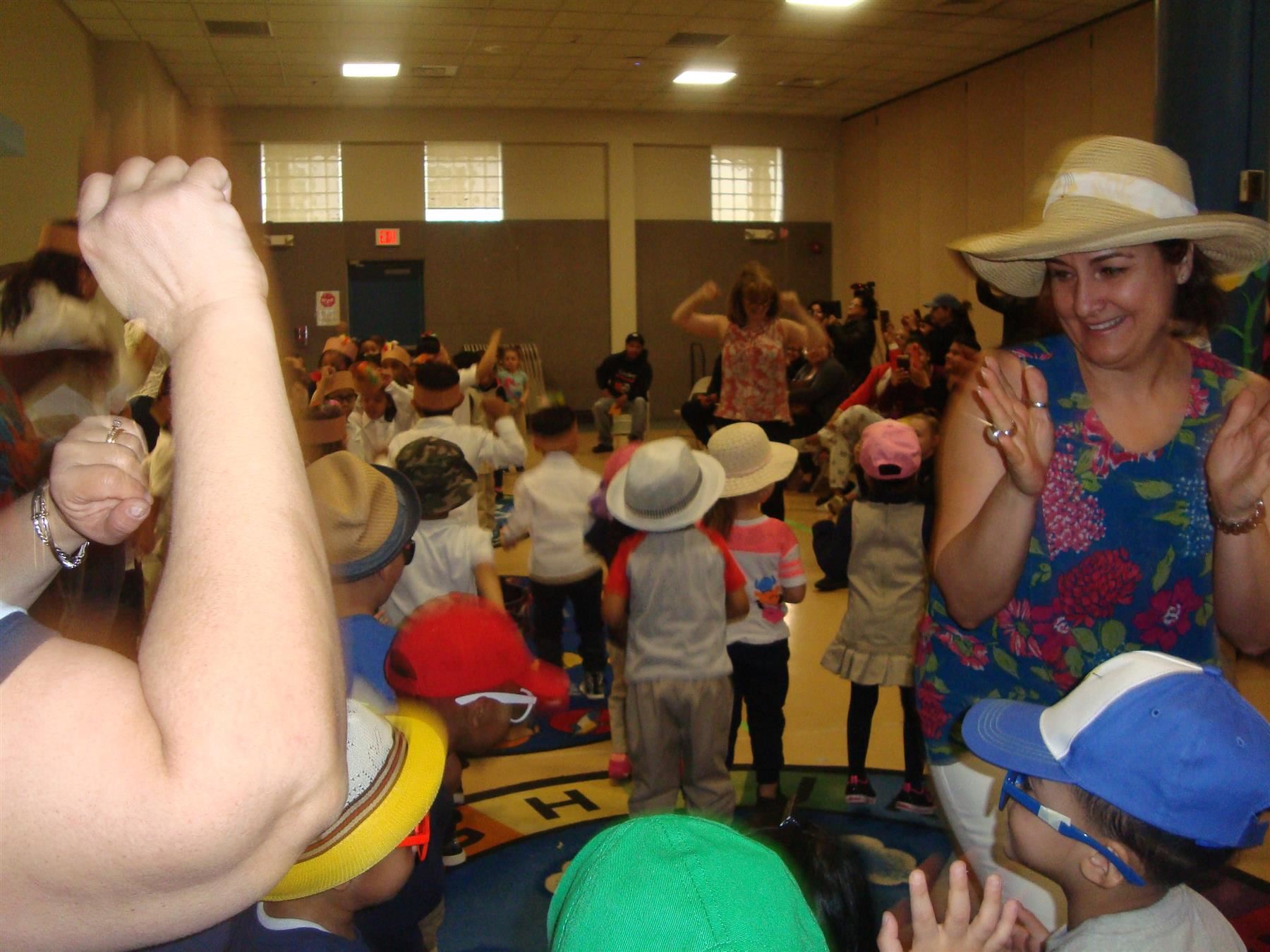 In the above five pictures Music Teacher Mrs. Pajak leads Quad 4 students in a Biodiversity Quadfest, part of their Project Approach on Biodiversity.
MAY 2018

We began the month with the first very warm weather, and took the opportunity to plant seeds, both inside and outside of the school. We're observing the returning plants and birds. Students are listening to the different bird calls, and they've noticed insects also.

Duke Farms in Hillsborough loaned us their Eagle Kit. Although Duke's eagle eggs did not successfully hatch this year, students were able to watch a Pennsylvania eagle hatching on YouTube. Students learned new vocabulary in context, and the science of eagles in nature. The Duke Eagle Kit contains books and many hands-on items including a plastic baby eagle skull, a replica of an eagle egg, a plastic eagle claw replica, a real talon, stuffed eagles & fish (eagles love to eat fish), and eagle costumes that students wore. If you'd like to learn more with your child, Duke Farms and other locations have eagle cams that may be observed on-line in real time.

At our Multicultural PTO Evening with families, students colored in coloring books of flags from some of our communities' native countries. Families and children were invited to perform traditional and fun dances from different countries, along with music. Students also made maracas, piñatas and African necklaces, and they visited different 'countries' to get their passports stamped. Country flags were painted on students' faces. In travelling throughout the room, artifacts, books and foods from a variety of countries and continents were sampled. Our very talented PTO families did a fabulous job in decorating with some very personal and beautiful artifacts from their native countries and cultures.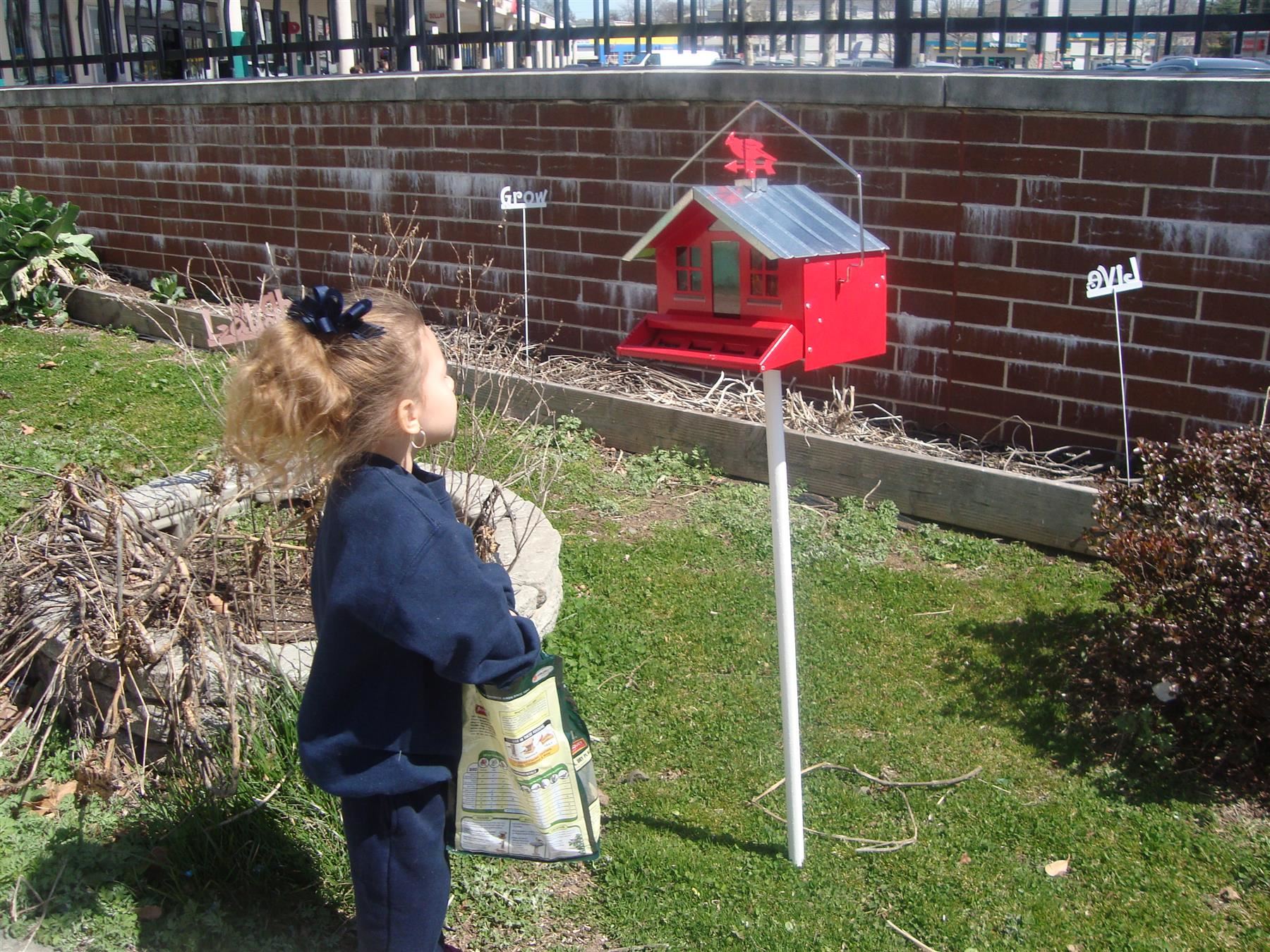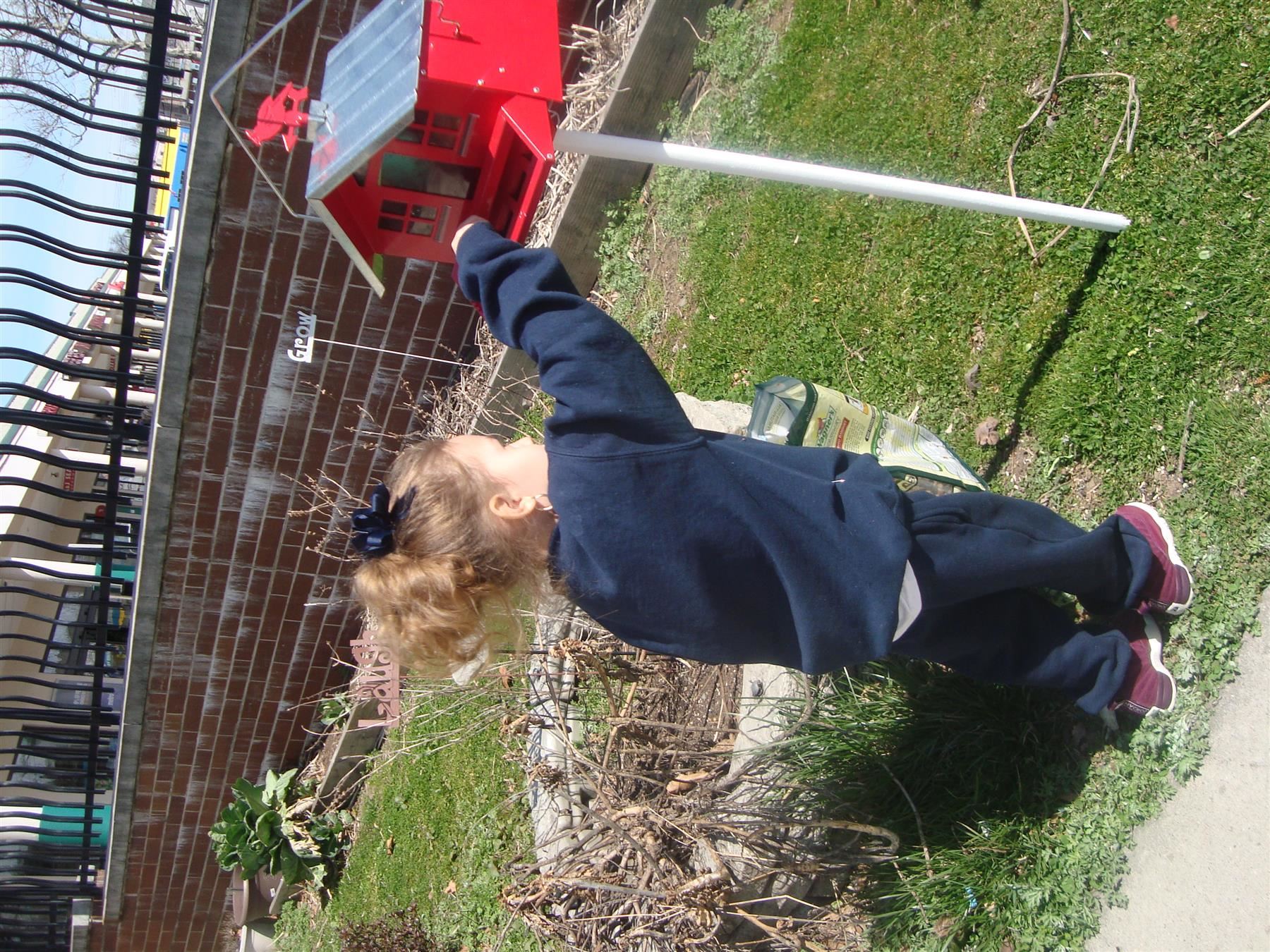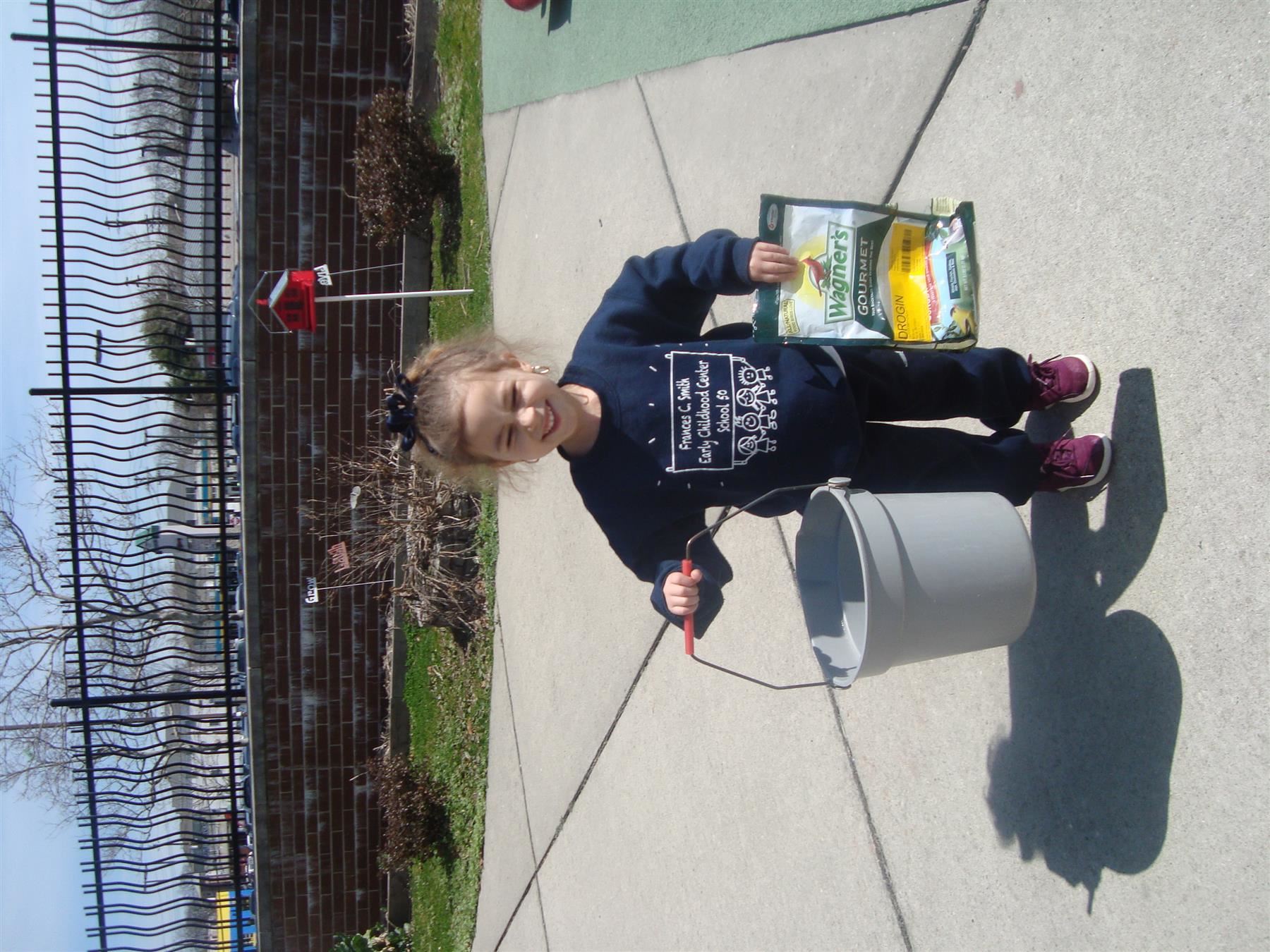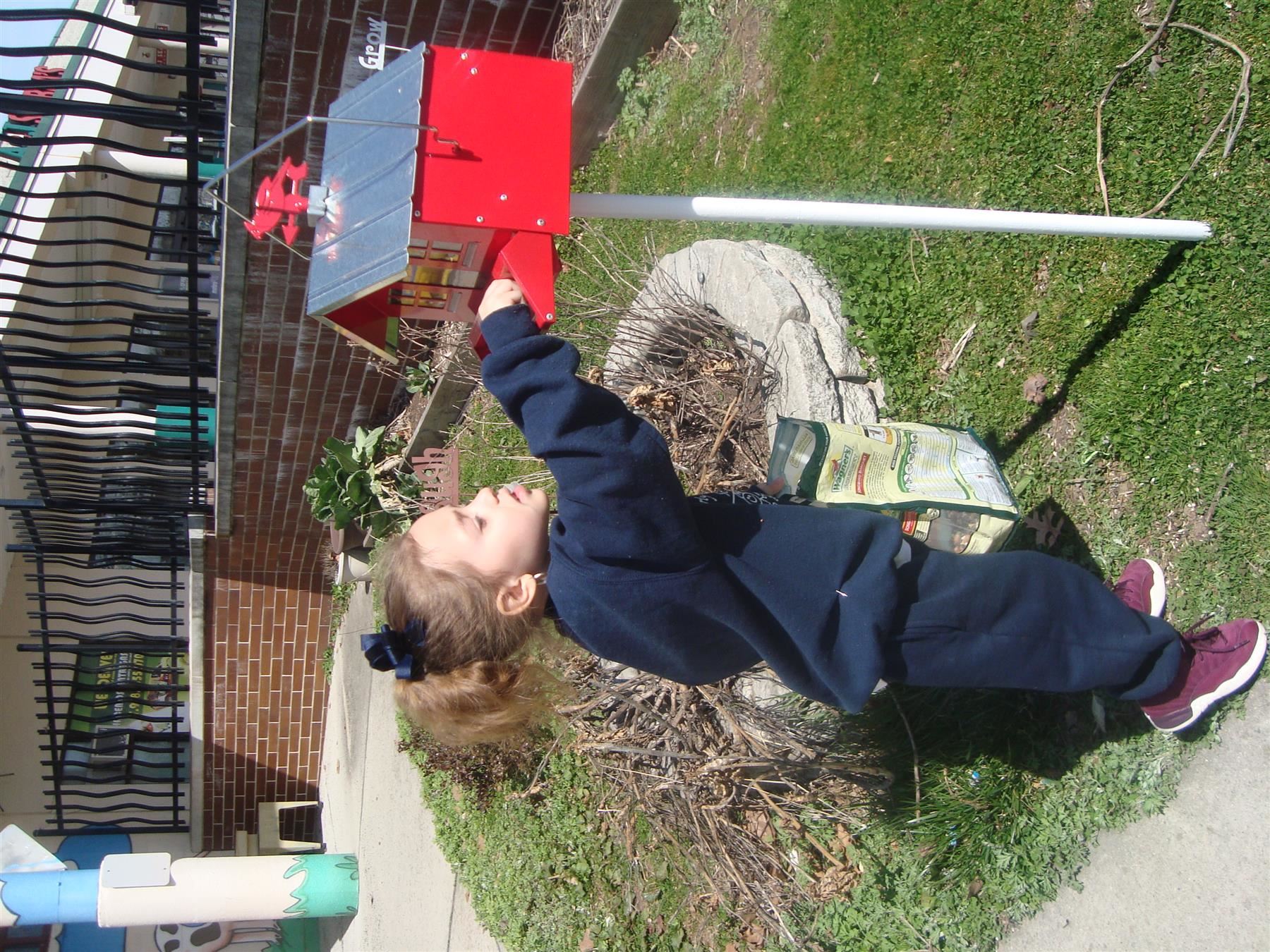 In the above pictures a students helps to fill the bird feeder.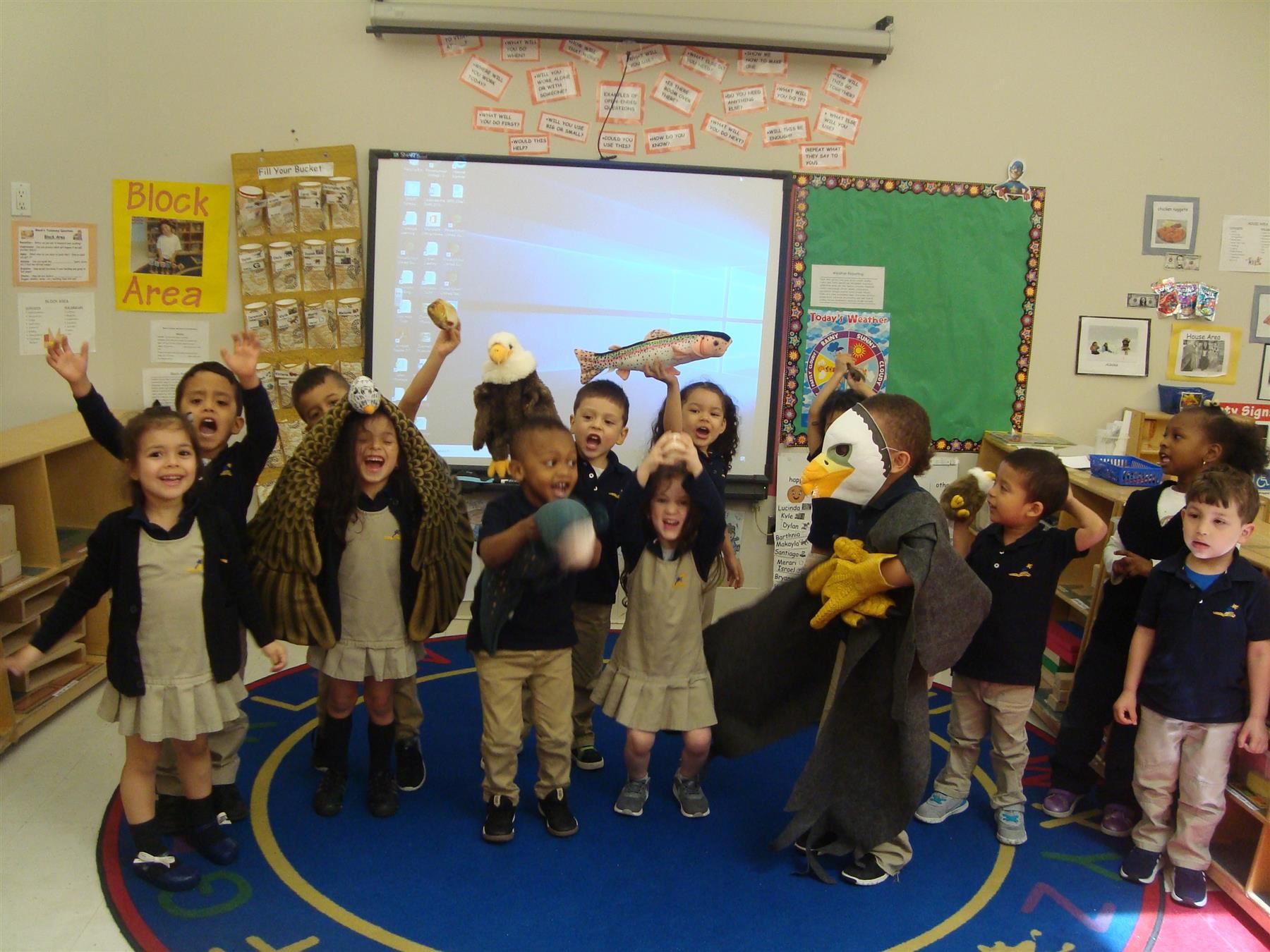 In the above picture students are enjoying the Eagle Kit from Duke Farms in Hillsborough. After hearing how eagles love fish, our class 'eagle' chased students holding stuffed fish to catch his dinner.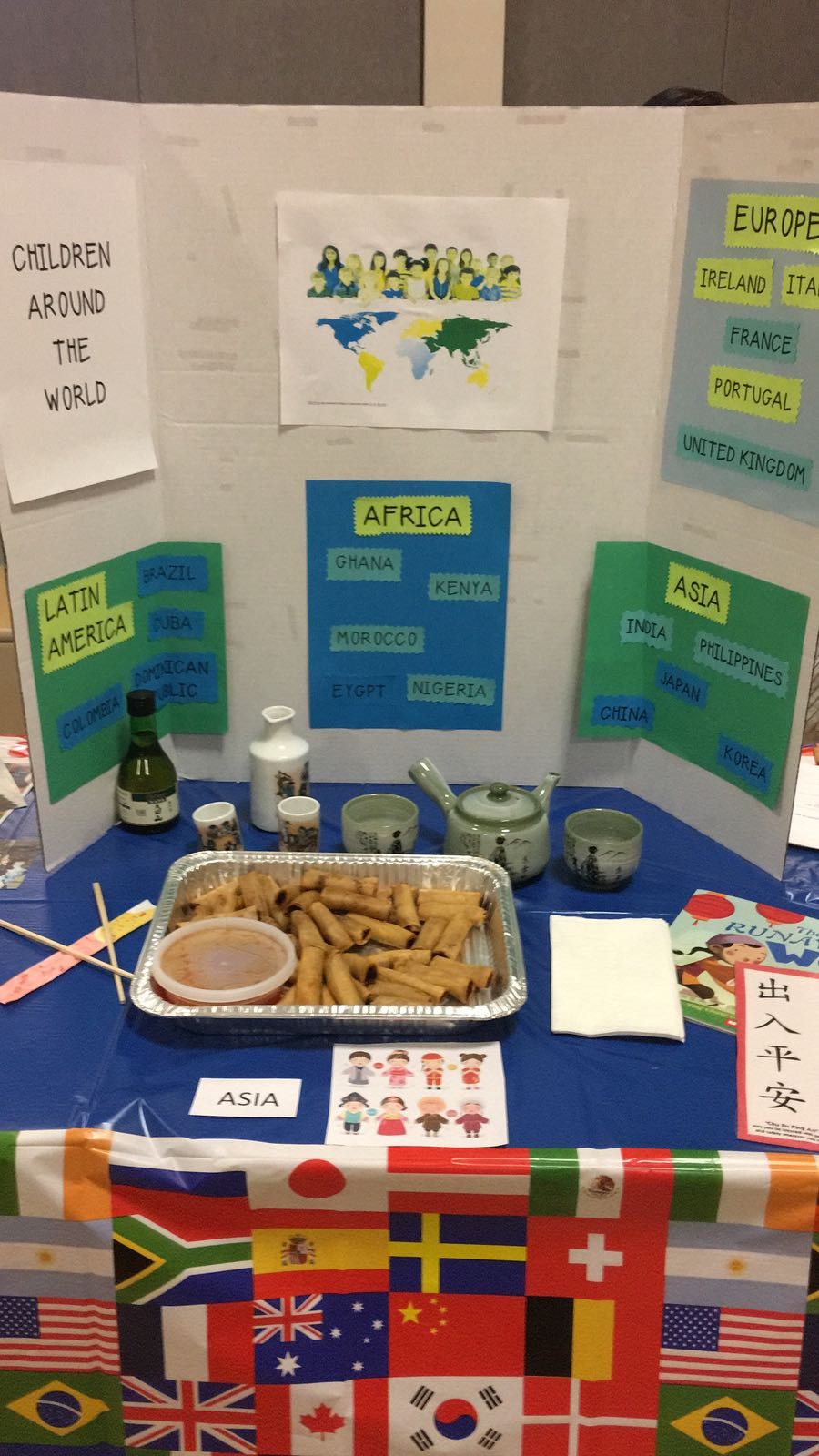 PTO Multicultural night with yummy lumpia from the Philippines.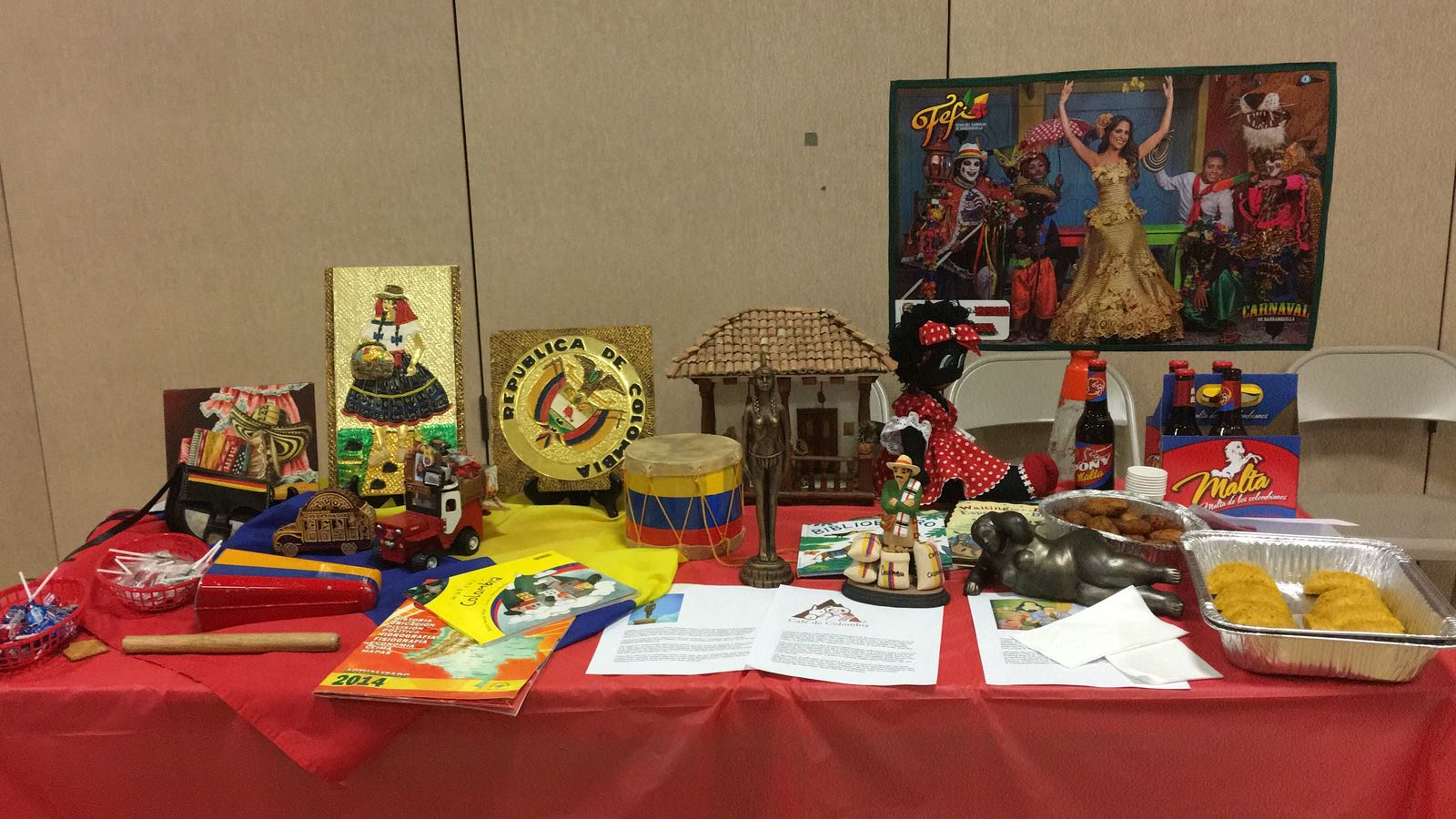 Colombia was well represented at PTO Multicultural Night.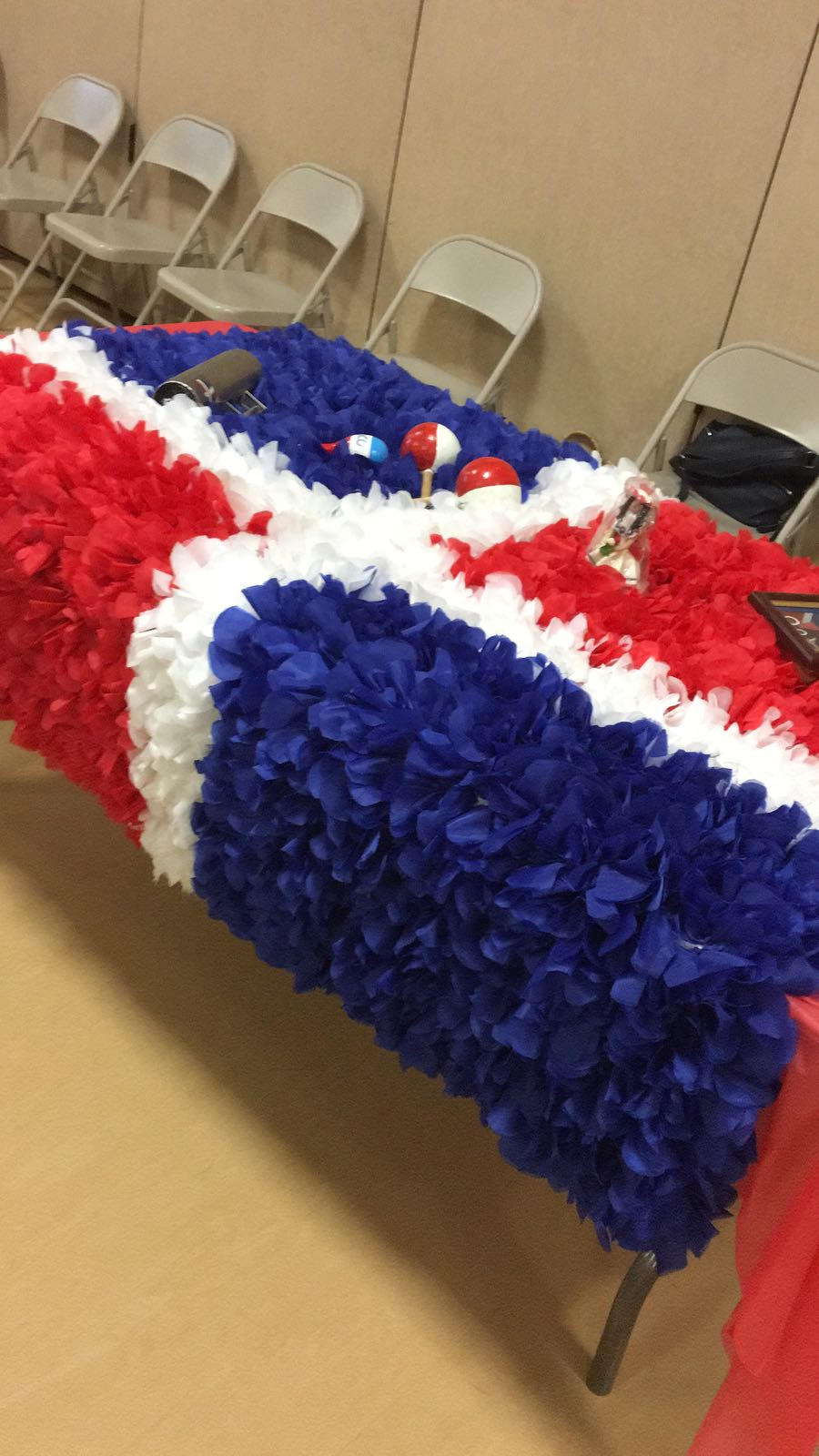 A beautiful flag and artifacts from the Dominican Republic were displayed.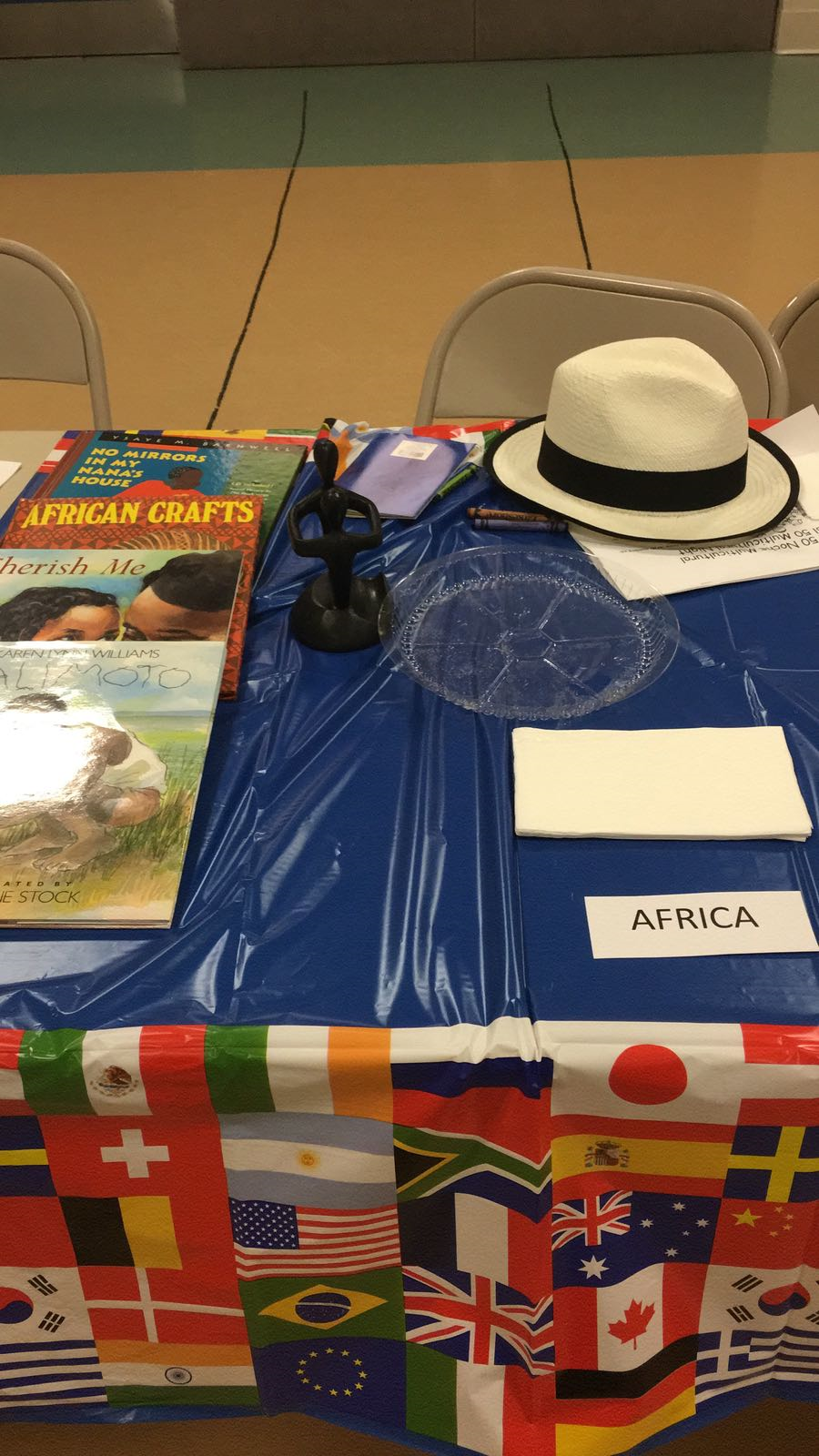 Students enjoyed an African sculpture and books about Africa.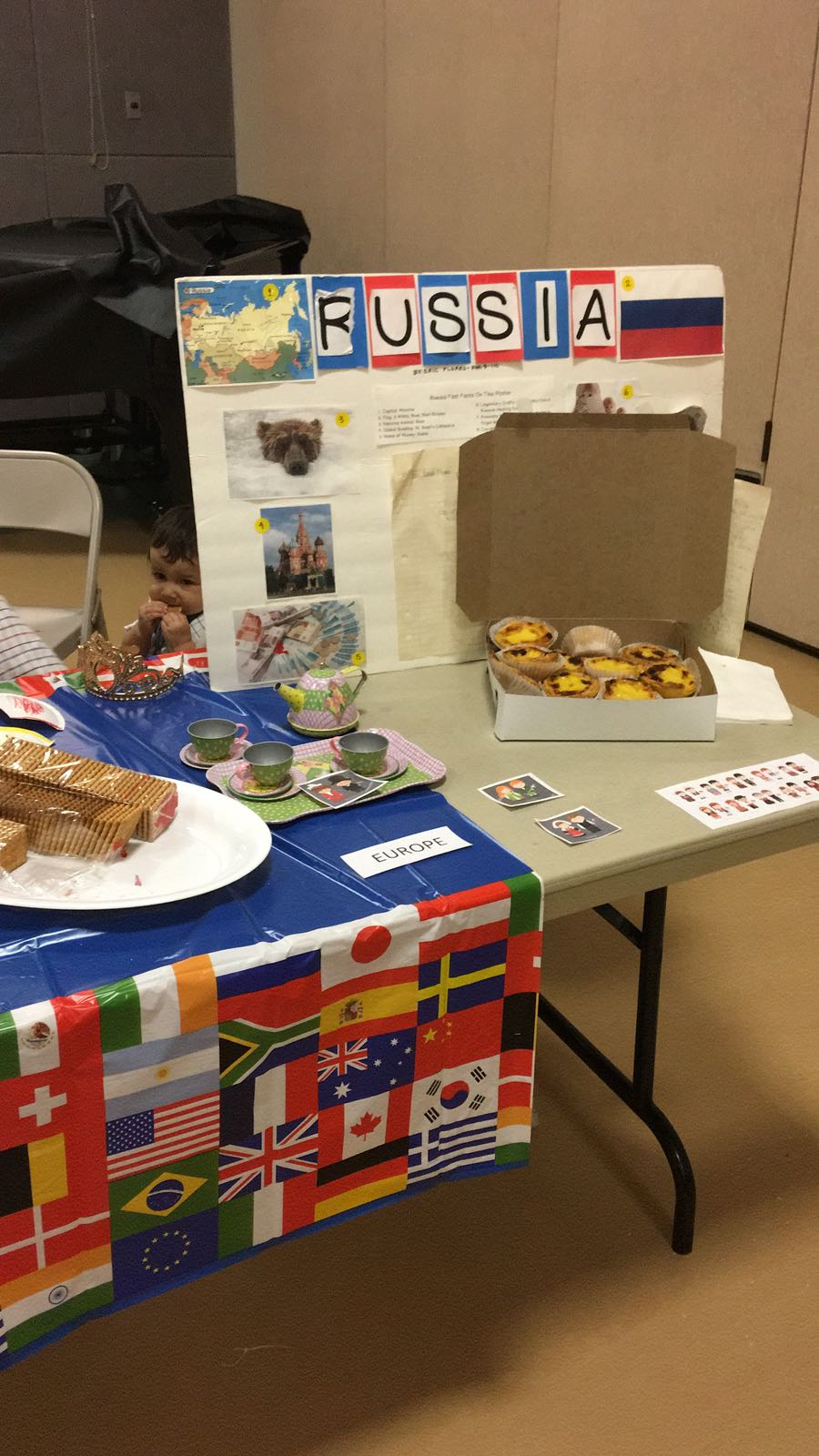 Artifacts and food from Europe were included in our PTO's Multicultural Night.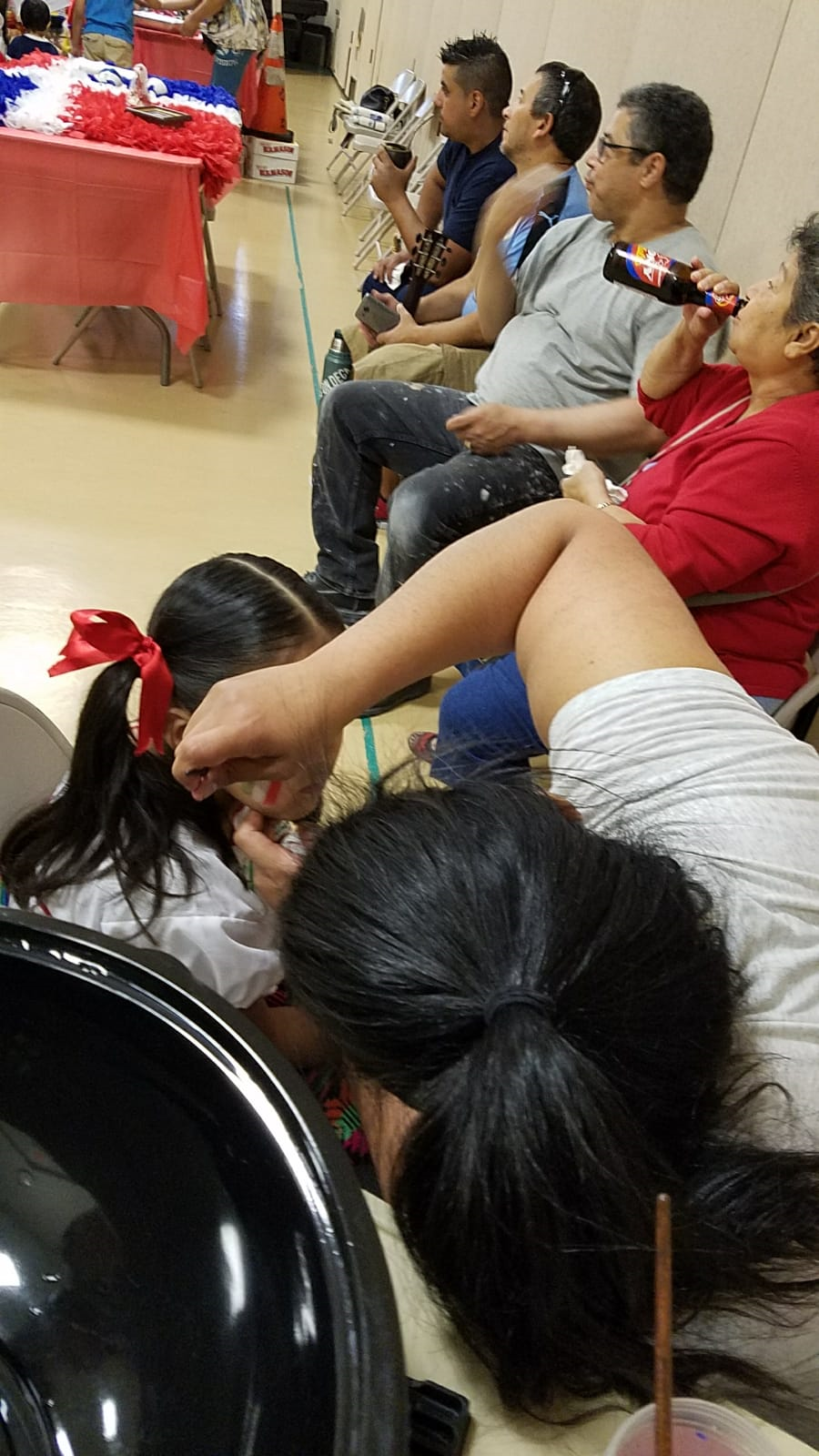 Students enjoyed having flags from different countries painted on their faces as families looked on drinking international sodas.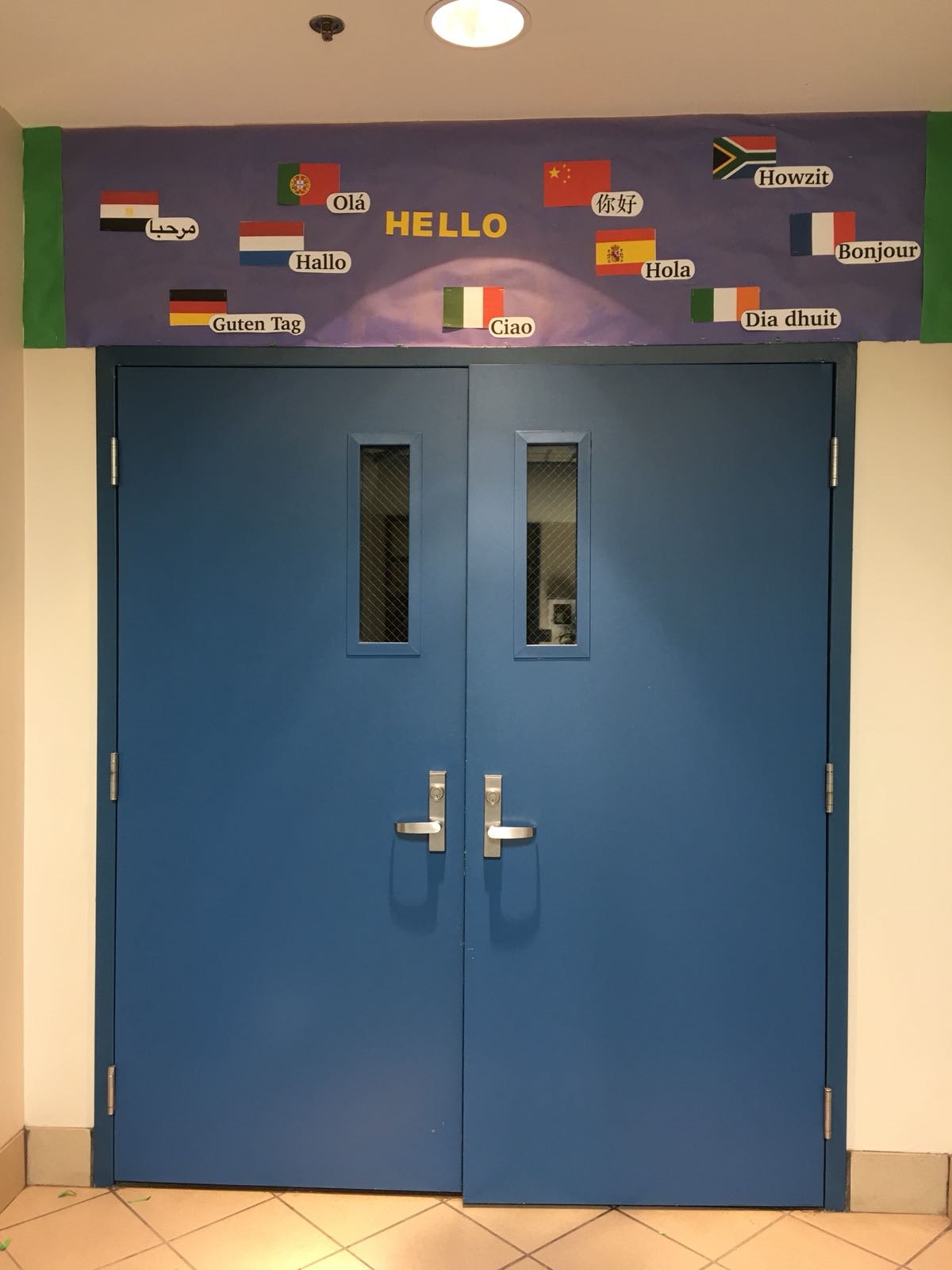 Thank you to School 50 PTO for a fabulous evening!